1, July-2001.
2, July-2001.
3, July-2001.
4, July-2001.
5, July-2001.
6, July-2001.
7, July-2001.
8, July-2001.
9, July-2001.
10, July-2001.
11, July-2001.
12, July-2001.
13, July-2001.
14, July-2001.
15, July-2001.
16, July-2001.
17, July-2001.
18, July-2001.
19, July-2001.
20, July-2001.
21, July-2001.
22, July-2001.
23, July-2001.
24, July-2001.
25, July-2001.
26, July-2001.
27, July-2001.
28, July-2001.
29, July-2001.
30, July-2001.
31, July-2001.




Saturday.

Enter content here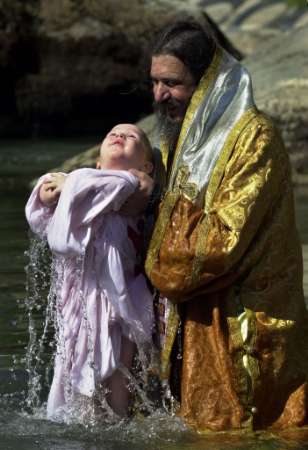 A Macedonian Orthodox Christian priest baptizes a baby girl in the river Matka, 10 km outside the capital Skopje. Dozens of Macedonians of all ages gathered for a mass baptism on Saturday. Despite five months of sporadic guerrilla warfare between government forces and Albanian guerrillas which has dragged the tiny former Yugoslav republic towards civil war, life goes on in much of Macedonia as normal. REUTERS/Ognen Teofilovski
INFORMATION FROM MACEDONIAN MINISTRY OF INTERIOR.
MIA
Skopje, July 21 (MIA) - Macedonian Ministry of Interior announced that a helicopter of KFOR with British label, flying over the residences of President Trajkovski and Prime Minister Ljubcho Georgievski at Vodno hillsides, was noticed on July 19-20 in three occasions. Thereby, some lightning balls were noticed ejected from the helicopter. A representative of KFOR was contacted about the matter and he explained that they were only performing their regular observatory maneuvers, whereat the security shield of the helicopter reacted, due to the presence of certain radiation in that area. For detailed investigation of these occurrences, the Ministry of Interior requested a commission to be established, consisted of representatives of KFOR, EU Monitoring Mission, Ministry of Defense and Ministry of Interior.
Kremlin says Macedonia crisis result of NATO's 1999 strikes.
Interfax
GENOA, Italy. July 21 (Interfax) - A senior Kremlin aide said on Saturday that the current crisis in Macedonia had its roots in NATO's air strikes against Yugoslavia in 1999.
The crisis is the result of "systematic mistakes that date back to the period of the bombings of Yugoslavia," Sergei Prikhodko, deputy chief of the Russian president's staff, told reporters. "We are now reaping the fruit of that action," he said.

Prikhodko said Russian President Vladimir Putin received a letter on Friday from Macedonian President Boris Trajkovski setting out Macedonia's position on the crisis, assessing Russia's role in settlement efforts and asking the Russian leader to back the Macedonian leadership.