Enter content here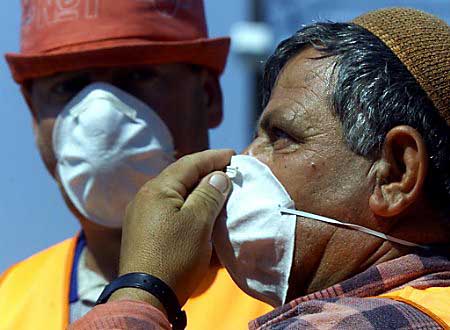 Workers adjust their masks before starting to remove dead animals and garbage in the village of Aracinovo north of Skopje July 13, 2001. The European Union's envoy to Macedonia said on Thursday that talks to end a five-month-old Albanian guerrilla rebellion with political reforms were gathering pace after weeks of deadlock. (Goran Tomasevic/Reuters)
Macedonia Accuses Albania of Stalling.
AP
By ERMIRA MEHMETI, Associated Press Writer

SKOPJE, Macedonia (AP) - Key Macedonian politicians threw their support Friday behind a Western-designed plan aimed at ending months of violence, and accused rival ethnic Albanians leaders of stalling the peace talks.

Negotiations between representatives of majority Macedonians, who dominate the government, and ethnic Albanian politicians, who represent the country's large and restive minority, began Monday under the auspices of the United States and the European Union.

``We basically agree with the overall text'' of the peace plan, said Radmila Secerinska, a leader of the Social Democratic Alliance, which is involved in the negotiations.

The talks focus on changing Macedonia's constitution and laws to meet ethnic Albanian demands for broader rights. Secerinska said her party and other majority Macedonian parties support the concept that would guarantee ``equal rights for all ... without many provisions based on ethnicity.''

``We want a civic society,'' she said, adding that the peace plan proposed by U.S. envoy James Pardew and EU mediator Francois Leotard ``essentially respects modern principles and values.''

Macedonia's crisis began in February, when militants launched an insurgency they said was intended to win greater rights and recognition for ethnic Albanians, who make up more than a quarter of Macedonia's population of 2 million.

Dozens were killed in clashes between the rebels and Macedonian government troops before a NATO-mediated cease-fire took effect last week, paving the way for peace talks.

Meeting for the fifth day in a row with the feuding sides, Pardew and Leotard have pressed them to accept a deal that would introduce the Albanian language as a second official tongue, provide for state-funded education in Albanian, and ensure fair representation of the ethnic community in the government, the police and other state bodies.

Some Macedonian politicians, however, accused the ethnic Albanian leaders of refusing to bend on key issues.

An agreement could be signed as early as Sunday if ethnic Albanians would give up their demand to have their own locally elected police chiefs, said a government source, speaking on condition of anonymity.

Ethnic Albanian representative Aziz Polozani said that ``the agreement will become acceptable only when it meets all our demands.''

Albanian parties ``are not softening their stance and ... they refuse to accept that our society is based on individuals rather than ethnic groups,'' said Secerinska, calling that ``unacceptable.''

``It takes us further away from trends in Europe and it is not a standard that should be accepted,'' she said.

Macedonians regard some of the ethnic Albanian demands as a strategy to ultimately carve out their own mini-state.

Meanwhile, Macedonia's Defense Ministry said rebels trying to smuggle fighters and weapons across the border from neighboring Kosovo clashed with border guards. Both sides traded fire, but no casualties were reported in the brief shootout near the Janice border crossing about 20 miles northeast of the capital, Skopje.

A few other skirmishes were reported in northwestern Macedonia, which has a predominantly ethnic Albanian population and has been a key rebel stronghold.

The restive minority has also demanded that an additional - and larger - peace conference be held before a lasting deal is reached. Ethnic Albanian leaders have suggested Brussels, Belgium, for the venue because it is the headquarters of the European Union and NATO and has a multiethnic society.

If a peace deal is reached, some 3,000 NATO troops would deploy here to oversee the disarmament of the rebels.
There Is No Deal between Me and NMS II.
INTERVIEW:
If someone decides to become a minister abusing my name and confidence, I won't hesitate to call this unloyal political conduct, says President Peter Stoyanov.
- Mr President, in your opinion, how would an eventual participation of MRF in the future government affect the country's internal stability and international image?
- The Bulgarian society will accept normally an eventual future coalescing of the MRF with the party which got the biggest number of seats in parliament. Bulgarian tolerance is a thing we take pride in. There will be no serious Bulgarian political force to question such coalition. I'm convinced that such a coalition will be normally accepted abroad, too.
- Are your relations with the king of late connected with your getting the support of NMS II?
- At all meetings with the leader of NMS II, no one of us has made even a hint in this respect. Under the constitution, my mandatory consultations with the NMS II shouldn't be associated in any way, whatsoever, with my intention to run for a second presidential mandate. With all my respect for the political leaders, to the parties and their influenece on their members, there is some specificity about the presidential elections. They are much more personal than the parliamentary ones. At the presidential elections I expect people to vote for personalities, rather. I believe that the electorate will not comply, to such a big extent, with the party directives. Which in no way means any underestimation, God forbid - any confrontation with the political leadership. I count mainly on the votes and the understanding of the Bulgarian citizens - the way I have relied mainly on them during the past five years.
- Who will be your nominee for the vice-presidency? Will he be again nominated by the Popular Union?
- In September we shall be able to bring in more clarity on this matter. I wouldn't say that it depends directly on the desire of the Popular Union to single out the vice-president.
- Is there any deal between you and Simeon II? Are there any candidate-ministers, personally pointed to?
- I used to make deals when I was a lawyer. Ever since I have been the president of Bulgaria, I have never afforded myself to make a deal which might in any way concern the stability, security and predictability in Bulgaria. I haven't made any deal with anyone, the least with Simeon Saxe-Coburg-Gotha.

I explicitly declared before Mr Saxe-Coburg-Gotha and the chairman of parliament, the chairman of the NMS II PG alike that I don't want to participate, in any way, in a future cabinet with the so-called ministers of mine. I haven't made any suggestions in this respect. It is the right of the premier and the group behind him to form the cabinet. Just like the responsibility for the success and failures of this cabinet falls on them. If someone decides to become a minister, abusing my name and confidence, I won't hesitate to call it unloyal political conduct.
- Do you think that UtdDF might withdraw its support from you and nominate another candidate for the presidency?
- I won't directly demand any support from any of the parties for the presidential elections. The fact that I put forward my candidature as independent is already my bid to both the Bulgarian citizens and to all political parties. Henceforth, if any of them voices such a support, naturally, will have my most sincere gratitude. UDF, and 'Gergyovden' and IMRO already did it, for which I'm grateful.
- And if UtdDF withdraws its support for you, what would you be your reaction?
- I don't think it's worth discussing this. At any rate, I'm not scared to death.

(Abridged. The president's answers are from his yesterday's meeting with reporters, editors-in-chief and media directors)
(SB)
The King Waits for Dogan To Accept the Vice-premiership.
Standart
NMS II PG repeatedly nominated Simeon II as premier.

Simeon II is waiting for Ahmed Dogan to say whether he accepts the post of vice-premier, sources from NMS II and MRF said yesterday. The negotiations between the two parties will be resumed today after a 4-day pause. The reason was the desire of NMS II for UtdDF to take part in the cabinet and the UDF hysteria against the participation of the MRF. However, after the consultations of Simeon II with the UtdDF last Thursday evening it reportedly became clear that the king favored the MRF more. Today Dogan will announce the names of the people he will nominate as ministers, sources from the MRF claim. Only the candidature of Remzi Osman is sure. Yesterday Dogan reportedly had tete-a-tete talks with the MRF. Yesterday the NMS II PG repeatedly nominated Simeon II as premier. On June 23 they voted by standing up and applauding, now - by raising their hands. The aim was to guarantee an eventual contestation of the NMS II mandate.

Anelia Basheva
(SB/MG)