Enter content here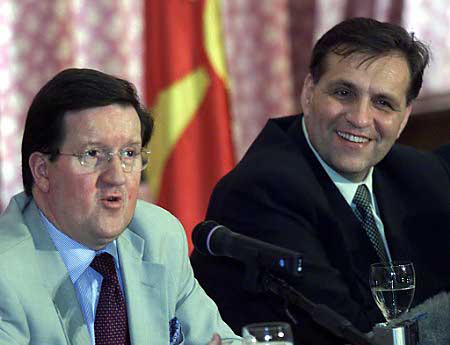 NATO Secretary-General George Robertson (L) speaks during a news conference next to Macedonian President Boris Trajkovski (R) in Skopje July 26, 2001. NATO and European Union leaders met Macedonian officials on Thursday in a 'last-ditch' bid to stave off a Balkan civil war but a government move to charge guerrillas with war crimes muddied prospects for a solution. (Goran Tomasevic/Reuters)
Rebels Remain in Captured Macedonia
AP
By Aleksandar Vasovic
Associated Press Writer
Thursday, July 26, 2001; 5:48 a.m. EDT

TETOVO, Macedonia Ethnic Albanian rebels remained in villages near Macedonia's second largest city despite a promise to withdraw, the government said Thursday. The setback renewed fears of major fighting.

The withdrawal from Tetovo was announced late Wednesday and had revived hopes for a peaceful settlement to a conflict that threatening to expand into full-scale civil war. Those hopes were heightened Thursday, when ethnic Albanian politicians announced that talks with majority Macedonians meant to upgrade the minority's status would resume.

A government official, on condition of anonymity, said the rebels continued holding on to villages around Tetovo hours past the 6 a.m. deadline. Local television cited rebel commanders saying they were not prepared to pull back. No direct confirmation of the reports was immediately available.

The refusal to withdraw left thousands of Macedonians who had fled the rebel advance homeless. It also revived the prospect of fierce fighting the government has demanded that the rebels pull back or face an all-out offensive.

In recent days, the ethnic Albanian National Liberation Army overran four villages surrounding northern Tetovo and clashed with government troops at the city's outskirts in clashes that broke a cease-fire that had held for more than two weeks.

More than 8,000 people fled the Tetovo area over 24 hours, the government said.

The fighting around Tetovo also prompted scores of majority Macedonian protesters in the capital, Skopje, to force their way into parliament demanding a major offensive against the rebels. The protest turned violent later as demonstrators rampaged through streets and smashed a few downtown shop windows before riot police dispersed them.

NATO Secretary-General Lord Robertson called the situation "critical," on Wednesday. He and European Union foreign policy chief Javier Solana arrived to Skopje on Thursday to jump-start suspended negotiations.

Representatives of ethnic Albanian parties said talks on the plan would resume with the arrival of Robertson and Solana.

Zehir Bekteshi of the Party for Democratic Prosperity said the two sides ethnic Albanians and Macedonians would first meet separately with Solana and Robertson before a full meeting involving all those participating, scheduled for the afternoon.

The renewed fighting followed last week's breakdown of the talks, abandoned by the ethnic Albanians after the Macedonians rejected a Western-backed plan to boost the rights of the ethnic Albanian minority, including giving their language official status.

The militants launched their insurgency in February, saying they were fighting for greater rights for ethnic Albanians, nearly a third of Macedonia's 2 million people. The Macedonian government alleges the rebels are linked to militants in neighboring Kosovo and accuses them of trying to carve out territory from Macedonia.

On Tuesday night, mobs of Macedonians in the capital accused NATO and Western mediators of supporting the rebels. The protesters threw stones at the U.S. Embassy, smashed the entrances to the British and German embassies, and burned cars of international organizations. NATO and Western mediators denied supporting the rebels.

U.S. officials appealed for calm.

"This is not the time for Balkan conspiracy theories," State Department spokesman Philip Reeker said in Washington. "This is the time for all of the leaders in Macedonia, for all ethnicities to work together on the political solution."

A Pentagon spokesman said Wednesday that Marine units were on a heightened state of alert in Italy to protect the U.S. embassy in Macedonia if necessary.

Britain's Foreign Office said Wednesday it was advising against all travel to Macedonia.
Macedonia peace talks to resume - Trajkovski
AFP
SKOPJE, July 26 (AFP) -

Macedonian President Boris Trajkovski announced Thursday that peace negotiations with ethnic Albanian leaders would resume in the northwestern town of Tetovo.

He made the annoucement at a news conference after talks with NATO Secretary General George Robertston and the European Union's foreign policy chief Javier Solana.
German government unlikely to muster majority for Macedonia deployment.
AFP
BERLIN, July 26 (AFP) -

Germany's center-left coalition is looking increasingly unlikely to be able to muster the parliamentary majority it needs to authorise a possible deployment of troops for NATO duty in Macedonia.

The number of deputies of Chancellor Gerhard Schroeder's Social Democratic Party (SPD) who have signed a declaration rejecting such a mission for German troops rose to at least 20 Thursday.

Several deputies of the Greens party, junior partners in the ruling coalition, have also expressed serious doubts about such a mission.

Given objection by some opposition Christian Union and Free Democratic Party deputies, this would effectively kill any bid to get it approved by the lower house of parliament, the Bundestag.

Signatories of the SPD statement say that a NATO mission is not the right way to try to restore peace in Macedonia.

"The letter is a call to the SPD parliamentary group to use other means to help in Macedonia than armed violence," deputy Gudrun Roos earlier told Die Welt newspaper.

Opposition deputies have argued that to deploy German troops in the country would mean leading them into a quagmire.

The SPD's foreign policy spokesman in parliament, Gert Weisskirchen, insisted Schroeder would be able to muster a majority by which to fulfil a German commitment to support NATO action in Macedonia.

But a government spokesman admitted the clock was ticking away for any vote to approve a possible deployment and that it was becoming less likely that parliament would manage to call a special session slated for August 2 and 3.

NATO plans to deploy troops in Macedonia to supervise disarmament of Albanian rebels fighting government forces when a durable ceasefire has taken hold.

If the ceasefire is successful, NATO would deploy 3,000 troops from 15 countries on a one-month mission into Macedonia to disarm the insurgents, in an operation codenamed Essential Harvest.

The German government has argued that the country would be obligated to participate in the mission but it needs parliamentary approval before soldiers could be sent.

Rambouillet Repeated?
Balkan Express
In February of 1999, after the staged "massacre" of 45 KLA bandits at Racak, Madeleine Albright summoned the Yugoslav leadership to a castle in Rambouillet, France, where they were to sign a NATO ultimatum providing for their unconditional surrender. KLA's warlord Hashim Thaci, sitting right across from Slobodan Milosevic, refused to sign the ultimatum himself until the very last moment thus making it appear as if the KLA was not too thrilled with it either, while giving Albright and her warlord Wesley Clark an official excuse to bomb Yugoslavia. Milosevic, aware of the ultimatum's provisions, refused to submit. Rambouillet would have become a synonym for outrage in international affairs, had it not been overshadowed by NATO's subsequent terror-bombing.

Yet here it is, nearly three years hence, and a Rambouillet-style capitulation is being demanded of another country, Yugoslavia's weakened southern neighbor, which has been, until recently, an obedient vassal of the NATO Empire.

MACEDONIA AFLAME
Images that were beamed to TV screens across the world on Monday and Tuesday were eerily reminiscent of Sarajevo in 1992, another city marked with urban battles and quarter-to-quarter shelling, with devastating effects. Two days of heavy fighting caused mounting casualties and streams of refugees. Contrary to ominous predictions in the world media, this was not full-scale civil war, at least not yet. If anything, the fighting in Tetovo was intended as a warning, a foretaste of what was to come if the Macedonian government were to continue refusing the so-called "peace" proposal brokered by EU/NATO/U.S.

Macedonians fled Tetovo in droves, joining their compatriots expelled at gunpoint from villages above the city, now under UCK control. A large group of them rioted in Skopje Tuesday night, attacking the US Embassy, British Airways office, OSCE offices and a McDonalds.

UCK bandits had almost reached the town center of Tetovo before a new cease-fire was called Tuesday. Additionally, member of the bandit "General Staff" Nazmi Beqiri told Reuters the UCK had two brigades operating around the town of Gostivar in the southwest.

The fighting came in the wake of collapsing "peace talks" sessions in which Imperial legates James Pardew and Francois Leotard attempted to impose the ready-made "agreement" on local participants. Macedonian representatives refused to sign them last weekend, supposedly over the issues of Albanian language and local policing.

DESPERATE FUMBLE
That is not what the Macedonian representatives said, denouncing the plan as "serious interference in internal Macedonian affairs."

Said Prime Minister Georgievski, "Now the masks are off and it is clear that the terrorist organisations in Macedonia enjoy serious backing and logistical support from Western democracies." (AFP)

His government, however, has no clue what to do next. It is far easier to oppose the West verbally than in practice, especially since the horrid lesson of Serbia drove home the possible consequences of such an act. Furthermore, Macedonia's leaders see their future in becoming part of the EU, perhaps hoping that this would guarantee their country's sovereignty and security. This is a false hope at best, a dangerous delusion at worst.

A chorus of voices from the West is denouncing the Macedonians for refusing to cave in, and at the same time denying doing so. Pardew and Leotard also reject accusations that they blamed Macedonians for the recent fighting. But a Reuters report clearly mentions a Western diplomat saying that "the fighting played into the hands of hard-liners on the Macedonian side who want to scupper talks on a peace deal.... Blame today's events on those factions on one side who don't want peace." [Emphasis added.]

Not surprisingly, pro-establishment media in the West are leading the way, with all news agencies repeating phrases such as "hard-line elite" among the "Macedonian Slavs" that "stokes nationalist fervor" through the Prime Minister's "tirades."

Having agreed to open the supposedly inviolate constitutional principles to discussion with his Albanian "partners" in government, Georgievski severed the branch he was sitting on and tumbled down the slope of negotiating away his country's sovereignty. His latest moves are less a renunciation of this immoral policy, however welcome that would have been, than an attempt to get a better deal by playing the pouting child. He obviously did not read the script very well; only the protégés of the Empire can play that role and get away with it, from Alija Izetbegovic in Dayton to Hashim Thaci in Rambouillet.

Furthermore, Empire Casting C.S.A. has already given the role to Arben Xhaferi and Imer Imeri. Their parties, DPA and PDP, are in effect a political wing of the UCK perhaps even officially, since they never renounced the infamous Prizren protocol, signed with the KLA and UCK leaders with American mediation. Thus positioned, they can easily advance the Albanian cause either through negotiations, or war. Indeed, PDP leader Imer Imeri told Reuters Tuesday, having "made a compromise by giving up 70 percent" of their demands, the Albanians were now "waiting for something to be decided on the military side."

THE ALBANIAN CAUSE (A REFRESHER)
The issue here is not one of language or civil rights. It never has been. The issue is one ethnic minority claiming nationhood status, and using terrorism and propaganda about "human rights" to achieve its goal. First of all, no one fights for civil rights by taking up arms. The act in itself creates too much bad blood for coexistence to be possible. Secondly, language in the Balkans has always been a banner of not just nationality, but nationhood. That is why only Serbs will still sometimes say they speak Serbo-Croatian; others in the former Yugoslavia insist on "Croatian," "Bosnian" and even "Montenegrin." In other words: have language, need nation-state.

In the case of Macedonian Albanians, they insist not on freedom to use their own language, but a government-enforced privilege to not use another. Albanians need "their own social facilities" to feel at home, since one cannot "create a new Macedonian identity including Albanians," says professor Ismail Mehmeti, of the illegal Albanian university in Tetovo. It is a call for apartheid, a society deliberately separated from the rest of the country by language and ethnicity.

That separation is then only a step away from becoming physical. Why else would the UCK seize and hold territory, if its claim was not territorial? This logic is so overwhelming, and its denials by the UCK political wing (Xhaferi's DPA and Imeri's PDP) and the Western powers so unfounded, there ought to be little doubt about the Albanians' true purpose and the support it has within the Empire.

A BETTER ANALOGY
On second thought, the current situation in Macedonia does not quite resemble the situation in Rambouillet. Albright and her cohorts went to France fully intent of launching a war against Milosevic and the Serbian people. Their ultimatum was never meant to be accepted, only to serve as a whitewash for aggression. It mimicked Austria-Hungary pathetic excuse for a casus belli from 1914. Though the method of imposition is the same as Dayton and Rambouillet, Empire's current strategy in Macedonia far more closely matches Munich of 1938.

The focus of US/NATO/EU "peace" efforts has been to achieve the Albanians' military and political objectives peacefully, saving themselves the trouble of an embarrassing war. Covering up or spinning away all the crimes the UCK is likely to commit would represent a tremendous challenge, one they would rather not face. They have had plenty of trouble already with burying the story of water shortages in Kumanovo and ignoring tens of thousands of Macedonians ethnically cleansed from UCK-occupied territories. Every so often, information slips through.

So far, the "mediators" have used up most of their Balkans playbook. There were panicking Albanian refugees; "civilian" victims of unidentified (but strongly alleged to be Macedonian) shells inside Kosovo; a phony arms embargo on the Kosovo-Macedonia border; reports of "human rights abuses" by the appropriate Western organizations; and now Rambouillet-like "peace talks," in fact an ultimatum demanding one side's unconditional surrender.

Three things have been conspicuously absent: a leader to be demonized, atrocities to be presented as genocide and an actual intervention against whichever side needs to be pulverized.

Of course, with Skopje defending itself so ineptly and reluctantly, there is little need for these extreme measures. Unless something radically changes, sooner or later Georgievski and Trajkovski will cave in, the UCK atrocities will be covered up, and the intervention will take on the form of "peacekeeping" and collecting a few token muskets from the bandits-turned-policemen of the UCK. Albanians if not the Albanian state per se will have gotten their Sudetenland coup; within months, as soon as camera lights go off, Bulgarians (another loyal US ally) will march into what is left of the vivisected country.

Macedonia will be no more. But there will be "stability" and "compliance" with the Empire's power which is all its legates ever really wanted, the natives be damned. The Balkans would thus have "peace in our time."
More Than 30,000 Macedonians Expelled.
vMacedonia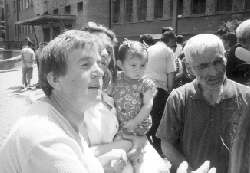 "Our [Albanian] neighbors drove us from our home. They came armed with machineguns, although in the past we shared the good and the bad times with them."
At least 30,000 Macedonians from Tetovo and the surrounding villages have left their homes running away from the Albanian gangs' terror and moved to Skopje and other towns throughout the country. Yesterday, 10,000 Macedonians left Polog [the valley where Tetovo is situated]. The Macedonian Red Cross checkpoint close to the Saraj village at the Skopje entrance has noted more than 2000 vehicles with Tetovo license plates yesterday. There had been at least five persons in each vehicle, and around ten busses full of people have also entered Skopje. Around 300 displaced persons from Tetovo were placed in the "Pelagonija" hotel in Skopje. Some of the infuriated citizens refuse to be placed anywhere and insist to return to their homes.

Families with babies and small children, pregnant women, old and exhausted people were leaving Polog yesterday. The city of Tetovo, as well as the villages of Brvenica, Jegunovce and other villages are rapidly being emptied since yesterday. The villages of Rogachevo, Vratnica, Staro Selo and Beloviste are cut off and the local population can only be evacuated from there with helicopters.

- We run away from the Albanian terrorists. A person who was a friend and a colleague of my husband's until yesterday expelled us from our home in Lesok, someone with whom we used to share good and bad for over twenty-five years. He came to our house with an automatic gun and threatened us that we had to leave the village. He is Albanian and we had never been bothered by that, until yesterday. We did not even succeed to take clothes, so we wait here for relief like people on social welfare - a mother of three minors, villager from Lesok tells. They are placed in the hotel "Pelagonija" in Kisela Voda, where more than 30 families from Tetovo, Leshok and Neproshteno have reported.

According to the statements of the local villagers there are around 160 Macedonian houses in Neprosteno, around 400 in Leshok, and around one thousand Macedonians had lived in Tearce. Around 10.000 villagers with ethnic Macedonians live in Brvenica.

The discontent of the Macedonian population from Tetovo and the surrounding area is enormous because they are forced to run away in front of the guns of the Albanian gangsters, and the small number of members of the Macedonian security forces can not protect them, persons from Tetovo tell with tears in their eyes.

Men return to safeguard their homes, leaving their wives, children and the elderly with friends and relatives across the country.

- I left my wife and children with some relatives in Skopje. I am returning to my village Jegunovce to try and safeguard at least a part of what I have been struggling to create all my life. I was very upset the day before yesterday, when I saw how Albanian gangsters forced Macedonian population to leave the villages on the Tetovo-Jazince road. The terrorists also approached Jegunovce yesterday. They were fortifying their positions by the Skopje-Tetovo railway, around two kilometers away from the emptied villages under the Sara mountain, a fifty-year old villager from Jegunovce tells, upset by the desperate situation of the Macedonian population of this part of Macedonia.

The hotel "Pelagonija" in the Skopje settlement Kisela Voda is a temporary home for the displaced persons from the Tetovo area since yesterday. Citizens from Tetovo, Lesok, Neprosteno were arriving there the whole day long. Some of them with a traveling bag only, or with a plastic bag, some of them-without any luggage at all. Macedonian Red Cross activists noted the displaced persons yesterday and issued health care certificates.

- There is room for 500 persons in the hotel. Food has been provided, hygienic and baby-packages but we don't have enough bed linen. - the authorities say.

The International Red Cross Committee distributed humanitarian relief in the hotel yesterday. Anique Bovier, when asked what do the activists from this organization do in order to save captive villagers from Tetovo and other villagers, she says:

- We had calls from Neprosteno, Lesok and Tearce. We sent four teams, but they could not enter the villages due to safety reasons. Only the Tearce team entered Tearce, from where we evacuated five Macedonians and Albanians. Our mandate is to work in order to satisfy the most urgent needs of the people - says Bovier.

Ljubica Balaban, Dejan Nikolovski
Marines Assist in Macedonia Security.
AP
By Eun-Kyung Kim
Associated Press Writer
Thursday, July 26, 2001; 4:20 p.m. EDT

WASHINGTON American Marines are providing additional security to the U.S. Embassy in Macedonia against protesters who stoned the building after accusing Western mediators of siding with ethnic Albanian rebels.

The U.S. Marine Corps Fleet Anti-Terrorist Support Team arrived in the Macedonian capitol of Skopje on Wednesday night "to augment security there," State Department spokesman Philip Reeker said Thursday. He said the measure was "a fairly standard step."

The unit is a quick-reaction Marine force skilled in protecting and evacuating embassy personnel. They were sent in from a U.S. base in Italy.

Mobs of Macedonian protesters had stoned the U.S. Embassy on Tuesday evening. They also damaged the entrances to the British and German embassies.

After shutting down temporarily, "the embassy is open and operating," although some public services have been curtailed, Reeker said.

At the Pentagon, spokesman Rear Adm. Craig Quigley said the Marines were requested by the ambassador and sent to Camp Able Sentry, just outside Skopje.

U.S. forces on peacekeeping duty in Kosovo have been using the camp as a staging base.

"They are in place, awaiting developments," Quigley said.

The State Department earlier this week advised Americans against traveling to Macedonia and suggested to U.S. citizens already there to "review their personal security situations, exercise caution and, if appropriate, depart the country."

Reeker said some U.S. personnel have left voluntarily and others may follow.

The administration welcomed news of Albanian rebels pulling back from Tetovo, the second-largest city in Macedonia, and allowing peace talks between ethnic Albanian and Macedonian leaders to resume.

"We call on all sides to respect the cease-fire agreement they signed and exercise restraint, because there's no military solution to this," Reeker said. "We're very pleased to see just recently announcements that the political dialogue will continue."

U.S. envoy James Pardew remained in Skopje to help NATO and European Union officials mediate talks between the two sides, Reeker said.

"We've continued to urge the Macedonian government and all the party leaders, all the parties from all the various multi-ethnic parties in Macedonia, to seize this initiative for peace and to continue the dialogue and press forward with negotiations," he said.
Macedonia Accuses NATO of Siding With Militants.
Stratfor
2045 GMT, 010726
Summary

Macedonian lawmakers are rejecting NATO's terms for peace with ethnic Albanian insurgents. In an unusual turn of events, Macedonian officials accuse NATO of trying to divide the country along ethnic lines by throwing its weight behind ethnic Albanian militants. Civil war is now imminent.

Analysis

Ethnic Albanian militants, who on July 21 violated a weeks-old cease-fire with the Macedonian government, have begun withdrawing from strategic positions in the north. This follows days of violence and anti-Western riots that threaten to hurl the country into civil war.

Tensions remained high as officials from NATO and the European Union attempted to negotiate a lasting cease-fire on July 26. Days before, Macedonia's lawmakers had accused NATO of aiding ethnic Albanian insurgents.

Though Western journalists have viewed the accusation as a surge of nationalism typical for the Balkan region, NATO's recent dealings with Albanian insurgents do suggest some degree of bias, if not complicity.

Either through intent or mismanagement, NATO has helped prepare the ground for civil war.

Macedonia is the one former Yugoslav republic that remained stable during the past 10 years while bloody ethnic conflicts consumed both Bosnia and Kosovo.

During the 1990s, nearly 100,000 people were killed and 3 million displaced in the Balkans. Donor nations such as the United States, Japan, Canada and members of the European Union shelled out billions in reconstruction aid. Now, repeated incursions by ethnic Albanian insurgents into Macedonian territories threaten an encore of violence in the volatile region.

Far from being seen as a peace guarantor, NATO would bear part of the blame for a new civil war. NATO-led peacekeeping forces, known as KFOR, occupy a region of Kosovo bordering northwestern Macedonia. By order of U.N. Security Council Resolution 1244, KFOR must secure arms and halt trafficking by Albanian militants, but the force has failed to do so.

Albanian insurgents began filtering into Macedonia from KFOR-occupied areas of Kosovo in February, and they have repeatedly fired on national police.

KFOR has failed before to restrict the outflow of guns and militants from Kosovo.

For most of 2000, Albanian militants pressed into southeastern Serbia to annex three towns with an Albanian population majority. Many of the same militants redeployed to towns around Macedonia's Tetovo and Gostivar districts during the past five months.

As of the afternoon of July 25, militants were fighting for control of more than 20 villages but began to withdraw hours later in response to NATO requests.

With their borders still porous to armed insurgents, Macedonians fear active sabotage by NATO. For example, although the U.S. State Department hired contractor Military Professional Resources Inc. to train Macedonia's security forces in 2001, reports from Germany, Russia, the United Kingdom and Macedonia indicate U.S. soldiers also escorted Albanian militants a few miles outside the Macedonian capital of Skopje only weeks ago. The Skopje bi-monthly Forum says the dual U.S. support is a means to disable Macedonia's defenses and to bolster the ethnic Albanians.

In both training and equipment, Macedonia's defense forces are already at a substantial disadvantage. Albanians are using NATO-issue 5.56 caliber weapons and third-generation, U.S.-issue night-vision equipment, according to Russian media and Dnevnik, the Skopje independent daily newspaper.

Moreover, Vremya Novosti, a Russian daily, reported on July 26 that U.S. National Security Adviser Condoleezza Rice said she persuaded Ukrainian officials to cease arms shipments to Macedonia. This could signal a potential arms embargo, further undermining the Macedonian defenses.

Underscoring their suspicion of NATO, Macedonian government officials were alarmed on July 21 when a KFOR helicopter violated Macedonia's airspace and touched down at two northern towns held by Albanian militants.

The country's Defense Ministry confirmed the landing, cited eyewitness reports of cargo drops and demanded an explanation from KFOR. KFOR officially denied aiding the rebels, saying its flights were meant to help establish NATO communications along the border.

Macedonia's majority party leaders also question NATO's political neutrality. The alliance did not immediately condemn the Albanians' recent violation of the cease-fire. Instead, American, German and NATO officials have blamed lawmakers in Skopje for disrupting the peace process by rejecting their proposals.

A peace proposal drafted by the United States and Europe -- and backed by NATO envoys -- demands compromises on the national language from Macedonia but no concessions from Albanian militants. The proposal would require that all state certificates and laws be printed in the Albanian Roman alphabet and in Macedonia's official Cyrillic alphabet, while correspondence to and from the central government could be in either alphabet.

Meanwhile, the proposal would also give smaller ethnic groups such as Serbs, Turks, Vlachs and Roma equal rights in local administrations where their populations exceed 20 percent, Radio Free Europe reported.

Macedonian lawmakers consider the proposal excessive. To Macedonia's non-Albanian legislators, who see Macedonia as more accommodative of minority rights than most Balkan states, the suggestions for compromises amount to arm-twisting. They also smack of betrayal to Macedonia, which has always supported NATO's deployment and occasionally unpopular U.S. foreign policy in the region.

With its credibility in question, NATO may not be able to prevent war in Macedonia. U.S. Embassy officials plan to evacuate nonessential staff from Skopje.

On July 20, NATO postponed plans to disarm Albanian militants due to the resumption of hostilities, and an envoy from the Organization of Security and Cooperation in Europe said the alliance is helpless against ethnic cleansing by Albanians, the Bosnian Serb news agency SRNA reported.

Macedonian officials are now willing to guard their borders against NATO troops as well as Albanian militants. Prime Minister Ljubco Georgievski plans to call a state of emergency. State security forces locked down the borders on July 25, refusing passage to KFOR and humanitarian aid workers.

The Albanian militants' campaign will likely continue, irrespective of NATO's 11th-hour efforts to restore a cease-fire.
Rebels in Macedonia want NATO accord to complete pull-out.
AFP
SKOPJE, July 26 (AFP) -

Ethnic Albanian guerrillas are waiting for a full accord with NATO to complete their withdrawal from positions held in the northwest of Macedonia, their spokesman said Thursday.

"We are still awaiting a final agreement to be signed with NATO to end our withdrawal from the positions that should be abandoned," captain Shpeti, spokesman of the rebel National Liberation Army (NLA), told AFP.

Under an agreement brokered by NATO special envoy Pieter Feith, the retreat of the NLA rebels from their positions around the northwestern town of Tetovo will lead to a resumption of the July 5 truce, which was violated earlier this week.

Macedonian defence ministry spokesman Marjan Djurovski told AFP that some rebel commanders have refused to leave their positions.

"In many spots, the terrorists' withdrawal is underway, this is the fact, but there are also commanders who do not want to do this," Djurovski said.

But he added that NATO representatives were "on the ground and I expect they would solve the problems."

NATO officials said the retreat should be over by 1:00 pm (1100 GMT), but other sources set the end for an hour later.

Earlier, NATO Secretary General George Robertson, visiting Skopje on a mission with the European Union's foreign policy chief Javier Solana said he was "told that the withdrawal is underway."

Robertson urged the full respect of the agreement.

"I hope that they will recognise that they have commitments that they have made and everything here has got to be based on trust," he said.

OSCE teams in Macedonia were charged with observing the NLA retreat from a number of villages and roads around the northwestern town Tetovo.

The rebels' political representative Ali Ahmeti signed the accord on Wednesday.

Under the accord, all rebel checkpoints on the road are to be dismantled, while all paramilitary forces are to pull back 500 metres (yards) from the last house in all the villages controlled by the guerrillas since July 5.

The withdrawal was a condition of the Macedonian government for it to continue respecting the ceasefire and to refrain from further violence.

Although the accord was signed between the representatives of the government and the NLA rebels, sources close to the Skopje authorities insisted the agreement was sealed solely between NATO and Albanian "terrorists".