Enter content here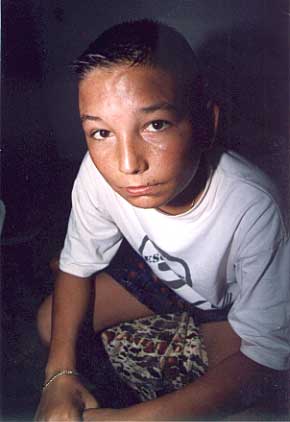 The tragedy of Arachinovo.
vMacedonia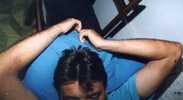 This kid is a refugee from Arachinovo. He suffers from Leukemia for 11 years now. Him and his family were kicked out of the of Arachinovo, when the Albanian terrorists occupied the village a week ago. His father went back to the village, with intention to get the expensive medicine for his son, which the family left behind while running for their lives. He got captured and viciously beaten by the terrorists for a whole day and night. His neighbor, now a member of the terrorists, saved his life, preventing another one to slaughter him to death with a hunting knife.

The boy's father did not want to have his face photographed, nor his name published. He says:

"I went back the next day after we left our home, mostly to get my son's medicine shots. He has leukemia for 11 years now. We are getting the shots from Germany, and there is no chance that we have money to buy them. they cost more than 700$ one! My sons health was more important than mine.

The terrorist on the check point on the entrance of the village, let me go in, but he called the others to let them know that I'm coming. Down the village, from my neighbor's house, 6 terrorists came out armed with machine guns, knifes, hand grenades... they followed me to my house, where I showed them the medicine that I came to get.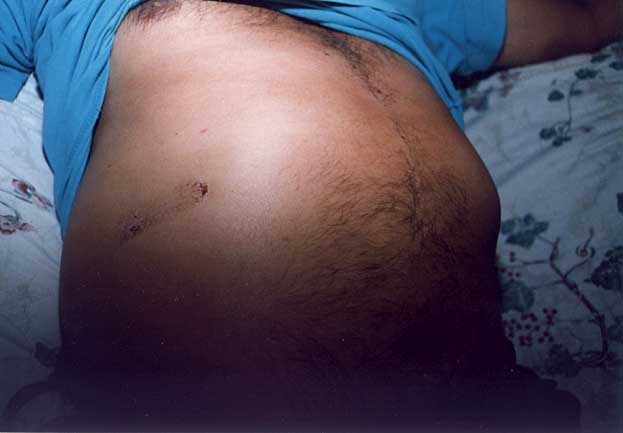 Then they tied my hands and started beating me. I vas interrogated and forced to admit that I was working with the police and the army, which I did not. The torture was horrible, they were beating me with their machine guns, hands and legs. I lost conciseness but they woke me up with water and the beating kept on. Than they took me to a place in the village to see their weapons and hand rocked launchers. After that they took me to a basement and the torture was even worse because more people joined them. I was loosing conciseness several times.

After long time of beating, they took me to a barn and pulled my jeans down, and one of them pulled a knife with desire to start cutting me in peaces. I knew that that was it, that I was going to die, and I was begging them if they killed me, to take the medicine for my kid, and find a way to be delivered to him. But I thank their commander for not allowing them to kill me. After all there was still a hearth in that man. In my mind there was a picture of my kids and wife, and I hoped that I will see them again. But the beating was even worse now, since the permission to kill me was denied. Their anger was great, and I finally fainted. They took me at the edge of the village, kicked me out of the car and told me to tell the public that they are fighting for their rights."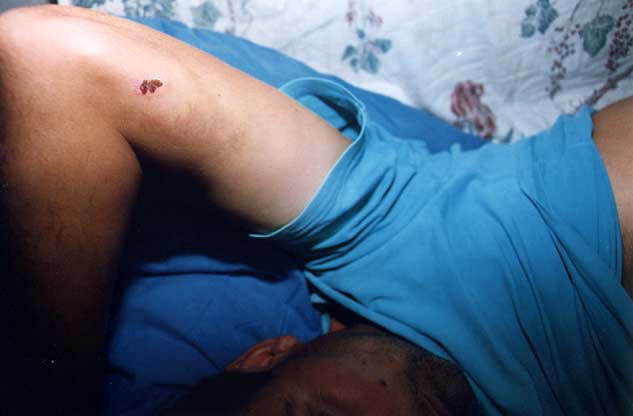 The wife and her ill son are happy to have their husband and father back. But, his health is permanently damaged. His kidneys are totally damaged, his ribs are all broken, his liver is not working, and he had to be dismissed from the hospital for his own safety. He was receiving information that his live, after all was still threatened.
Refugees from Arachinovo tell what has been going on: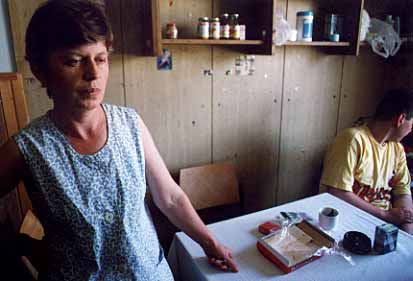 "We woke up one day, and we realized that armed people were outside on the streets walking freely. Our neighbor, an Albanian, came and told us to leave, since this is Albanian territory now, and no Macedonians should be here. He told us, if we stay he is going to kill us."

"I can not believe that the same man that played chess and had beer with my husband kicked us from the house that my family lived for 100 years."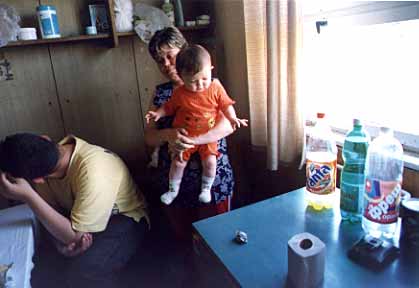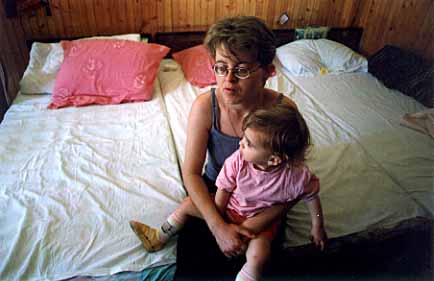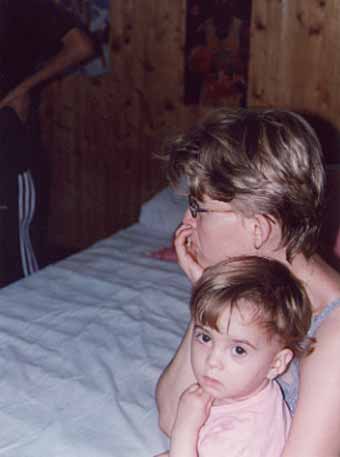 "We have nothing now, we left with no clothes, and nothing that we ever owned. I do not even have spare diapers for my son. I thank God that we were escaped here, and have roof over our heads." - Says a woman who got banished from Arachinovo by the Albanian terrorists a week ago.
Macedonian soldier killed in clashes with Albanian rebels.
AFP
SKOPJE, July 1 (AFP) -

A Macedonian soldier was killed late Sunday during clashes with ethnic Albanian rebels near the northwestern town of Tetovo, an army spokesman told AFP.

Suspected members of the rebel National Liberation Army (NLA) "opened fire on Macedonian army positions at Kale, in the heights above Tetevo, and a soldier was killed at 8:15 pm (1815 GMT)," Colonel Blagoja Markovski said.

He said two government soldiers were also injured in a separate incident during the afternoon, and reported several other sporadic clashes around Tetevo and north of the capital Skopje involving sniper and mortar fire.

There was also an exchange of fire near the village of Nikustak, where US troops dumped several hundred rebels evacuated after heavy fighting from a town on the edge of Skopje last week, in a NATO-backed deal to remove a direct threat to the capital.

Markovski said the army responded with mortars to rebel rifle fire near the guerrilla stronghold of Slupcane, just north of Nikustak in the foothills of the Black Mountains.

Markovski said there had been firing within Nikustak and said the rebels appeared to be fighting among themselves, although there was no confirmation of the report from the self-styled National Liberation Army (NLA).

The upsurge in fighting ended several days of relative calm, and came as the United States' special envoy to Macedonia arrived in Skopje to urge political leaders to find a peaceful solution to an ethnic Albanian uprising, that continues to threaten to plunge the country into war.

"I have come to help the people of Macedonia and their leaders, the government of Macedonia and the recognized Albanian leaders to find a peaceful solution to this conflict," said US envoy James Pardew, who will work together with EU envoy Francois Leotard.

Pardew, who also helped NATO efforts to defuse an ethnic Albanian uprising in southern Serbia earlier this year, stressed it was down to the Macedonian leaders themselves to solve the crisis through political efforts.

"It is important to recognize that finding a solution here is really the responsability of the leaders of Macedonia," he said.

"There are some who believe that the use of force is appropriate in this context. That is not true, those who favour the use of force here are undermining the peace process," he said.

The international community has urged the NLA to give up its armed struggle to end perceived anti-Albanian discrimination and give up their weapons to a planned NATO disarmament force.

It has also pushed Macedonian Slav and ethnic Albanian political leaders to negotiate a package of reforms to address Albanian grievances, while sanctioning a limited use of force against the rebels.

The army ran into serious international criticism when it launched an all-out attack on a rebel village on the edge of the capital Skopje a week ago, before NATO negotiated a rebel withdrawal to the Black Mountains further to the north.

Pardew was to meet Leotard later Sunday. The former French defence minister has already held talks with President Boris Trajkovski, who has proposed and amnesty for rebels who give up their weapons.