Enter content here
Macedonia truce respected, but rebels digging in: Skopje.
AFP
SKOPJE, July 10 (AFP) -

A crucial ceasefire in Macedonia, which could open the door to a NATO deployment, is being respected, the defence ministry said Tuesday, but warned that ethnic Albanian rebels were using the truce to consolidate their positions.

Defence ministry officials said the NATO-brokered ceasefire which came into force at midnight (1000 GMT) last Thursday was being "globally respected."

But the ministry also reported "intense activities" by guerrillas of the self-styled National Liberation Army (NLA) in the north and northwest regions, where the rebels have been fighting for five months.

An army spokesman said the guerrillas had been reinforcing their positions for several days near Tetovo, a largely ethnic Albanian town in the northwest near the border with the breakaway Yugoslav province of Kosovo.

He said guerrilla movements had been reported along the road leading to the Jazince border crossing, near the villages of Germo, Neprosteno, Tearce,and Lesok.

President Boris Trajkovski met a delegation from the Lesok area late Monday to hear complaints that they had been driven from their homes by the rebel advance.

There was also automatic rifle fired aimed at the ruined Turkish fortress of Kale on a hill above Tetovo where the army has set up positions, the spokesman said.

And NLA fighters fired on army positions near the village of Opaje, just west of the large northern town of Kumanovo, the army said.

The shots came from the village of Slupcane, which has been a rebel stronghold since NLA fighters stormed into the foothills of the Black Mountains in early May, capturing a swathe of land close to the Serbian frontier and provoking heavy fighting.

NATO is putting together a force of around 3,000 troops to deploy in northern Macedonia to disarm the NLA if the ceasefire holds and the fighters agree to an amnesty proposal.

But NATO has said it will not move in until a political settlement is signed to address Albanian complaints of widespread discrimination by the Macedonian Slav majority.

The political dialogue reopened Monday under intense international pressure after more than two weeks of stalemate.

Talks between Macedonian Slav and ethnic Albanian leaders in the strained emergency coalition were continuing Tuesday to examine Albanian demands to change the constitution and grant their language official recognition.
Nato deployment of Macedonia force in jeopardy.
the Independent
By Stephen Castle in Brussels
10 July 2001

Nato's plans to send about 3,000 peace-keepers to Macedonia have been thrown into doubt by fears that the mission may be too small to defend itself if a ceasefire breaks down.

The alliance's top military officials are also concerned that Western soldiers could become hostage targets if they entered Macedonia after a peace deal, then discovered that the situation had deteriorated.

The concerns leave Nato's political leaders with a dilemma. They may have to decide whether there is a bigger risk in sending troops in relatively quickly, or in delaying with the possibility that the country may plunge into civil war. One compromise may be an increase in the size of the detachment and its military capabilities.

With no sign yet of a political deal among the parties in Macedonia, Nato's supreme allied commander in Europe, General Joseph Ralston, is said to be determined not to permit any deployment that might leave his troops exposed.

Some of the alliance's senior officers believe that no early intervention is possible if soldiers' safety is to be guaranteed. They are also concerned that a deployment could lead to confrontation with the well-armed ethnic Albanian rebels.

Nato's 19 ambassadors have agreed on an operational plan that would see about 3,000 troops being sent to Macedonia to disarm the rebels under an agreed peace deal. Yesterday they met again for about an hour but made no announcement on any deployment amid mixed signals over the timetable for intervention.

The situation has become more complicated since the alliance drew up its plan. It was laid down before the latest round of violence erupted and was meant as an inducement for both sides to strike a deal.

The current plan would only come into effect when the Slav-dominated government of Macedonia and the rebels agree to a political deal giving ethnic Albanians increased political rights. In exchange the rebels would agree to disarm and allow Nato peace-keepers to collect their weapons.

Last Thursday Lord Robertson of Port Ellen, the Nato secretary general, welcomed the agreement by both sides to stop hostilities but said that Western troops would be sent only when "a sustainable political settlement that makes our deployment both necessary and safe".

The alliance says that the number of soldiers pledged may make it possible to expand the 3,000-strong force perhaps by as much as 2,000 if the security outlook deteriorates.

But in Macedonia yesterday there was still no breakthrough in attempts to translate the shaky ceasefire into a permanent peace underpinned by a political agreement.

The European envoy, FrançoisLéotard, and his American colleague, James Pardew, expressed optimism over the first round of talks, but both Macedonian and ethnic Albanian politicians insisted little progress has been made.

"We insist on our demands; it will be difficult to finish the negotiations," said an ethnic Albanian politician, Abdylhadi Veiseli. A Macedonian official, Nikola Popovski, also described the talks as "rather difficult".
Tetovo waits for fighting as talks falter.
the Irish Times
By Chris Stephen

BALKANS: With peace talks faltering and the ceasefire wobbling, Macedonia's rebels have now occupied the suburbs of the country's second city, Tetovo, where a football stadium is all that separates them from the security forces' positions.

And stuck right in the middle is Mr Rexhep Adili, a bearded, greying ethnic Albanian owner of a car workshop under the main stand.

He waits now for the spark that seems likely to plunge the city into a new round of fighting.

"I think there will be war now," he said yesterday, sipping coffee in the shade of the concrete stadium. "If the Macedonians wanted to accept our demands, they would have done so long before now."

Two hundred metres away, groups of National Liberation Army guerrillas in a mixture of black boiler suits and combat jackets lounge in the hot sunshine.

On the opposite side of the stadium blue helmeted police reservists peer nervously over the tops of the white sandbags of their bunker.

"We can take the town any time we want," says the rebel spokesman, known only as Shpati, or "sword" in Albanian.

"But we won't come in. We want to give space to the dialogue."

But the dialogue appears to be over before it properly began: An outline constitutional document proposed by the European Union mediator, Mr Francois Leotard, has been rejected by the ethnic Albanians because it fails to give them their key demand - a constitutional amendment giving them equality with the country's Slav majority.

Mr Leotard and the US mediator, Mr James Pardew, spent yesterday shuttling in and out of neighbouring Kosovo where the rebel leaders are based, hoping to buy more time.

Macedonia's government spokes man, Mr Antonio Milosh evski, was upbeat last night: "We are ready to discuss, and I believe the Albanians also will remain in the talks."

North of the city, ethnic Slav villages are emptying. The populations of six villages have chosen to flee. The population of one, Leshok, have opted to stay and the authorities have given them firearms.

"We're not going to run. We're going to fight," said one of a group of heavy-set men standing outside Leshok's main cafe.

"This is our home, we are not leaving. If they come we will shoot them."

The ceasefire is meanwhile beginning to fray at the edges, with sniper fire ringing out each night in the hills around Leshok.

In fact, while both sides talk peace, the country is dividing.

Four fifths of Tetovo is Albanian and the government appears to have decided that it will not fight to hold it. While the nervous policemen at the Drenovats roadblock guard the area around the stadium, other routes into the city are wide open.

Rebel forces have spent the past few days extending their control across a wide swathe of mostly mountain villages in east and northern Macedonia.

Government forces have meanwhile consolidated in more central areas. Nobody will say it publicly, but the reality is partition. It is a reality which horrifies international mediators, because such division will leave a lot of people stuck on the wrong side of the line.

"You know, in a manner of speaking we have had a Cold War between us for some years," says Mr Adili. "What will happen? I don't know. But we were born here so we are going to stay here."
The other casualty in Macedonia.
csmonitor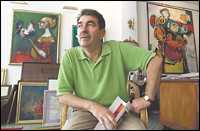 NO BUSINESS: Like many business owners, Dimo Bosevski, owner of a Skopje gallery, has seen his thriving business drop off almost entirely since the fighting began.
JULIE DENESHA
The economy sliding, both sides yesterday resumed talks on a peace plan to end the conflict.

By Arie Farnam
Special to The Christian Science Monitor

SKOPJE, MACEDONIA

Dimo Bosevski is the picture of a stubborn Macedonian entrepreneur. It took him 25 years to collect the items in his gallery: African prints, American modern art, antique European furniture, and Macedonian artifacts dating back 2,000 years.

In that time, he has weathered a half-dozen major economic crises and still managed to come out on top. Last year, it finally looked like business was picking up, but then disaster struck.

"Business dried up as soon as the war started," he says. "I used to have 20 to 30 people come in here every day. Now there are days when no one comes in at all and weeks when no one buys anything. People are afraid, so they don't spend money."

This spring, just when it appeared that the worst was over for this tiny, landlocked country of 2 million, an insurgency by ethnic-Albanian rebels stopped the Macedonian economy in its tracks. The resulting social unrest, some analysts say, could be a potentially volatile element in the ongoing conflict.

Yesterday, the two sides resumed peace talks aimed at reconciling the majority Macedonians with the ethnic Albanians, who bitterly complain of being treated as second-class citizens.

"Even if the conflict were to stop today, the [economic] damage that has been inflicted would be huge," says Vladimir Gligorov, a leading Macedonian economic analyst based in Vienna, Austria.

The conflict is centered around Macedonia's three major industrial cities, located in the northwest: Skopje, Kumanovo, and Tetovo. Several major foreign investments have already been withdrawn, including the construction of a large shopping mall. Imports and exports are estimated to be down by 20 percent, as is consumer spending.

"The war has destroyed our most important asset - credibility," says Slobodan Casula, an analyst for the main Macedonian newspaper Dnievnik. "Who in his right mind would invest in a country which is at war with terrorists only a few kilometers from the center of its capital city?"

But this country has seen hard times before. Macedonia became independent in 1991, and began the transition from a command economy to a free-market system. The transition resulted in several years of hyper-inflation, massive unemployment, and dropping GDP.

In 1992, Greece, the country's primary link to ports and foreign markets, slapped an embargo on Macedonia over the country's name, which Athens claims belongs to a Greek province. Shortly thereafter, the UN imposed sanctions on Yugoslavia, Macedonia's other major trading partner.

Macedonia managed to avoid the economic collapse that engulfed its neighbors Albania, Bulgaria, and Romania. In 1999, the war in Kosovo sent some 300,000 refugees fleeing into Macedonia, further burdening the economy.

Under the energetic stewardship of 30-year-old Finance Minister Nikola Gruevski, the Macedonian economy still grew by 6 percent in 2000, inflation was brought under control, and unemployment began to decline.

Several major foreign investments came in, shoring up the national budget. Preliminary negotiations for European Union membership were initiated. And Macedonia became known as a minor economic miracle in a bleak region.

"It's the little country that could," says Jason Miko, executive director of the American Chamber of Commerce in Macedonia. "The Macedonians somehow pull through crises every time. That's the amazing thing about this country. I still think they will come through this one as well."

However, the current conflict in Macedonia has already erased the economic gains of 2000. Untold military expenditures and the $200,000 per day the government is laying out to support displaced persons have spirited away last year's budget surplus - the first in Macedonian history.

The government anticipates a deficit of more than $100 million this year, and many military bills won't come due until 2002. Meanwhile, tax revenues are down, due to the drop in imports and sales. Mr. Gruevski imposed a 0.5 percent war tax on all financial transactions to try to plug gaping holes in the budget, but even that will raise only $30 million.

"It's a real shame," Mr. Miko says. "Goods are not coming into Macedonia. The local economy is stalled. Foreign contracts are being canceled or put on hold. Foreign capital is fleeing."

Despite the facts that IMF staff left in mid-June for safety reasons and the European Union has threatened Macedonia with aid sanctions, Gruevski has continued with his Western-oriented reforms, passing 30 new laws through parliament in the past month alone.

The currency has so far remained relatively stable, thanks to a cushion of foreign exchange reserves provided by the sale of Macedonian Telecom to German and Hungarian buyers last year. But these funds are expected to last only a matter of months.

Gruevski has called Macedonia's allies to a donor conference later this month, where the country will call in some moral debts. "Macedonia never really recovered from the Kosovo crisis," Miko explains, "and there are still international obligations to this country for its role in supporting the West."

Western leaders promised Macedonia hundreds of millions of dollars in aid in return for its cooperation during the Kosovo crisis. Only about 20 percent of those promises have been fulfilled. For example, NATO has yet to pay Macedonia for heavy road usage by its Kosovo troops, which are supplied and deployed out of Skopje. However, the US has increased its annual aid allowance to Macedonia from $30 million to $50 million this year, not counting generous amounts of military aid.

Last week, international mediators jump-started negotiations for a political agreement between ethnic-Macedonian and ethnic-Albanian political parities. Economic aid is likely to be an important factor in the resolution of the conflict, as economic distress is already generating social aggravation that could endanger the peace process.

"Major layoffs are imminent," Casula says. "That will add to the social tension of the 30 percent already unemployed. That is an explosive mixture. If the economy is not rescued, all the political deals in the world will be meaningless."
ANALYSIS-Albanians hold the cards in Macedonia peace poker.
Reuters
SKOPJE, July 10 (Reuters) - Leaders of Macedonia's Albanian minority appear to have nothing to lose in a high stakes Balkan power game, however the West tries to force their hand to dissolve a guerrilla uprising. With the ethnic Albanian National Liberation Army entrenched in northern hills, Albanian civilian negotiators are holding out for peace terms unpalatable to Macedonia's majority and NATO is reluctant to intervene for fear of casualties, diplomats say. Ethnic Albanian politicians acknowledge that the guerrillas are setting the agenda. "If there was no NLA, no one would seriously get involved in dialogue with Albanians (in Macedonia)," said Imer Imeri, an Albanian party leader.

The world's most powerful countries are scrambling to broker a compromise on political reforms to put a lid on a guerrilla revolt that has dragged Macedonia towards civil war. But the unwillingness of NATO powers to send in peacekeepers who could return home in body bags leaves a fistful of aces with the one of the Balkans' most respected Albanian politicians. "Why should I ask the Macedonians what they're prepared to give me? I am playing my game on my terrain," Arben Xhaferi told Reuters this week, dismissing Western peace plans as inadequate.

Although the kingmaker of Macedonian politics since 1998, Xhaferi failed to secure major improvements in Albanian minority rights. But with the territorial threat posed by the NLA, he now sees the chance to fight for his legacy. "I cannot have an approach of refusing everything but I will stick to my demands," whispered the ailing 53-year-old, who is slowly losing a battle with Parkinson's disease. Western envoys, anxious to exploit a truce brokered last week, are leaning heavily on Xhaferi and fellow Albanian leader Imer Imeri to sign up to reforms that fall short of those on their wish list, stressing this is the best they can expect. "They're getting a great deal and I'm convinced they have enough to sell to their community," one diplomat said.

Perhaps. But the hard sell appears not to be working on men whose bargaining space is limited with Albanian gunmen at large. "I don't believe they are playing games," warned Ibrahim Mehmeti, an Albanian journalist who promotes ethnic tolerance for the independent Skopje agency Search for Common Ground. "They have very little choice left any more."

CATCH-22 FOR NATO In just five months, the rebel National Liberation Army (NLA) has pushed longstanding Albanian demands for equality onto the mainstream agenda. They say they will hand over their guns to NATO if a comprehensive reform deal is signed. However, a NATO weapons-collecting mission dangled in front of politicians as an incentive is unlikely to be deployed before a satisfactory deal -- unless the alliance is willing to risk another long stay in a former Yugoslav republic. "If NATO comes in too early, it will end up policing lines of demarcation, which is just what the NLA wants," a military source warned. Ceasefire lines internationally secured before a peace treaty can evolve into partition of an ethnically torn country, as shown by Cyprus.

The military source added that there was little appetite to create an effective third Western protectorate -- after Bosnia and Kosovo -- in the Balkans. Yet the risk of watching a NATO-brokered ceasefire unravel while foreign troops are held back is equally unappealing. Some diplomats accept they may have to bite the bullet without the final agreement U.S. special envoy James Pardew and his European counterpart Francois Leotard are pushing for. "If you sit here with these people and discuss things you get nowhere," one Western diplomat cautioned. "You can't sit back and wait and that means accepting we have to go in."

It would be a risky gambit. NATO has 3,000 troops lined up to collect rebel guns, but is desperate to avoid being shot at, especially as it still has 40,000 peacekeepers policing neighbouring Kosovo.

GUERRILLAS RUN THE SHOW Deployment, which tops the list of Albanian demands, could provide the impetus towards a deal. But few expect the NLA -- like the reluctantly demobilised Kosovo Liberation Army rebels -- to surrender its full arsenal even under a disarmament plan. Many Macedonians would rather see NATO crush this effective offshoot of the KLA which the West once helped to fight Serbs in Kosovo. That province's majority Albanians are now accused by Macedonians of exporting rebel commanders.

Diplomats suspect Xhaferi of stalling talks in the hope the West will come to his rescue but accept it would be better to deal with him than the guerrillas whose political platform he has adopted and who would be given amnesty under a peace deal. NLA leaders such as political representative Ali Ahmeti are seen as serious rivals. They have been careful to wage a war of attrition against Macedonian forces, seeking to provoke them into a disproportionate response, military sources say. "The NLA is dictating the agenda, they've been very clever," a Western source said. "They could bomb the Macedonian capital if they wanted but they've chosen not to. That's control."

The West is threatening to crack down on NLA supply lines, but Albanian leaders appear to believe these are empty threats unless NATO is ready to risk shootouts at the Kosovo border. Attentions are starting to focus on the prospect of a peace summit outside Macedonia, a plan touted by several EU nations. Top Western officials have opposed the idea, arguing that the presence of heavyweight EU and U.S. envoys in Skopje is enough.

But Albanians believe it is their best hope. And although Macedonians reject a summit, fearing it could play into the hands of Albanian radicals who may seek effective partition of Macedonia, diplomats warn it could creep onto the agenda. "Now the conference idea is out of the bag, it'll be hard to put away and even harder to make progress before it," one said.