Enter content here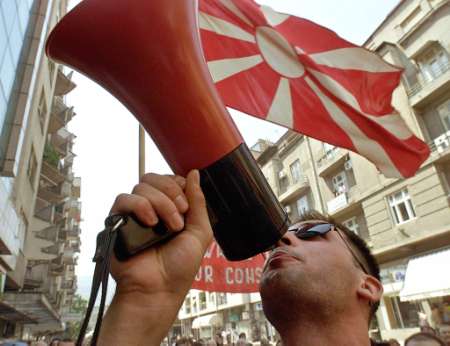 A protester shout during a rally in Skopje, July 16, 2001. Displaced Macedonian people from the Tetovo area gather in front of EU's office in Skopje, Huly 16, 2001 to protest for constitutional change, and demand more rights for ethnic Albanians. Western-brokered talks to unite leaders of Macedonia's divided communities behind a political deal to end five months of guerrilla warfare are deadlocked, a senior Macedonian government source said on Monday. REUTERS/Goran Tomasevic
Travel ban for Macedonian rebels.
TIME
BRUSSELS, Belgium -- Ethnic Albanian rebels fighting in Macedonia are to be banned from travelling to European Union member states.

EU foreign ministers agreed to impose a visa ban on Monday but added the restrictions would not be enforced while peace talks continued

Diplomats said a blacklist for the ban included 38 names of rebel commanders and "those involved in logistics" inside Macedonia and in neighbouring Kosovo.

Belgian Foreign Minister Louis Michel, whose country holds the EU rotating presidency, said: "This sends a strong signal to the extremists. It shows that respect for the ceasefire and for the political dialogue are essential."

The U.S. has also drawn up a similar list banning some known rebels from entering its territory. It has also tried to clamp down on U.S. citizens with Albanian roots from financing the five-month insurgency in Macedonia.

EU foreign policy chief Javier Solana said the decision to defer the EU visa ban reflected the delicate state of the negotiations.

"We want to give a bit of time (for the negotiations) and to implement (the ban) at a moment we consider right," he told Reuters news agency.

Talks between the Macedonian government and ethnic Albanian parties have been continuing but there are conflicting reports on how they are progressing. Some say negotiations have stalled and others that there has been movement forward.

Ethnic Albanians make up between one-third and one-quarter of the country's population and their political leaders want improved civil rights.

The peace deal would sanction the use of Albanian as an official language and provide for state-funded higher education in Albanian, the Associated Press reported.

It would introduce quotas for proportional representation in the army courts and other bodies and give ethnic Albanians a degree of self-rule by granting local governments broader authority.

While the rebels are not represented at the talks, they are expected to honour any agreement reached by the ethnic Albanian political leaders.

A political deal could trigger the deployment of about 3,000 NATO troops in a British-led operation to oversee the disarmament of the rebels.
Angry Macedonians Protest Concessions.
AP
By Misha Savic
Associated Press Writer
Monday, July 16, 2001; 8:30 a.m. EDT

SKOPJE, Macedonia Hundreds of angry Macedonians marched through the capital Monday to protest expected concessions to minority ethnic Albanians in peace talks aimed at ending a rebel insurgency and averting civil war.

Chanting, "This is Macedonia," and other slogans, demonstrators walked past the local offices of NATO, the Organization for Security and Cooperation in Europe, and the European Union, which is helping mediate negotiations for a political solution to the crisis.

The talks continued Monday for an eighth straight day between the feuding parties representing majority Macedonians and ethnic Albanians who are pressing for broader rights and more political influence in the former Yugoslav republic.

Protest organizer Tomislav Stojanovski told The Associated Press that the demonstrators were demanding meetings with U.S. envoy James Pardew and his EU counterpart, Francois Leotard, who helped draft the peace plan.

"We want to tell the people who dictate terms of peace that we need protection from those who started the war," Stojanovski said.

Macedonia's crisis began in February, when militants from the ethnic Albanian community took up arms and clashed with government forces, prompting the international community to intervene diplomatically in hopes of heading off the threat of a new war in southeastern Europe.

Earlier this month, NATO and the EU mediated a cease-fire, and Pardew and Leotard arrived to try to broker an agreement. Key provisions would introduce Albanian as the second official language, change the country's constitution to upgrade the status of the minority and guarantee better representation of ethnic Albanians in the government, police, army and education.

Ethnic Albanians account for nearly a third of Macedonia's 2 million people, and they have bitterly complained of treatment as second-class citizens. Many Macedonians see their demands as a strategy to divide the country and ultimately carve out an ethnic Albanian mini-state.

Monday's protesters mostly came from the northwestern city of Tetovo, where ethnic Albanians form a local majority and support the rebels who still control a string of villages near Macedonia's second-largest city.

Hundreds of Macedonians the majority ethnic group of Slavic origin have been forced out of their homes in the area. Many participated in the protest, chanting, "Macedonia for Macedonians," "No changes to our constitution" and "We want our homes back."

The OSCE mission chief in Skopje, Carlo Ungaro, appeared in front of his office near the protest crowd and spoke briefly to reporters, calling the Macedonian demands to return to their homes "a very legitimate request."

He said the OSCE was "very much concerned for places in which Macedonian people are in the minority ... one of our aims is to protect minorities."

Tens of thousands of people on both sides have been displaced by the fighting. Many ethnic Albanians have fled over the border into Kosovo, a predominantly ethnic Albanian province of neighboring Serbia.

If the rival sides agree on a peace plan, some 3,000 NATO troops would deploy to oversee the disarmament of the rebels, who number between 4,000 and 6,000 according to Macedonian government estimates.
Shooting in Macedonia as peace talks move into second week.
AFP
SKOPJE, July 16 (AFP) -

Shooting broke out over the weekend near the flashpoint town of Tetovo in northwestern Macedonia, the defence ministry said Monday, as drawn-out talks to end an ethnic Albanian uprising moved into their second week.

The defence ministry reported two bursts of shots Sunday against an army barracks from the ethnic Albanian neighbourhood of Drenovac on the edge of Tetovo, another rupture of a NATO-brokered ceasefire both sides agreed to observe on July 5.

Ethnic Albanian guerrillas of the self-styled National Liberation Army (NLA) were seen deploying in the region for the past two weeks, apparently reinforcing positions around the town they were driven from in March after a pitched battle with security forces.

Automatic rifle fire also targeted a police checkpoint by the town's stadium, in the same area. Police returned fire, the ministry said.

Several incidents had previously been reported around the checkpoint, with guerrillas venturing into the town itself from positions in hills overlooking the mainly-Albanian inhabited town.

Shooting was also heard late Sunday from villages around Tetovo, the ministry said.

The army blames violations of the truce on the NLA rebels.

The ceasefire was designed to provide a measure of stability as Macedonian Slav and ethnic Albanian political leaders held talks in the capital to hammer out political reforms to address Albanian complaints of discrimination.

There were no formal meetings scheduled for Monday, a week after the negotiations began.

Western diplomats have described the discussions as "difficult," although EU envoy Francois Leotard said late last week he expected a breathrough within days.

The leaders met again Sunday but the sensitive issue of the status of the Albanian language -- which the Albanians want to see as an official language together with Macedonian -- were still unresolved.

Despite the general lull in fighting, the UN refugee agency (UNHCR) in Kosovo said more than 1,000 Macedonian Albanians had headed over the border at the weekend to the UN-run province to escape the six-month conflict.

"Over the weekend, UNHCR reported a large flow of new arrivals in Kosovo. The majority of the new arrivals were from Skopje and left for precautionary reasons in anticipation of the outcome of the official negociations", said spokeswoman Astrid van Genderen Stort.

She said there were also refugees from the border village of Jazince, alarmed by an "increased build-up of Macedonian military and army in their region."

She reiterated the agency's calls "for all political and military actors to come to an agreement that will ensure peace and justice for all the communities and allow the displaced to return home."

The conflict -- which the guerrillas say they are waging to win more rights for Albanians, who they say make up a third of the population of two million -- has sent 74,000 Albanians and Macedonian Muslims fleeing for shelter in Kosovo.

Around 12,000 have returned home since the end of June, but around 62,000 are still staying with family and friends in the predominantly Albanian Yugoslav province.

Meanwhile in Brussels, around 100 ethnic Albanians staged a boistrous demonstration outside the EU Council of Ministers' headquarters where ministers were discussing an EU-wide travel ban on ethnic Albanians deemed by the European Union to be extremists.

Waving red-and-black Albanian flags, the protesters shouted "UCK, UCK" -- the Albanian acronym of the rebel NLA -- as well as "liberty, equality" and "we are not terrorists."
NATO Jumpy Over Rumors Of Russian Troop Movements.
the Moscow Times
Combined Reports SARAJEVO, Bosnia-Herzegovina NATO ran urgent checks a few days ago on rumors that the Russians planned to pull a fast one like they did in Kosovo, rushing their troops in first ahead of the West on the heels of a deal to make peace in Macedonia.

The Macedonian government assured us it had not invited the Russians to send forces," said a NATO diplomat. "If Russia did so without an invite it would be a hostile act," he pointed out.

Whether it was all only rumor, or whether Moscow had been caught out and warned off such preparations, he did not say.

"At one point we had a report of actual sightings but it would be a bizarre thing to do. There's no parallel with the case in Kosovo when the Russians dashed in from Bosnia."

That game of one-upmanship nearly resulted in an armed confrontation with NATO at Pristina airport two years ago this month, as a major allied peacekeeping force deployed only to find Russians had cheekily got there first.

Macedonia's fate is on a knife edge and nerves are frayed as NATO allies peer into the unknown, trying to anticipate the unexpected and make all the right contingency plans.

Western envoys shuttled Sunday between fractious Macedonian and ethnic Albanian leaders in attempts to bridge differences on a peace plan to bring an end to the five-month insurgency and avert the threat of a civil war.

Envoys from the United States and the European Union were meeting separately between the two sides in attempts to nudge them toward consensus on the plan. But Western officials close to the talks described them as hard going six days after they had begun.

"Everybody's still on board, the intensive and difficult talks continue," said one diplomat, who asked not to be identified.

(AP, Reuters
Macedonia Peace Bid Falters, Talks Said Deadlocked.
Reuters
By Daniel Simpson

SKOPJE, Macedonia (Reuters) - Western efforts to unite leaders of Macedonia's divided communities behind a political deal to avert civil war faltered on Monday as a senior government source said peace talks had become deadlocked.

"The talks are completely stalled. There is no agreement on key issues," the source told Reuters, likening the negotiations with parties representing Macedonia's large Albanian minority to "banging our heads against a brick wall."

A Western diplomat close to the talks denied the process was near collapse, stressing progress continued to be made toward a deal designed to end five months of sporadic guerrilla warfare.

"There has been some positive momentum over the weekend," the diplomat told Reuters. "We will be intensively dealing with all the parties throughout the day and into the evening."

Other diplomats, who have described negotiations as intense and difficult, cautioned that the government stance was probably a tactic to put pressure on Macedonia's Albanian politicians and mask its own reluctance to bite the bullet on major reforms.

"Hard-line elements on the Macedonian side have a tough time contemplating the rewriting of the constitution," one said.

A small crowd of angry Macedonians converged on the building where U.S. envoy James Pardew and the European Union's Francois Leotard were due to mediate an eighth day of talks, protesting that peace terms being proposed were too generous to Albanians.

Carrying banners emblazoned with slogans such as "Macedonia forever" and "EU where is your conscience," the crowd demanded that Western mediators defend Macedonians from ethnic Albanian guerrillas occupying the tiny Balkan country's northern hills.

CROSSROADS

Western powers, who hope quick reforms to grant minority Albanians greater civil rights can put a lid on the rebellion, admit the task is daunting, but are trying to remain optimistic.

"It is clear the process of ending the crisis is now at a crossroads," conceded NATO Secretary General George Robertson in a statement urging both sides to make the necessary compromises.

Macedonian officials stressed patience was wearing thin and warned that a breakdown in negotiations could spell the end of a NATO-brokered truce, which has contained fighting with the National Liberation Army (NLA) guerrillas for the past 11 days.

"We are not even close to reaching a final agreement," the government source said. "If things continue as they are, I'm not sure that the cease-fire will hold."

Although there is a broad consensus on devolving some power, clear obstacles remain to a deal designed to persuade the NLA to hand over some of its weapons to NATO in exchange for amnesty.

Disputes over calls for Albanian to be made a fully fledged official language were preventing progress, the government source said. Macedonian leaders are also refusing to accede to calls for an effective Albanian right of veto over a range of decisions in parliament, demanding that these be limited.

Equally tough to resolve is the issue of how to police the arc of western and northern Macedonia where most Albanians live.

Macedonians balk at the suggestion that local police chiefs should be elected, fearing this could allow the NLA, which has gained wide support among Albanians for putting their demands for equality on the agenda, to maintain its grip on the region.

The question is closely tied to amnesty terms, which have yet to be finalized. These are expected to have to cover rebel commanders if they are to be persuaded to surrender guns to NATO, which will only send in 3,000 troops if a deal is reached.

But again, there is no agreement on this sensitive topic.

In the meantime, both the NLA and the Macedonian army have used the truce, punctured almost daily by sporadic exchanges of fire, to resupply and realign troops in case talks collapse.

"If the talks fail, the war will surely continue," the government source said. "I think it will be worse."
Kosovo peacekeepers arrest regional KPC commander.
Reuters
PRISTINA, Yugoslavia, July 16 The NATO-led KFOR peacekeeping force in Kosovo said on Monday it had arrested a top commander of the Kosovo Protection Corps, the Western-backed successor to the rebel Kosovo Liberation Army.

The peacekeepers said they had information that Ruzhdi Saramati, a regional commander in the southern Kosovo city of Prizren, posed a threat to KFOR troops and ''international groups.''

The arrest came a week after KFOR and the United Nations decided to suspend five other commanders from the Corps after they appeared on a U.S. blacklist of people suspected of trying to destabilise the Balkans.

The Corps was set up with Western backing in 1999 after NATO's air war to drive Serb forces out of Kosovo. It is intended as a civilian emergency response agency providing a new role for ethnic Albanian guerrillas who fought Serb rule.

Major Axel Jandesek, a spokesman for KFOR, said Saramati was arrested on Friday.

''We have substantial information that the activities of Mr. Saramati were designed to threaten KFOR troops and international groups,'' Jandesek told a news briefing on Monday.

Peacekeepers also said they seized more than 250 rounds of ammunition, plus weapons and information about an outlawed military police group on Sunday at the house of one of the recently suspended commanders.

Rexhep Selimi, commander of the Corps guard unit and rapid reaction force, was not at home.

A bodyguard at Selimi's home was questioned and several weapons were confiscated, according to Major Mike Wakefield, a KFOR spokesman for central Kosovo. He said the bodyguard had a permit to carry weapons.

''It was a search based on information that there would be arms and ammunition at the accommodation,'' Wakefield said. ''Arms were certainly found there and other items that contravened the rules.''

International officials have so far been tightlipped on the specific suspicions against the protection corps commanders, although the White House linked the U.S. blacklist to efforts to quell an ethnic Albanian guerrilla insurgency in Macedonia.

But KFOR's commander, currently Lieutenant General Thorstein Skiaker of Norway, claims sweeping powers to detain anyone he considers a threat to security, citing the U.N. security Council resolution which authorised the peacekeepers to enter Kosovo.

''(Skiaker) has the ability to detain anyone he wants ... considered to represent a threat to the safe and secure environment in Kosovo,'' spokesman Jandesek said.

About 43,000 NATO-led peacekeepers provide security in Kosovo, formerly a Serb-ruled province before an 11-week NATO bombing campaign in 1999 to stop repression of the ethnic Albanian majority and install an international administration.