Enter content here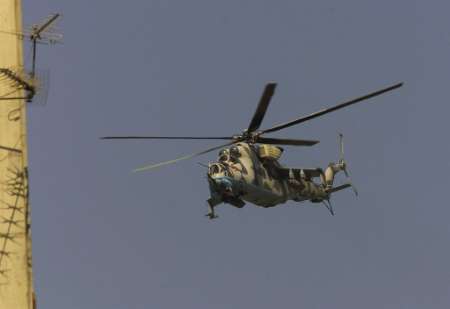 A Macedonian army M-24 combat helicopter flies over the center of the capital Skopje, July 28, 2001. Some 200-300 Macedonian refugees from the Tearce, a village in the Tetovo's area blocked the Skopje city center to protest of the burning of their village by Albanian guerrillas. REUTERS/Oleg Popov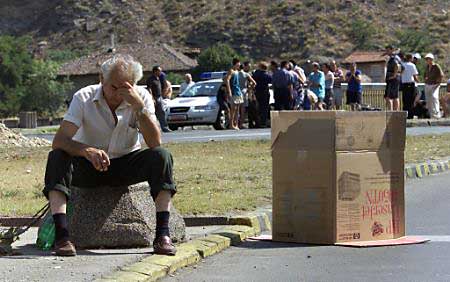 A Macedonian man, a refugee from the village of Tearce, sits next to a roadblock in the center of the capital Skopje on July 28, 2001. Some 200-300 Macedonian refugees from Tearce, a village in the Tetovo area blocked the Skopje city center to protest against the burning of their village by Albanian guerrillas. (Oleg Popov/Reuters)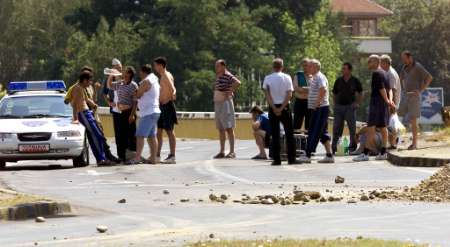 A group of Macedonian refugees from the village of Tearce speak with police next to a roadblock in the center of the capital Skopje, July 28, 2001. Some 200 to 300 Macedonian refugees from Tearce, a village in the Tetovo area, blocked Skopje city center to protest the burning of their village by Albanian guerrillas. REUTERS/Oleg Popov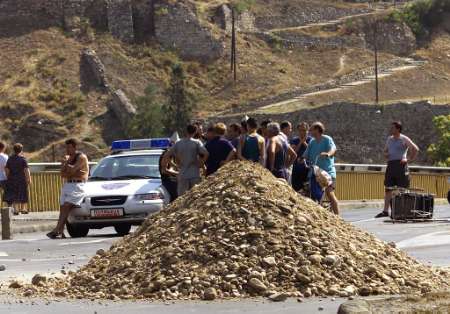 A group of Macedonian refugees from the village of Tearce speak with police next to a roadblock in the center of the capital Skopje July 28, 2001. Some 200 to 300 Macedonian refugees from Tearce, a village in the Tetovo area, blocked Skopje city center to protest the burning of their village by Albanian guerrillas. REUTERS/Oleg Popov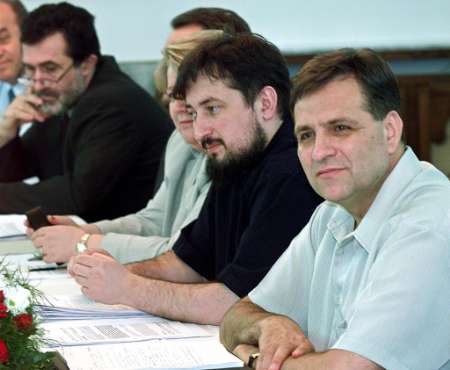 Macedonian President Boris Trajkovski (R) begins a session of crisis talks on Western peace proposals with Prime Minister Ljubco Georgievski (2R), Macedonia's foremost Albanian politician Arben Xhaferi (L) and other party leaders, July 28, 2001. U.S. envoy James Pardew and European Union negotiator Francois Leotard locked themselves away with Macedonia's polarised politicians in the lakeside resort of Ohrid on Saturday for a last-ditch effort to secure agreement on a plan to avoid a slide towards civil war. REUTERS/Goran Tomasevic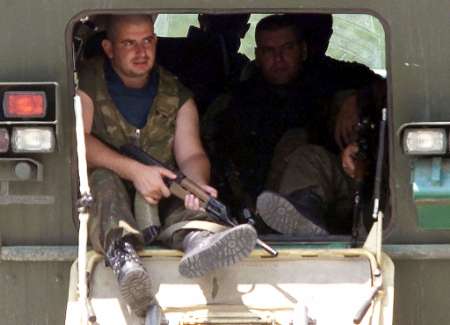 Macedonian policemen in an Armored Personnel Carrier patrol the flashpoint town of Tetovo, some 35kms west of the capital Skopje, July 28, 2001. Macedonia's polarized politicians resume peace talks on Saturday after top European Union and NATO officials twisted their arms in a new bid to stave off civil war. REUTERS/Oleg Popov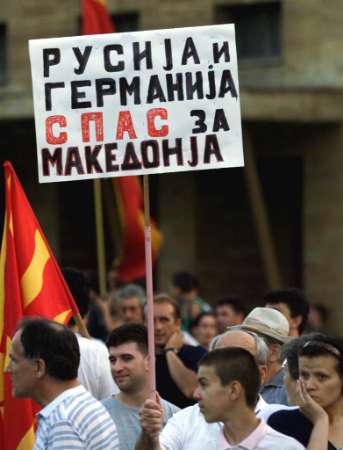 A Macedonian man holds a poster calling on "Russia and Germany-save Macedonia" during a rally in the centre of Skopje, July 28, 2001. Some 3,000 Macedonians, most of them refugees from the Tetovo and Kumanovo areas, took part in a protest in the Macedonian capital. Macedonia's polarized politicians resume peace talks on Saturday after top European Union and NATO officials twisted their arms in a new bid to stave off civil war. REUTERS/Oleg Popov
"Tough" Macedonian peace talks to roll on into Sunday.
AFP
OHRID, Macedonia, July 28 (AFP) -

Authorities in Macedonia holding peace talks with ethnic Albanian parties and international mediators said the "tough" negotiations would drag into Sunday as an accord was sought that would end a five-month ethnic Albanian rebellion in the north.

A statement issued late Saturday from the office of President Boris Trajkovski said: "We are continuing the talks this evening and tomorrow (Sunday) the president will resume the negotiations so that a political agreement is reached as soon as possible."

The talks started Saturday in Trajkovski's summer residence in this lake resort town in the south of the country with EU and US envoys Francois Leotard and James Pardew acting as facilitators.

The other participants included the leaders of the two Macedonian and two ethnic Albanian parties that make up the ruling coalition. Prime Minister Ljubco Georgevski attended as the head of one of the Macedonian parties.

Negotiations were meant to have started Friday in the northern town of Tetovo, Macedonia's third biggest city and the focus of recent battles.

They were delayed and relocated to the south because Tetovo was considered too insecure, despite a July 5 ceasefire saved from extinction by an agreement Wednesday between NATO and the rebels.

The renewed ceasefire continued to hold Saturday, enabling the return to villages and hamlets around Tetovo of 350 Macedonian Slavs, mostly men, who had left their homes with their families when fighting flared this week.

But the violence has not completely died down. Police said early Saturday that a number of houses and shops were set on fire overnight in a village near Tetovo.

Later, in Skopje, several hundred Macedonian Slavs demonstrated in front of the parliament to demand their safe return home, saying that members of their families who had visited villages around Tetovo still feared for their security.

Western efforts to bring both sides back to the negotiating table gathered urgency this week after anti-Western and anti-Albanian riots in the capital Skopje suggested the country was sliding towards all-out civil war.

The NATO-rebel agreement brought the situation back from the brink, and during a crisis-management visit to Skopje Thursday with NATO secretary general George Robertson, EU foreign policy supremo Javier Solana said the ceasefire and search for a political solution were "back on track".

With a draft framework for an agreement in place from previous negotiations that were abruptly aborted two weeks ago, there is hope differences on the two final outstanding issues can be narrowed to conclude a deal this weekend.

The talks now hinge on agreement being struck over two key ethnic Albanian demands: that Albanian become an official language in the republic alongside Macedonian, and that an ethnic Albanian police force independent of the state be set up for areas where ethnic Albanians have a significant population.

After a meeting of all the participants and several smaller consulting sessions, one government source said the "tough going" offered no quick breakthroughs.

An ethnic Albanian official close to the talks said that while there would not be concessions on the Albanian language issue, "we're under big pressure to have an agreement by Monday", explaining that both the rebels and the government forces were in a tense standoff may collapse at any time.

"This isn't a good time for strategic politicking because both armed parties are nervous," he warned.
Macedonian Slavs demonstrate in capital for safe return home.
AFP
SKOPJE, July 28 (AFP) -

Several hundred Macedonian Slavs demonstrated in front of the Skopje parliament on Saturday to demand safe conditions for returning to the homes they fled this week during fighting between ethnic Albanian rebels and government forces.

The Macedonians said members of their families, who had taken part in government-arranged visits to the villages they had fled near the northwestern flashpoint town of Tetovo, had not been convinced that it was safe enough for them to return home.

"It was a tourist visit," one demonstrator said, reflecting a sentiment apparently shared by many in the crowd.

The demonstration took place as the Macedonian government met for new peace talks with ethnic Albanian politicians and international peace brokers in the southern town of Ohrid, far from the violence which this week left the Balkan country facing civil war.

Earlier, police blocked traffic on key roads in the capital in anticipation of the demonstration, particularly around government buildings, after late on Tuesday anti-western, anti-Albanian demonstrations rocked Skopje.

The International Committee of the Red Cross (ICRC) says 8,000 Macedonian Slav people have fled their villages in all in fear for their lives since the ethnic Albanian insurgency started in February.

Rebels from the self-styled National Liberation Army (NLA) have said they pulled out of key positions in northern Macedonia on Thursday, under an accord with NATO. However, the Skopje has cast doubt on whether the withdrawal is complete.

The demonstration took place after the government and international organisations started helping hundreds of refugees return home on Saturday.

A four-bus convoy with some 350 Macedonian Slavs, mostly men, left Skopje Saturday for the northwest villages of Tearce, Neprosteno, Lesok, Glogi and Dobrosten, the scene of last week's clashes.

The hamlets and villages, controlled by NLA rebels until Wednesday's NATO-brokered ceasefire, are on the road linking the main Albanian-populated towns of Tetovo and Jazince, en-route to the neighbouring UN-administered Yugoslav province of Kosovo.

Since the accord, the rebels have dismantled their checkpoints and pulled out of positions in villages in the Tetovo region.

In a sign of continuing danger in the flashpoint area, police said early on Saturday however, that a number of houses and shops were set on fire overnight in a village near Tetovo.