Enter content here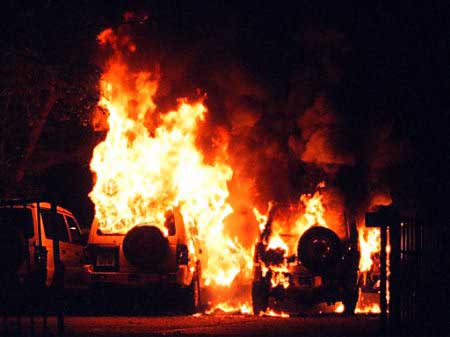 Two OSCE vehicles burn after angry Macedonian protestors stormed a parking lot and destroyed vehicles in Skopje, late July 24, 2001. Nationalist mobs attacked the U.S. embassy and other international offices in the Macedonian capital angered at the West's handling of a rebellion by Albanian guerillas. (Darko Moaritov/Reuters)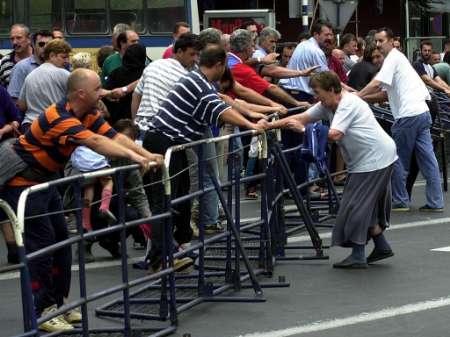 Protesters try to remove a fence in front of the parliamentary building during the protest in Skopje, July 24, 2001. Macedonians who say they were forced from their homes by ethnic Albanian rebels in fighting over the last 24 hours staged an angry protest in the capital on Tuesday. REUTERS/Ognen Teofilovski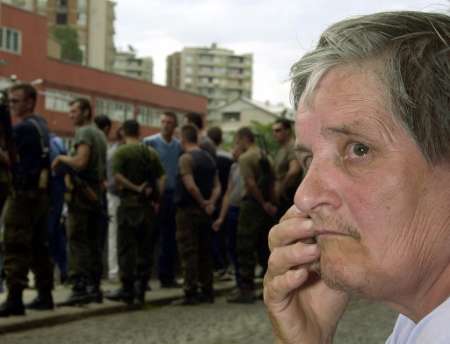 A Macedonian woman cries behind police cordon during the protest in Skopje, July 24, 2001. Macedonians who say they were forced from their homes by ethnic Albanian rebels in fighting over the last 24 hours staged an angry protest in the capital on Tuesday. REUTERS/Ognen Teofilovski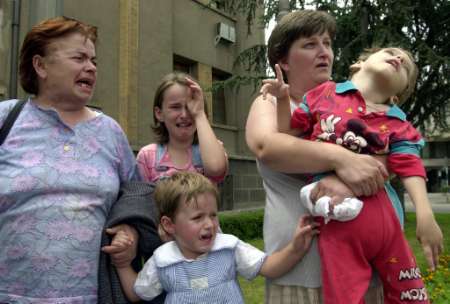 A Macedonian family cries in front of the parliamentary building during the protest in Skopje, July 24, 2001. Macedonians who say they were forced from their homes by ethnic Albanian rebels in fighting over the last 24 hours staged an angry protest in the capital on Tuesday. REUTERS/Ognen Teofilovski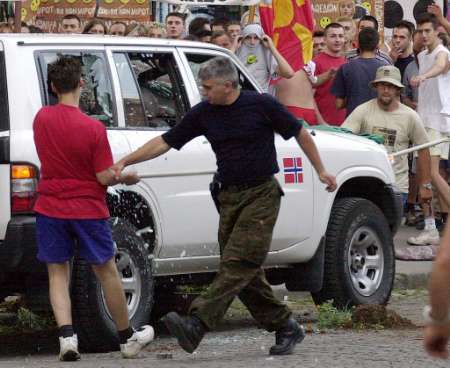 Policeman tries in vain to stop Macedonian protestor attacking a UNHCR vehicle during demonstration in central Skopje, July 24, 2001. Macedonians who say they were forced from their homes by ethnic Albanian rebels in fighting over the last 24 hours staged an angry protest in the capital on Tuesday. REUTERS/Ognen Teofilovski MACEDONIA OUT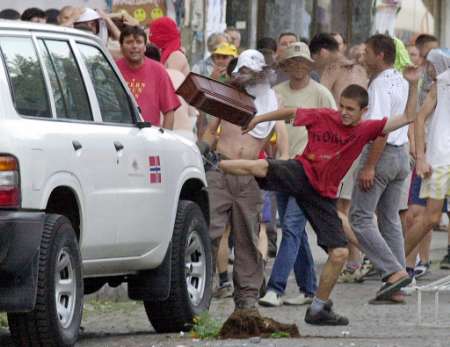 Macedonian protestors attack a UNHCR vehicle during a demonstration in central Skopje July 24, 2001. Macedonians who say they were forced from their homes by ethnic Albanian rebels in fighting over the last 24 hours staged an angry protest in the capital on Tuesday. REUTERS/Ognen Teofilovski MACEDONIA OUT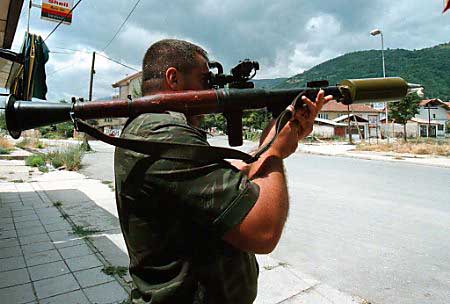 A Macedonian policeman aims a rocket launcher in Tetovo, west of the capital Skopje, July 24, 2001. The casualty toll from Macedonia's ethnic violence rose and the scope of the crisis widened as Albanian rebels declared for the first time they were fighting in the west of the Balkan state. (Reuters)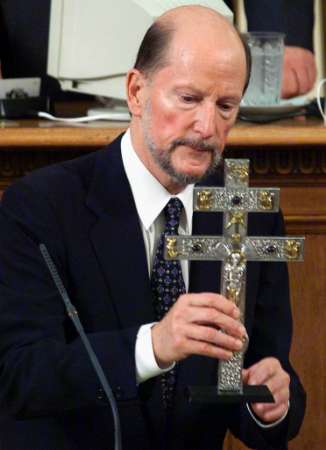 Bulgarian former King Simeon II holds an Eastern Orthodox cross in order to kiss it, as the new Bulgarian Prime Minister in the Parliament in Sofia, July 24, 2001. Bulgaria's Parliament on Tuesday approved a new government, which is headed by former King Simeon II, and includes young radical market reformers and supporters of European integration REUTERS/Oleg Popov REUTERS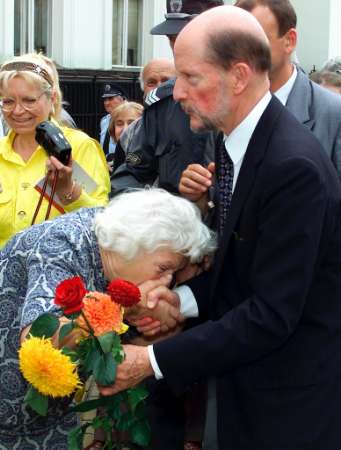 An elderly woman (L) kisses the hand of the new Bulgarian Prime Minister Simeon Saxe-Coburg (R), former King Simeon II, outside Parliament building after he was voted in office in Sofia on July 24, 2001. Bulgaria's Parliament on Tuesday approved a new government, which is headed by former King Simeon II and includes young radical market reformers and supporters of European integration REUTERS/Oleg Popov REUTERS
West denies backing rebels after Macedonian attack.
Reuters
SKOPJE, July 24 (Reuters) - Western peace mediators in Macedonia hit back at stinging government criticism on Tuesday, denying they were backing ethnic Albanian guerrillas in their rebellion against the state.

Macedonia's government spokesman had earlier said U.S. and European envoys James Pardew and Francois Leotard, who have led efforts to negotiate a peace deal granting minority Albanians greater rights, and NATO were helping rebels push a separatist agenda. "NATO is not our enemy but it is a great friend of our enemies who are attacking the future of our country," spokesman Antonio Milosovski told Reuters. His outburst follows a similar tirade from Macedonian Prime Minister Ljubco Georgievski last week, souring relations between the government and the West further and making it extremely difficult to resurrect talks on a peace deal.

The negotiators said they were in no way giving succour to the rebel National Liberation Army (NLA), whose five-month rebellion in the name of Albanian civil rights has dragged Macedonia towards civil war.

They also rejected Milosovski's claims that they had blamed Macedonian forces for breaking an 18-day-old ceasefire on Monday and starting a fierce battle in Macedonia's main Albanian town, Tetovo. "The two envoys deny any allegations that claim they support the NLA or that they lay the responibility for the fighting in Tetovo on the Macedonian security forces," Pardew and Leotard said in a joint statement. "They met with the Interior Minister this morning. They made no accusations about who started the fighting. They urged all sides to stop the fighting and to reestablish the ceasefire."

Western diplomats have become increasingly exasperated at what they see as efforts by hardliners in the Macedonian government to block a peace deal. Milosovski said the two negotiators had revealed themselves to be biased, building on a growing wall of Macedonian rhetoric against the concessions demanded of them, which Georgievski likened to tearing up the tiny country at the behest of the NLA.

Blaming Macedonians for the fighting in Tetovo was the last straw, Milosovski said. "That is a big lie, the biggest we have heard. It removes all doubt that they are not objective."
Fighting Escalates in Macedonia.
AP
By Aleksandar Vasovic
Associated Press Writer
Tuesday, July 24, 2001; 9:14 a.m. EDT

SKOPJE, Macedonia Western diplomats struggled to save peace talks as ethnic Albanian rebels battled government forces in the worst fighting in months, reviving fears of full-scale civil war in this troubled Balkan nation.

Angry refugees protested outside parliament Tuesday, claiming they had been under siege by ethnic Albanian rebels for days and demanding government protection.

Clutching bags containing their personal belongings, as many as 300 refugees massed outside the building in Skopje, the capital, hurling stones and attempting to charge the entrances. Police pushed them back and called in reinforcements.

The demonstration came a day after ethnic Albanian militants battled government security forces just outside the center of Tetovo, Macedonia's second-largest city.

"The state has left us to be killed by the Albanians," said Snezana Ilieva, a 37-year-old mother of three who fled the village of Lesok, outside Tetovo, carrying only a bag of diapers for her baby.

A rebel commander from the Tetovo area told The Associated Press on condition of anonymity that six rebels and eight ethnic Albanian civilians were killed in Monday's fighting. The claim could not be independently verified.

Rebels and army troops traded fire on Monday, including exchanges of rifle grenades and machine-gun bursts. Macedonian troops also fired heavy artillery and mortars on rebel positions, and the militants returned fire with mortar bombs.

Scores of cars packed mostly with women, children and elderly residents were seen fleeing Tetovo in the direction of Skopje.

Government spokesman Antonio Milososki said an 11-year-old girl was killed and six security force members wounded. Macedonian television said at least 25 others were wounded, and military spokesman Col. Blagoja Markovski said 22 Macedonian civilians were abducted by ethnic Albanian insurgents in villages around Tetovo.

Defense Ministry spokesman Marjan Gjurovski said the city was quiet Tuesday morning, although there were some minor clashes overnight in the nearby village of Tearce and distant detonations could be heard from a nearby mountain.

As the two sides squared off in Tetovo, U.S. envoy James Pardew and his EU counterpart, Francois Leotard, worked to revive peace talks that collapsed late last week after majority Macedonians refused to accept a provision that would make Albanian an official language.

Zehir Bekteshi, a spokesman for the ethnic Albanian Party for Democratic Prosperity, said no talks were scheduled for Tuesday. A Western diplomat who declined to be identified said Pardew and Leotard would focus Tuesday on "how to make sure that the fighting stops."

Monday's fighting was by far the most serious violation of a cease-fire brokered by NATO and the European Union that took effect July 5.

The militants launched their insurgency against government forces in February, demanding greater rights and recognition for minority ethnic Albanians, who make up about one-third of Macedonia's population of 2 million. Some of the worst fighting raged in and around Tetovo in February and March.

The government contends that ethnic Albanians already enjoy enough protection under the constitution. It considers the rebels "terrorists" and accuses them of trying to carve up the country.
Report: Rioters Attack U.S. Embassy In Macedonia.
channel2000
Also Attack British, German Embassies

SKOPJE, Macedonia, 6:51 p.m. EDT July 24, 2001 -- CNN reports that hundreds of rioters attacked U.S., British, German embassies in the Macedonian capital of Skopje, accusing NATO of siding with ethnic Albanian rebels. Relative calm has since been restored.

According to Reuters News Service, a nationalist anti-Western rampage has torn across the areas surrounding Skopje after the Macedonian government accused NATO and international peace envoys of helping ethnic Albanian rebels tear the country apart. The country's U.N.-brokered cease-fire is in serious jeopardy.

CNN reports that other symbols of Western culture were under attack, including a McDonald's in Skopje.

Meanwhile, ethnic Albanian rebels attacked an army barracks and surrounded four villages, according to the Associated Press.

The Washington Post reports that Macedonian forces and guerillas from the National Liberation Army, comprised of ethnic Albanian rebels, exchanged fire earlier today in Tetovo, a predominantly ethnic Albanian city about 20 miles west of Skopje.

On the last stop of his European trip, President Bush told U.S. troops in Kosovo that their presence has been vital to Macedonia.

In his speech earlier today, Bush said that there's "a hope for peace" because border patrols by U.S. soldiers have helped keep weapons out of rebel hands.

But he said that troops must stay alert to keep Kosovo from becoming "a safe haven" for rebels elsewhere.

Bush said those in Kosovo who support Macedonia's rebel insurgency are hurting the cause of ethnic Albanians throughout the region.

He adds "The people of Kosovo should focus on Kosovo."
LETTER OF PRIME MINISTER GEORGIEVSKI TO PRESIDENT TRAJKOVSKI.
MIA
Macedonian Prime Minister Ljubco Georgievski sent Tuesday a letter to Macedonian President Boris Trajkovski, in which he said, "he would like to once again remind him and point out to the fact that large parts of Macedonian territory have been occupied by the Albanian paramilitary for months". "Macedonian citizens are being killed or wounded by the Albanian terrorists each day, and at the same time mass ethnic cleansing of the Macedonian population from the villages and homes of their ancestors is going on right in front of your and my eyes. I demand that you, being the President of the Republic of Macedonia, and Supreme Commander of the armed forces, in accordance to the Macedonian Constitution, should issue all necessary orders and commands to the joint forces of the Macedonian Army and police with one goal - to defend the Republic of Macedonia and restore peace and safety of all citizens of Macedonia.

Allow me to remind you that we both took an oath before the Macedonian citizens that we will work in the interest of the Republic of Macedonia, and that we are committed only to them and to nobody else. Mr. President, I would like to assure you that you would get anything you would demand for the purposes of defence of Macedonia from the Macedonian Government and from me, as its Prime Minister. The employees of the Macedonian Interior and Defense Ministries are maximally prepared to perform their duties and are put at yours disposal for the defense of Macedonia" the letter from Prime Minister Ljubco Georgievski sent to Macedonian President Boris Trajkovski said.
Macedonia closes border with Kosovo.
AFP
PRISTINA, Yugoslavia, July 24 (AFP) -

Macedonia on Tuesday closed its border with UN-run Kosovo, which it accuses of fuelling an ethnic Albanian insurrection that has flared anew in the Balkans state, a UN official said.

Macedonia closed the border crossings at Blace, some 25 kilometresmiles) north of the capital Skopje and at Globocice near the northwestern town of Tetovo, where heavy fighting left two dead and dozens injured Monday.

The closure came into effect around 4:00 pm (1400 GMT), with Macedonian border officials allowing UN officials and NATO-led peacekeepers to cross into Kosovo but not return, spokesman Andrea Angeli said.

Macedonian citizens could still pass, he said.

The closure came as the Macedonian government accused NATO of backing ethnic Albanian rebels in order to "turn Macedonia into an international protectorate" under the control of the defense alliance.
Skopje accuses NATO of backing rebels, seeking to occupy Macedonia.
AFP
SKOPJE, July 24 (AFP) -

The government accused NATO Tuesday of backing ethnic Albanian rebels in order to "turn Macedonia into an international protectorate" under the control of the defense alliance.

"The aim of the war in Macedonia is to ruin its territorial integrity in order to turn Macedonia into an international protectorate controlled by NATO," government spokesman Antonio Milososki told reporters.

"NATO is not an enemy of Macedonia, but, at the same time, it is a big friend of our enemies," he said following a government meeting.
Heavy fighting breaks out in Macedonia despite Bush appeal.
AFP
TETEVO, Macedonia, July 24 (AFP) -

Heavy fighting broke out between ethnic Albanian rebels and Macedonian troops here late Tuesday, ending an uneasy calm that had reigned since two people were killed and dozens injured one day earlier.

The renewed violence, the heaviest since NATO brokered a ceasefire between the two parties on July 5, came hours after calls from US President George W. Bush and NATO Secretary General George Robertson for the truce to be respected.

Strong detonations and bursts of gunfire could be heard just 200 metres (yards) from the center of Tetovo. Much of the town was deserted, with many residents having fled the fighting.

On Monday, two people were killed, one of them a 12-year old girl, and 31 were injured in more than six hours of clashes in Tetovo and its surroundings.

Bush, on his first visit to the neighbouring Yugoslav province of Kosovo, called on government forces and Albanian rebels in the self-styled National Liberation Army (NLA) to "maintain the ceasefire".

The ceasefire agreement had bought time for EU envoy Francois Leotard and US ambassador James Pardew to work on a political settlement to the dispute over greater Albanian rights with Macedonia's Slav and ethnic Albanian political leaders.

But as their talks lost momentum last week, when the Slavs rejected a list of Albanian demands for changes to the constitution, the uprising that began in February gained pace again and refuelled fears of a new Balkans war.

In Brussels, Robertson issued a statement urging both parties to respect the commitments they made when they signed the ceasefire.

"Provocations and encroachments are unacceptable and must stop. In particular, I call on the so-called NLA to revert to their positions at the time of their ceasefire undertakings," the statement said.

Robertson called on the rebels to show respect for civilians and bring an end to intimidation and kidnapping.

Bush also warned that Kosovo, a UN protectorate, "must not be a safe haven for people causing insurgency elsewhere" and urged both sides to work with international envoys to resolve the crisis.

However Macedonia accused NATO of supporting the rebels, in order to turn the country into an "international protectorate."

"NATO is not an enemy of Macedonia, but, at the same time, it is a big friend of our enemies," goverment spokesman Antonio Milososki told reporters.

Robertson denied reports that the NATO-led peacekeeping force, KFOR, was supplying armed ethnic Albanian groups. "NATO has not given, and would not give, material or moral support to these groups," he said.

Meanwhile in Skopje, around 250 Macedonian Slavs who had fled the fighting near Tetovo demonstrated in front of the parliament.

The four coachloads of demonstrators, carrying bags with personal belongings brought from their homes, were calling for the liberation of their villages held by ethnic Albanian rebels, representatives said.

Two representatives met Macedonian President Boris Trajkovski.
Bulgaria's ex-King swears oath to republic.
BBC
The former king taking the oath of allegiance.
By BBC Central Europe correspondent Nick Thorpe

The former King of Bulgaria, Simeon II, has been sworn in as the country's prime minister after his newly-formed cabinet won an overwhelming vote of confidence in parliament.

Although he has never given up his claim to the Bulgarian throne, he swore his oath of allegiance as prime minister in the name of the Republic.

The former King has had to swallow his pride in the throne to which he still lays claim in order to take on the more powerful but more mundane post of prime minister.

The opposition Socialists largely abstained in the vote of confidence, while deputies of the former government, the United Democratic Forces, voted against.
The new prime minister kisses an Orthodox cross.
United Europe

In his first speech, Simeon of Saxe Coburg-Gotha told deputies that his lifetime goal was for Bulgaria to take its place in a united Europe.

An early test of his success or otherwise will come next year at a Nato summit in the Czech capital, Prague, when Bulgaria hopes to be invited to join Nato.

The organization has already expanded eastward once, in 1999, when Hungary, Poland and the Czech Republic joined.

The new Bulgarian prime minister pledged during his election campaign to improve the standard of living within 800 days.

Unemployment is close to twenty per cent and many Bulgarians suspect that the proceeds of privatisation have often ended up in the pockets of politicians rather than the state coffers.

The 31-year-old Economy Minister, Nikolai Vassilev, has pledged to speed up privatisation, avoid corruption and to encourage economic growth by changes in tax laws to make it easier for companies to reinvest their profits.