Enter content here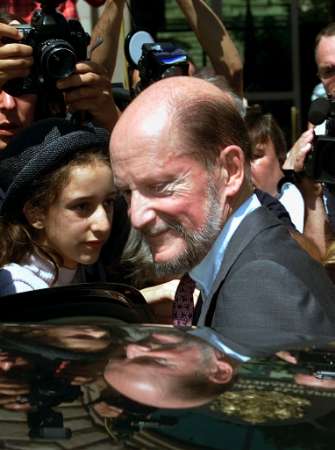 Bulgarian nominated Prime Minister Simeon Saxe-Coburg, mobbed by fans and journalists, gets into his car after Bulgarian President Petar Stoyanov handed him the mandate to form a cabinet in Sofia, July 15, 2001. Simeon II, the first ex-monarch to regain political power in post-communist Eastern Europe, was nominated as the country's next Prime Minister after his movement won a June 17 general election. REUTERS/Dimitar Dilkoff REUTERS
Western Plan Urges Greater Albanian Role.
Los Angeles Times
Macedonia: Peace framework reportedly calls for proportional representation in police and other institutions, as well as more self-rule.

By DAVID HOLLEY , Times Staff Writer

BELGRADE, Yugoslavia -- Macedonian political reforms suggested in a Western-drafted peace plan would guarantee ethnic Albanians proportional representation in several of the Balkan country's most important institutions, including the police, army, Constitutional Court and local government, state-run television reported Saturday.


The plan also calls for the powers of local government to be strengthened, giving ethnic Albanians more self-rule in areas where they form large majorities, the report said.


A proposed framework for political reforms was first given to Macedonian Slav and ethnic Albanian politicians by American and European Union envoys last weekend as a starting point for negotiations. It has undergone at least one rewrite on the basis of those talks.


Copies of the plan have not been officially released and some of its details remain unclear. The negotiations are aimed at establishing a political foundation for ending an ethnic Albanian insurgency that erupted in February in the mountains of Macedonia's northwestern border with the Yugoslav province of Kosovo.


A shaky truce brokered by the North Atlantic Treaty Organization has been in force between the rebels and Macedonian security forces since July 6.


The peace framework also calls for mechanisms to ensure that legislation on sensitive ethnic issues would need minority backing to be passed by parliament.


Ethnic Albanian parties hold 25 of the 120 seats in parliament. Ethnic Albanian leaders say they need a way to avoid being constantly outvoted by the Slav majority.


Other reforms envisioned in the plan include a change to the constitution to eliminate language defining "Macedonians"--meaning Macedonian Slavs--as the country's "constituent" people, state television said. Many ethnic Albanians feel that this language categorizes them as second-class citizens.


The proposal also provides for a census later this year. Some of the privileges the plan would grant to ethnic Albanians are defined as going to any minority that accounts for more than 20% of the population, the television report said. Ethnic Albanians make up at least 25% of Macedonia's population of 2 million, and most estimates place them at roughly one-third. No other minority would come close to the 20% level.


Rules for a census will be controversial because arguments are expected over who should qualify to be counted. Some Macedonian Slavs say many ethnic Albanians who are not Macedonian citizens are living in the country, and ethnic Albanians may want the census to include people who are temporarily working outside Macedonia.


The framework also calls for early parliamentary elections followed by an international conference to raise tens of millions of dollars in economic support for Macedonia, the TV report said.


The draft calls for an Albanian-language university that is now dependent on private funding to begin receiving state money. Albanian-language education through high school is already state-funded.


If ethnic Albanian and Macedonian Slav political leaders can agree on constitutional reforms and other issues, guerrilla leaders--who are not at the negotiating table--will be asked to agree to disarm. NATO has approved plans to deploy 3,000 soldiers to collect rebel weapons over a 30-day period if such an agreement is reached.


Last week, a NATO official in Brussels told reporters that both sides appeared to be using the cease-fire to build up supplies for renewed, and presumably fiercer, battle if the talks fail.


"We've seen pretty important movements of materiel and troops on both sides," the official told reporters at a briefing.


The official said NATO-led peacekeeping forces in Kosovo are trying the best they can to cut off guerrilla supply routes from the heavily ethnic Albanian province. But a complete sealing of the border has not proved possible in the remote mountainous terrain.

The lowest Western estimates place the number of guerrillas at about 1,200, while the Macedonian army puts their number at 4,000 to 6,000.
British fighters seek thrill of battle in Macedonias struggle.
Scotland on Sunday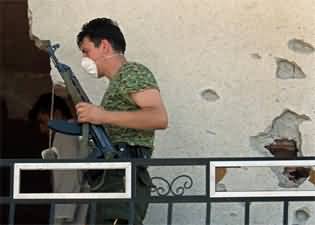 Gun law: many irregulars are caught up in the Macedonian fighting, such as this policeman. British volunteers are now understood to be involved.
From Conal Urquhart in Skopje

FORMER British soldiers are fighting the Macedonian security services as part of the ethnic Albanian National Liberation Army, Scotland on Sunday has learned.

Sources within the NLA confirmed that 12 British nationals were fighting with them in the Kumanovo region, along with at least two Dutch men and a German.

The fighters are not of Albanian descent but are believed to have fought in some of the wars in the former Yugoslavia, including Croatia, Bosnia and Kosovo.

The British contingent wasbased around the village of Slupchane until the ceasefire which has been in place for over a week. NLA commanders are taking advantage of the ceasefire to rest their troops and send them to Kosovo to recuperate.

Macedonians already feel persecuted by the Europeans and the United States, whom they accuse of encouraging the NLA.

Senior Macedonian officials said they were aware that the NLA also included European former KLA fighters.

"We know they are there but they are not significant - little more than drug addicts," one said.

Tim Ripley, a defence analyst at Lancaster University who has been studying the Macedonian conflict, said he was not surprised to learn that former British soldiers and adventurers had joined the NLA.

"I heard that some British people were planning to come out and join the NLA but I did not know if they succeeded. These people are not classic mercenaries.

"They are likely to have fought in recent Balkan wars and they are doing it for the adventure rather than the money. All they will receive is board and pocket money."

The use of foreign mercenaries is not restricted to the NLA. The Macedonian government has bought a number of helicopters and ground attack fighters from the Ukraine and employed pilots to fly them. There have also been persistent rumours that the Macedonian security forces have been recruiting soldiers from Serbia and Bulgaria.

One former British soldier arrived in Kosovo saying that he had come to fight but had not yet decided for which side.

Ripley said the Macedonians were also using military assistance from abroad.

"The Macedonians have simply bought in an airforce from the Ukraine and there are reports of Macedonian soldiers who do not appear to speak or understand Macedonian. There is a long tradition of this kind of thing in the Balkans," he said.

The NLA began its insurrection against the Macedonian government in February. It claims to be fighting for civil rights for Macedonias ethnic Albanian minority, which could make up one-third of the population.

Macedonians claim that the NLA has attacked Macedonia from Kosovo and aims to split the country as part of a wider campaign to form a greater Albania.

Fighting has officially been suspended although there are regular gunfights as both sides re-supply their troops.

Representatives of Albanian political parties are negotiating with Macedonian parties, along with Francois Leotard, the EU envoy and James Pardew, the US envoy.

As the politicians speak the armed groups continue to prepare for war.

This week, NLA fighters and military police were walking freely around the suburbs of Tetovo, Macedonias second city, stopping cars and checking papers.

New recruits could be seen heading off to the hills to receive training.

Meanwhile, the Macedonians are transporting around 30tanks and armoured vehicles to the Ukraine to be refurbished and equipped with night-vision equipment.

"They are clearly preparing for a long war," said Ripley.
Negotiator says Macedonian rivals close to agreement on peace plan.
AP
SKOPJE, Macedonia, July 15 Macedonia's feuding parties were near agreement Sunday on a peace deal meant to end an ethnic Albanian insurgency and ease tensions that threaten to plunge the Balkan country into civil war.

''We are making significant progress, pretty fast,'' Menduh Thaci, a top representative of the large and restive ethnic Albanian minority, said after a seventh day of talks with U.S. and European mediators and leaders of country's majority Macedonians.

''We are close to an agreement,'' Thaci told reporters, referring to a Western proposal for constitutional and legal reforms that would give ethnic Albanians more power and broader rights. ''We have resolved many issues and we are on a good path to finish the job.''

Macedonian representatives declined to comment after Sunday's talks. The Western mediators U.S. envoy James Pardew and European Union envoy Francois Leotard also declined to comment.

Thaci's optimistic comments came just hours after Western officials close to the talks described the negotiations as hard going.

''Everybody's still on board,'' said one diplomat who asked not to be identified. But he said the talks were ''intensive and difficult.''

In the past week, sources close to the negotiations have stressed that the country where more than a quarter of the population of 2 million is ethnic Albanian could still dissolve into civil war if the push for an agreement fails.

Macedonia's crisis began when ethnic Albanian extremists took up arms in February, saying they were fighting for broader rights. Dozens have died in the clashes.

There is no deadline for completion of the talks, which were being held against the backdrop of a tenuous cease-fire reached earlier this month between government forces and the rebels.

The front lines in northern Macedonia have been silent, but both sides are still entrenched and apparently ready to resume fighting if the peace efforts break down.

The peace deal would sanction the use of Albanian as an official language and provide for state-funded higher education in Albanian.

It would introduce quotas for proportional representation in the army courts and other bodies and give ethnic Albanians a degree of self-rule by granting local governments broader authority.

If the Macedonian and ethnic Albanian leaders reach a peace deal, NATO troops would be deployed to oversee the disarmament of the rebels, who the government estimates number 4,000 and 6,000.

While the rebels are not represented at the talks, they are expected to honor any agreement reached by the ethnic Albanian political leaders.

A NATO official speaking on condition of anonymity said the British-led operation to collect weapons handed over by the rebels could begin within five to 10 days after the green light is given.