Enter content here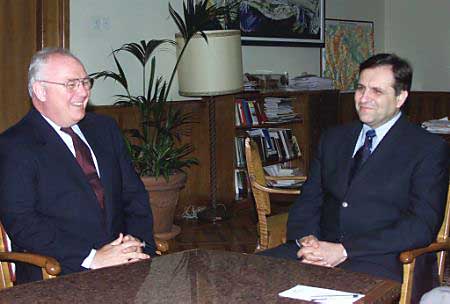 Macedonian President Boris Trajkovski holds a meeting with James Pardew, U.S. special envoy at the Parliament building in Skopje, July 2, 2001. Pardew was due to meet the country's top politicians after a helicopter gunship attack and heavy shelling shattered a weekend lull. (Peter Andrews/Reuters)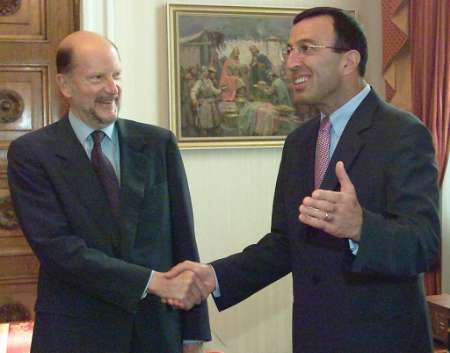 Bulgarian President Petar Stoyanov (R) welcomes at his office the former Bulgarian King Simeon II (L), July 2, 2001. Simeon II, whose political movement swept to power in the June elections, said he had no choice but to become Bulgarian prime Minister, according to an interview published on Sunday. REUTERS/Oleg Popov
Fighting rages in northern Macedonia.
BBC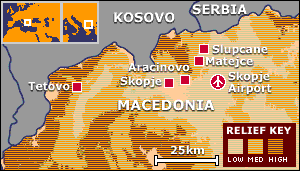 Heavy fighting has erupted around the northern Macedonian city of Tetovo following the capture of four nearby villages by ethnic Albanian rebels.

One Macedonian soldier was killed when mortar shells slammed into an army position on a hill overlooking the city.

A US State Department envoy, James Pardew, is meeting top politicians in Macedonia on Monday in an effort to secure a truce.

He is joining his European Union counterpart, Francois Leotard, in a mission to negotiate a general ceasefire in the four-month-old conflict. That could pave the way for Nato troops to disarm the rebels.

The hills around Tetovo have been a battleground since February.


Macedonian helicopter gunships went into action at Radusa near the border with Kosovo and there was also fighting near rebel-held villages north of Kumanovo.

Eyewitnesses said that some 600 residents of four villages near the Kosovo border - Setole, Varvara, Brezno and Otunje - were moved out by armed men with balaclavas and blackened faces.

Local media reported that a 58-year-old former army officer was killed in Brezno after refusing to leave.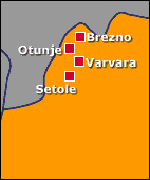 Villages near Kosovo border occupied by rebels.
Rebel demands

The BBC's Nick Thorpe in Skopje says that with the rebels attacking and occupying new territory the Macedonian Government is highly unlikely to make further concessions to them.

But without a proper ceasefire in place Nato will not deploy troops in Macedonia.

Nato has almost completed preparations to send more than 3,000 troops to help disarm the rebels.

But the rebels say they will only surrender their weapons if a political settlement is reached which grants substantial concessions to the Albanian community.

US negotiator

Mr Pardew has Balkans experience as a senior regional adviser at the US State Department.

He was involved in negotiating a peaceful end to the conflict in Serbia's Presevo Valley, where ethnic Albanian guerrillas recently laid down their arms.

Reuters news agency quoted German Defence Minister Rudolf Scharping as saying on Sunday that Bonn would send several hundred troops to Macedonia as part of the force.

The US State Department has already said Washington is prepared to offer logistical, medical and other support to the Nato force.
Nato urges Macedonia talks.
BBC
Nato Secretary-General George Robertson has urged the Macedonian Government to take the initiative and resume political dialogue to end the four-month conflict with rebel ethnic Albanians.

"The ball is very clearly in the court of the authorities of the Former Yugoslav Republic of Macedonia," he said, speaking at a European economic summit in the Austrian city of Salzburg.

The US special envoy to Macedonia, James Pardew, held talks with the country's president and prime minister on Monday in an attempt to strike a truce.

"I am hopeful that this week talks in Skopje can and should produce results that take Macedonia away from the edge of civil war," Lord Robertson said.

Fears of an escalation in the conflict rose when the army launched artillery and helicopter gunship attacks on Sunday, but the situation was calm on Monday.

However the arrest of the rector of an illegal Albanian university in the northern town of Tetovo has caused new concern.

Nato criticised

Lord Robertson called on Macedonia to make headway with Nato's preconditions for deployment.

Nato demands a political agreement, a stable security environment and a comprehensive ceasefire before it will send in 3,000 troops to oversee rebel disarmament.

"They need to urgently address the remaining issues, get a political agreement and then move forward to the point where Nato can help them," he said.

In a BBC interview, Macedonian President Boris Trajkovski also stressed his commitment to talks.

"No-one thinks that a military solution is the only solution - it is part of several solutions. I think the political and diplomatic efforts are creating a more lasting solution," he said.

But Nato's stance in Macedonia was criticised by Serbian Prime Minister Zoran Djindjic, also attending the Salzburg conference.

He said the alliance should have intervened to support the government earlier.

"[The Macedonian authorities] should have been better prepared by Nato so they can act better by themselves instead of pounding an entire village to dust when you have five guerrillas shooting at you," he said

University rector arrested

In the northern town of Tetovo on Monday, the rector of an illegal Albanian language university, Fadil Slulejmani was arrested by Macedonian police.

A police source said he was being questioned over alleged connections with ethnic Albanian guerrillas.

A western diplomat told Reuters news agency the arrest could complicate the peace process.

"The process is complicated enough already and it will be a factor. It's not going to make it any easier," he said.

A weekend lull in fighting broke on Sunday with the rebels taking control of four villages - Otunje, Varvara, Setole and Brezno.

Eyewitnesses said that about 600 residents of the villages were moved out by armed men with balaclavas and blackened faces.

The rebels say they will only surrender their weapons if a political settlement is reached which grants substantial concessions to the Albanian community.

Both the rebels and ethnic Albanian politicians are demanding greater rights for the Albanian population including increased representation in the administration and greater use of the Albanian language.

The guerrillas began their insurgency in February and maintain control of several villages in the north of the country.