Enter content here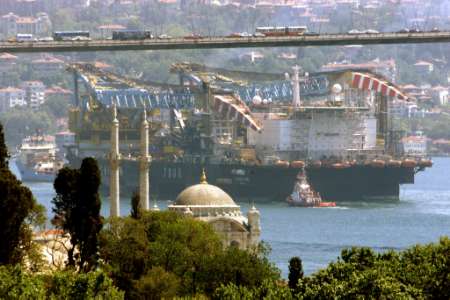 Italian-flagged oil platform Saipem 7000 sails under the Bosphorus Bridge past the Ortakoy Mosque, as the vessel makes its way towards the Black Sea August 6, 2001. The Italian-flagged vessel hired by Italian oil company Eni, is to be anchored off shallow waters in Black Sea, to install pipelines under the sea to pump natural gas from Russia to Turkey. The project called "Blue Stream" supported by Italy's Eni and Russia's Gasprom aims to supply the country 16 billion meter cubed gas per year which begins in March 2002. REUTERS/Fatih Saribas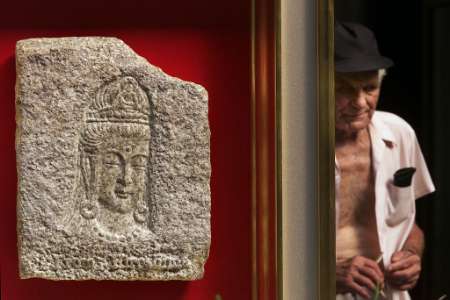 A Bulgarian man passes a granite slab of tramway pavement, exposed to a nuclear explosion over Hiroshima August 6, 1945, on exhibition in a Sofia musem on August 6, 2001. Hiroshima marked the 56th anniversary of the world's first atomic bombing. REUTERS/Dimitar Dilkoff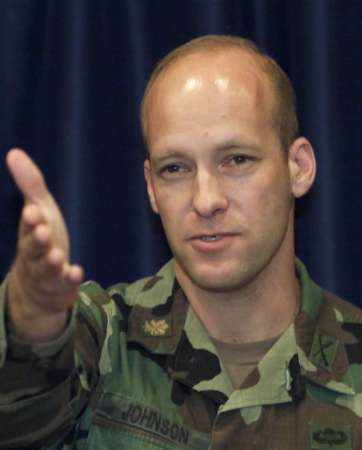 U.S. Army major Barry Johnson, spokesman of NATO in Macedonia, takes a question during a press conference in Skopje on August 6, 2001. Major Johnson said NATO is ready to deploy in Macedonia some 3,500 soldiers from various NATO nations in a plan, called Operation Essential Harvest. Macedonia's politicians will try on Monday to put the final touches to a peace plan to defuse a five-month-old ethnic Albanian rebellion, but any pact will face big hurdles to avert a new Balkan war. REUTERS/Oleg Popov
Ethnic Albanian rebels set conditions for disarming.
AFP
SKOPJE, Aug 6 (AFP) -

Ethnic Albanian guerrillas said Monday they would lay down their weapons but do so gradually in steps that would mirror progress in implementing the peace deal.

"It is clear that a process of voluntary disarmament will start, but it should happen at the same time as the implementation of the demands," a commander of the rebel National Liberation Army (NLA), captain Shpati, told

Negotiations on a final peace deal were suspended Monday after the Macedonian side put forward new demands.

Macedonian and ethnic Albanian political leaders are seeking an agreement to end a six-month conflict between government forces and ethnic Albanian guerrillas.

A final peace deal would provide for NATO troops to be sent in to oversee the disarmament, as decided by top alliance officials last month.
Macedonia's talks suffer setback.
AFP
OHRID, Macedonia, Aug 6 (AFP) -

Peace talks in Macedonia hit an unexpected obstacle on Monday when the Macedonian side submitted fresh demands, Western diplomats said, but they insisted negotiations aimed at ending a six-month conflict in this former Yugoslav republic had not collapsed.

"This is a serious setback," US envoy James Pardew told AFP.

"The Macedonians submitted new demands. This is the deal-breaker," a Western diplomat said earlier.

He added that the demands "were a step backwards, but not a breakdown" in the talks which had earlier appeared close to an overall accord.

Both Western officials and Macedonian sources insisted the talks had not been "suspended," but were merely "taking a break" while the Macedonians considered their position.

A Western source said the Macedonians had demanded guarantees that the peace plan would be implemented along with the disarmament of the ethnic Albanian guerrillas of the National Liberation Army (NLA), who have been operating in the country for more than six months.

A source close to the Macedonian presidency said a "pause" of the talks was also called because of the meeting of the country's national security council, set for 5:00 pm (1500 GMT) by President Boris Trajkovski.

The talks would resume after the meeting of the council was over, the source said.

In Skopje, an NLA commander, Captain Shpati, told AFP the rebels would lay down their weapons but that they would do so gradually, in steps that would mirror progress in implementing the peace deal.

Earlier Monday, as the internationally-brokered talks between Macedonian and ethnic Albanian political leaders entered their ninth day, European Union envoy Francois Leotard had expressed hope that a final peace accord would be struck "perhaps Monday, or in any case Tuesday."

Shortly after he spoke, however, the Macedonian defence ministry said minor clashes had erupted overnight in ethnic Albanian rebel strongholds in an ominous sign the guerrillas might be at odds with results achieved so far in the negotiations.

The rebels, who launched an insurgency in February in what they say is a fight for minority rights, have not been allowed at the negotiating table. Any peace accord would be unlikely to work if they did not agree with its terms.

Before Monday's last-minute drama, it had looked as if the final obstacle to a peace deal -- a reform of local police forces in areas with significant ethnic Albanian populations -- had been overcome Sunday.

The other key sticking point in the talks, the status of the Albanian language, was resolved last week, but is conditional on an overall accord being signed.

In Skopje, NATO spokesman Major Barry Johnson said the alliance was ready to send some 3,500 soldiers to Macedonia to oversee the disarmament of NLA rebels if a final peace accord was reached.

The first NATO soldiers could be deployed within 48 hours after the peace accord was reached and could start overseeing a rebel disarmament two weeks later, Johnson, said.

While international mediators have been upbeat about the chances of success, Macedonian and ethnic Albanian politicians have been markedly silent about progress.

A fragile July 5 ceasefire has been regularly marred by violence, and as the talks dragged on last week, the Skopje government also started to talk tough, saying it was ready to use military force to drive out rebels from areas they have occupied.

The deal would also have to go to parliament, where quick passage of what has been agreed is not assured. Parliament speaker Stojan Andov last week said rebels should withdraw from their positions before it passes.

The international community has weighed in to help secure peace in Macedonia, fearing another Balkans war will erupt as it did in Bosnia and the Serbian province of Kosovo in the 1990s.

Albanians form up to one third of the country's population of two million, living mainly in the north near the border with Kosovo and in the west near Albania.
Western concern over arming troops puts Ukraine under pressure.
the Independent
By Justin Huggler
06 August 2001

There was an unfamiliar face at the negotiating table in Macedonia's peace talks yesterday: the Ukrainian Foreign Minister, Anatoliy Zlenko.

When Javier Solana, the EU's security affairs chief, flew in to chivvy the talks along yesterday, he had Mr Zlenko with him. Ukraine is coming under intense pressure from the West to halt arms sales to Macedonia so intense that Mr Zlenko had to be flown into have his arm twisted.

Yet only a month ago, arming the Macedonians was still Western policy. Earlier this year, the British Army made a formal offer to train Macedonian soldiers an offer that was politely refused.

Now it seems the international community has realised that arming the Macedonians could mean arming one side in a potential civil war. Sukhoi fighter jets supplied by Ukraine regularly scream over Skopje. Ukraine has also supplied helicopter gunships that have been used to attack rebel positions and on one occasion accidentally killed several Albanian civilians sheltering in a basement, including three young children.

When the crisis began, the Macedonian air force consisted of four helicopters one of which crashed into a ski resort in the first few weeks. Macedonia's ill-equipped army has been no match for the rebels on the ground, but it has been steadily arming itself.

Macedonia has few resources. Funds are believed to have come from the sell-off of Macedonian Telecom, which brought in 750 million German marks. The Macedonian government is also said to have sold Ukraine some of its Russian debt to pay for armaments.

While Ukraine has been open about its sales, there are rumours of other countries supplying arms secretly, and stories of gun shipments arriving at customs listed as "ice-cream".
Police deal opens way to Macedonia peace.
the Times
BY MICHAEL EVANS, DEFENCE EDITOR

A PEACE deal between the Macedonian Government and ethnic Albanian political leaders moved a step closer last night after a deadlock over police reforms demanded by the Albanians was broken.
Javier Solana, the European Union foreign policy chief, who had flown to the Former Yugoslav Republic of Macedonia from Ukraine, announced after several hours of negotiations: I think we can say that the parties have agreed on a document on police.

Earlier in the day the Macedonian and ethnic Albanian negotiators seemed to be far apart over the Albanian insistence on a more equitable power-sharing arrangement in the countrys police force.

At present ethnic Albanians represent only 6 per cent of the police officers, even though they are one third of the total population of two million. Under the deal it is believed that the number of ethnic Albanian police officers will be increased by about 1,000 in the next two years, but Albanians lost in their efforts to have police chiefs answer to local leaders rather than the central government. Seņor Solana gave few details of the deal, but it is likely that dozens of international police officers will be drafted into Macedonia to help with reorganising the force. He said of the deal: This will lead to a country which is stable and has a European perspective.

Last nights agreement was the second substantial breakthrough in the peace talks. Last week the two Macedonian Slav parties and the Albanians reached a deal under which Albanian would become the official language in regions where 20 per cent of the population were ethnic Albanians. Western negotiators said the police issue was even more difficult to resolve.

However, if there is a lasting deal on the composition of the police force, there is now real hope of a peace settlement, although hard-line members of the Macedonian Government still believe that the Albanian rebels, who are not part of the negotiations, should withdraw from all areas that they have occupied in the six-month conflict before a full political deal can be signed.

British military sources said last night that a detailed framework for disarmament would also have to be agreed before Nato troops would be deployed to Macedonia. About 3,000 troops are awaiting the go-ahead to begin a 30-day operation in Macedonia to collect weapons handed over by the rebel forces of the ethnic Albanian National Liberation Army as part of a disarmament programme.

Seņor Solana was accompanied yesterday by Anatoli Zlenko, the Ukrainian Foreign Minister. Ukraine, which has been supplying the Macedonian Government with combat helicopters and fixed-wing aircraft to attack the rebels, has been asked to stop the sales. Mr Zlenko said that his Government would seriously consider the request.

The Nato force will be run by Britains 16 Air Assault Brigade headquarters, commanded by Brigadier Barney White-Spunner. He has asked for Britains troop contribution to be increased from 1,000 to 1,800, but Geoff Hoon, the Defence Secretary, has refused, saying that other Nato members should provide more troops. Notice for British Army bomb disposal teams to go to Macedonia has been cut from five weeks to five days.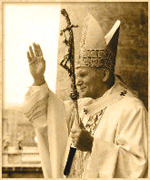 The Pope would visit Bulgaria in 2002.
News.bg
Papal legate his holiness Antonio Menini confirmed to the Chairman of Bulgarian Parliament Ognyan Gerjikov that Pope John Paul II would visit Bulgaria next year, most probably in May. His holiness Antonio Menini asked the Chairman of Bulgarian Parliament Ognyan Gerjikov to cooperate in abolishing the yearly fee of BGN 500 that foreigners must pay according to the Foreigners Law, and to mediate between Bulgarian Catholics and Sofia municipality in solving the problems about the property on the land, on which the Catholic church St Josef was built. His holiness Antonio Menini presented the Chairman of Bulgarian Parliament Ognyan Gerjikov with pictures from the Vatican.