Enter content here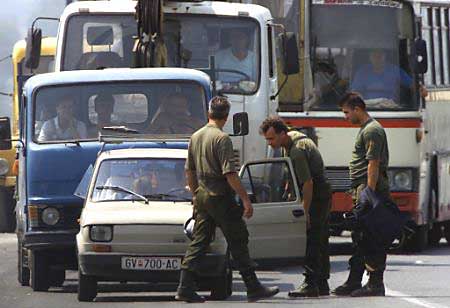 Macedonian policemen speak with Macedonians leaving the combat area on the road linking Skopje with the town of Tetovo on August 8, 2001. Ethnic Albanian guerrillas killed 10 soldiers in an ambush on the Skopje-Tetovo road earlier in the day, the bloodiest battle yet in their insurgency. (Oleg Popov/Reuters)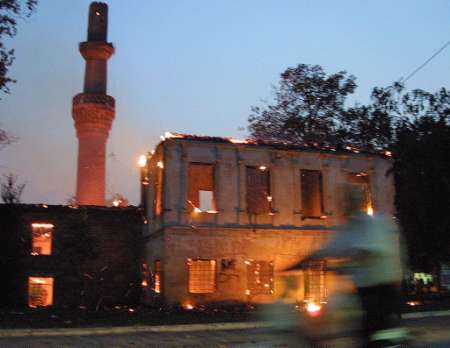 A mosque burns after it was destroyed in the town of Prilep, 160 km (100 miles) south-west of Skopje August 8, 2001. The mosque and many muslim stores was destroyed after news that Albanian extremists killed 10 Macedonian soldiers on the road between Skopje and Tetovo this morning. All soldiers are from city of Prilep. (MACEDONIA OUT) REUTERS/Ognen Teofilovski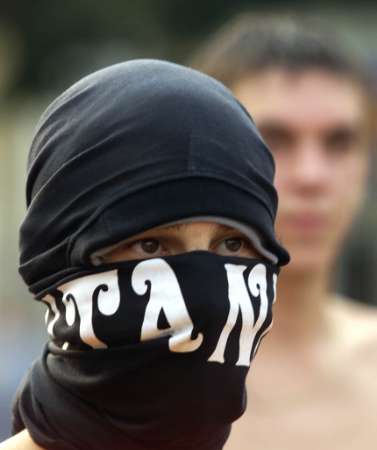 A masked Macedonian protester demonstrates as some 300-400 people, mostly refugees from the Tetovo's area, marched in the center of Skopje August 8, 2001. Ethnic Albanian guerrillas killed 10 soldiers in an ambush on the road Skopje-Tetovo on Wednesday, the bloodiest battle yet in their insurgency, just hours before negotiators from both sides of Macedonia's ethnic divide were to finalize a peace deal. (MACEDONIA OUT) REUTERS/Oleg Popov REUTERS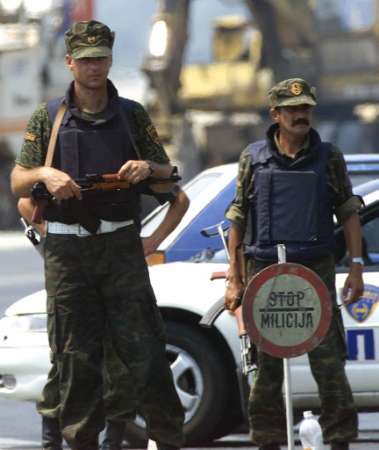 Two Macedonian policemen stop cars in the suburbs of Skopje August 8, 2001, on the road connecting the Macedonian capital with the flashpoint town of Tetovo. Ethnic Albanian guerrillas killed 10 soldiers in an ambush on the road Skopje-Tetovo on Wednesday, the bloodiest battle yet in their insurgency, just hours before negotiators from both sides of Macedonia's ethnic divide were to finalize a peace deal. REUTERS/Oleg Popov REUTERS
UN refugee agency urges action to halt displacement in FYROM.
Kathimerini
GENEVA (AFP) - The UN refugee agency urged NATO and the European Union yesterday to step up efforts to allow some 120,000 refugees to return to their homes in the Former Yugoslav Republic of Macedonia (FYROM), raising fears that the displacement could become irreversible.

"We don't want the whole displacement to stick, to become irreversible as it did elsewhere in the Balkans," Kris Janowski, spokesman for the United Nations High Commissioner for Refugees (UNHCR) said. UN High Commissioner for Refugees Ruud Lubbers has written to NATO Secretary-General George Robertson and the EU's foreign policy chief Javier Solana to call for a stronger international security effort to restore confidence for Slav-Macedonians who want to return to their homes, Janowski said.

"We believe that the longer the refugees and the displaced persons stay away from their homes, the more bitter and radicalized they are becoming and the deeper the ethnic divisions are growing," Lubbers wrote.

Although the letter was sent on August 3, the day before a tentative peace deal was drawn up, Janowski indicated that NATO and the EU needed to go further while there were signs that more people were returning home than fleeing.

The UNHCR wants more civilian monitors to work alongside NATO peacekeepers and to boost the multiethnic base of the government police force. "We think that it's probably not enough that the police force has 1,000 more ethnic Albanians," Janowski added.

The UNHCR said steps were also necessary to allow Slav-Macedonians who fled overwhelmingly ethnic Albanian areas in the north to return to their villages in safety.

About 22,000 people are estimated to have returned home since efforts to resolve the conflict in FYROM intensified last month, according to the UNHCR.