Enter content here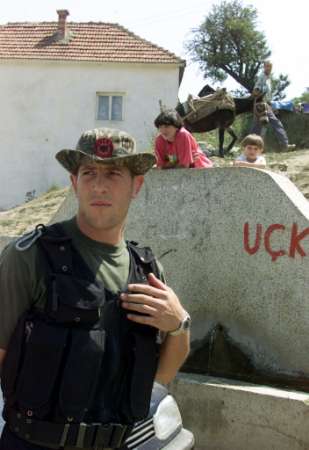 An NLA soldier patrols in the village of Sipkovica, where the leader of ethnic Albanian guerrillas in Macedonia, Ali Ahmeti, held his first ever news conference on Macedonian soil, August 19, 2001. Ahmeti declared the rebels were committed to peace after agreeing to end a six-month rebellion that has dragged the former Yugoslav republic towards civil war. NATO troops are in Macedonia to assess whether a shaky ceasefire in force for a week is stable enough to allow a larger force to be deployed to collect rebel weapons. REUTERS/Petr Josek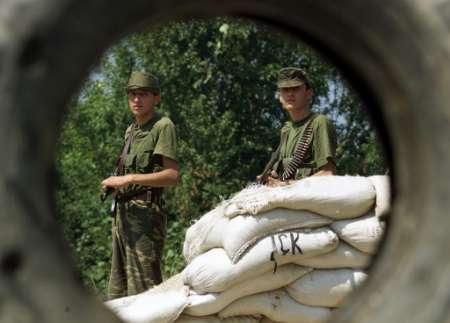 NLA soldiers stand guard at the Albanian checkpoint to the village Sipkovica, where the leader of ethnic Albanian guerrillas in Macedonia, Ali Ahmeti, held his first ever news conference on Macedonian soil, August 19, 2001. Ahmeti declared the rebels were committed to peace after agreeing to end a six-month rebellion that has dragged the former Yugoslav republic towards civil war. NATO troops are in Macedonia to assess whether a shaky ceasefire in force for a week is stable enough to allow a larger force to be deployed to collect rebel weapons. REUTERS/Petr Josek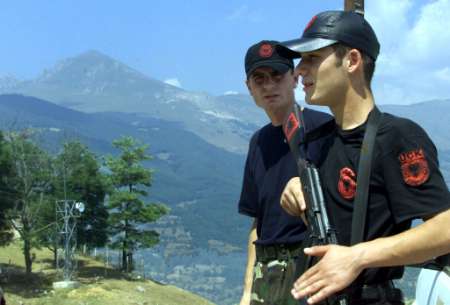 Two NLA soldiers patrol in the village of Sipkovica, where the leader of ethnic Albanian guerrillas in Macedonia, Ali Ahmeti, held his first ever news conference on Macedonian soil on August 19, 2001. Ahmeti declared the rebels were committed to peace after agreeing to end a six-month rebellion that has dragged the former Yugoslav republic towards civil war. NATO troops are in Macedonia to assess whether a shaky ceasefire in force for a week is stable enough to allow a larger force to be deployed to collect rebel weapons. REUTERS/Petr Josek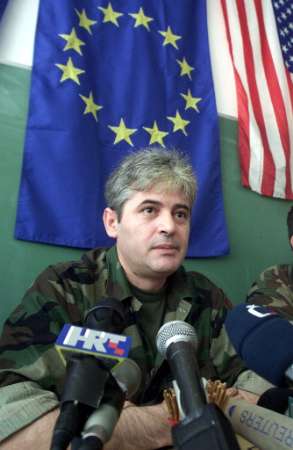 The reclusive leader of ethnic Albanian guerrillas in Macedonia, Ali Ahmeti (3rd L), waits for journalists' questions at his first ever news conference on Macedonian soil, in the mountain village of Sipkovica August 19, 2001. Ahmeti declared the rebels were committed to peace after agreeing to end a six-month rebellion that has dragged the former Yugoslav republic towards civil war. NATO troops are in Macedonia to assess whether a shaky ceasefire in force for a week is stable enough to allow a larger force to be deployed to collect rebel weapons. REUTERS/Petr Josek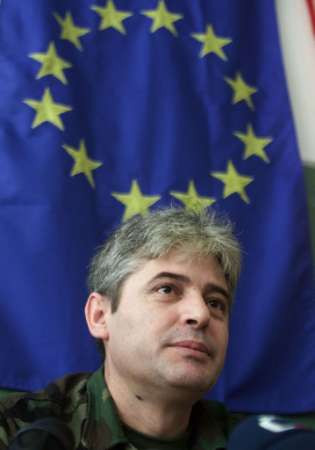 The reclusive leader of ethnic Albanian guerrillas in Macedonia, Ali Ahmeti, waits for journalists' questions at his first ever news conference on Macedonian soil, in the mountain village of Sipkovica August 19, 2001. Ahmeti declared the rebels were committed to peace after agreeing to end a six-month rebellion that has dragged the former Yugoslav republic towards civil war. NATO troops are in Macedonia to assess whether a shaky ceasefire in force for a week is stable enough to allow a larger force to be deployed to collect rebel weapons. REUTERS/Petr Josek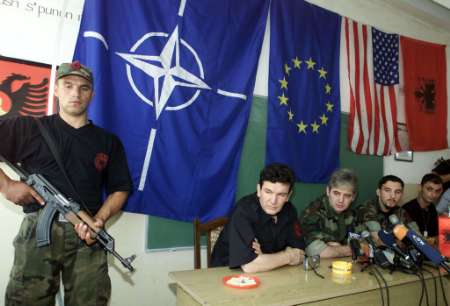 The reclusive leader of ethnic Albanian guerrillas in Macedonia, Ali Ahmeti (3rdL), waits for journalists' questions at his first ever news conference on Macedonian soil, in the mountain village of Sipkovica on August 19, 2001. Ahmeti declared the rebels were committed to peace after agreeing to end a six-month rebellion that has dragged the former Yugoslav republic towards civil war. NATO troops are in Macedonia to assess whether a shaky ceasefire in force for a week is stable enough to allow a larger force to be deployed to collect rebel weapons. REUTERS/Petr Josek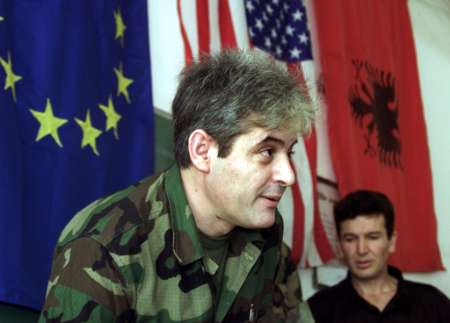 The reclusive leader of ethnic Albanian guerrillas in Macedonia, Ali Ahmeti, surveys massed ranks of foreign journalists at his first ever news conference on Macedonian soil, in the mountain village of Sipkovica August 19, 2001. Ahmeti declared the rebels were committed to peace after agreeing to end a six-month rebellion that has dragged the former Yugoslav republic towards civil war. NATO troops are in Macedonia to assess whether a shaky ceasefire in force for a week is stable enough to allow a larger force to be deplyoyed to collect rebel weapons. REUTERS/Petr Josek
Hundreds of Albanian Terrorists Are Grouping in Front of KFOR's Eyes!
RealityMacedonia
Macedonian soldiers are asking for help, they are dealing with provocations and claim that NATO soldiers numbly watch as the terrorists regroup for a new attack on Radusha.

Dnevnik is informed by army sources that near the village Radusha, on the border with Kosovo, about 700 armed members of NLA are grouped, and it is possible that any minute additional 2000 join them from across the border.

The Macedonian soldiers grouped around the village of Radusha about 10 days ago already withstood a heavy attack from Kosovo. During this attack, as the Ministry of Defense confirmed, NLA and KPC lost a few hundred members. Our police and security forces daily protect against smaller attacks and provocations, but they are not convinced that they can resist the next, expected, heavy attack from Kosovo, unless they get reinforcement.

- Last Saturday about a hundred terrorists attacked us. We managed to defeat them, they returned in Radusha half-numbered. But from the Kosovo side no one does anything to stop them. We watch every day that they freely cross the border. The KFOR soldiers from Poland, who are supposed to protect the border, are laid back, as if on a picnic- army sources say.

This particular section of the border is under the authority of US contingent of KFOR and opposite Radusha mainly Polish and Ukrainian soldiers are positioned. But they don't do anything in order to stop the Albanian terrorists, which are grouping on the territory of Kosovo.

Our soldiers at Radusha are angry with our Command as well, because as they say, they are waiting for reinforcement for more than a week, but the help simply doesn't arrive.

- We thought that the civilians were evacuated from Radusha, but we were wrong. On Thursday, the terrorists raped several women. I have never heard such painful cries in my life. We heard them from above, but couldn't do anything about it. The village Radusha is in the hands of the terrorists and we don't have enough soldiers to drive them out - say the soldiers at Radusha.

The Radusha watchtower is under the control of the terrorists. They have allegedly captured 5 tanks of ARM, as well as two armored transporters, "Hermelin", which our units left behind. It is supposed that only one of them is in good shape, while the others are out of order.

(C.Ch)
Sceptical Macedonian public has little confidence in peace plan.
AFP
BLACE, Macedonia, Aug 19 (AFP) -

Supporters of a Western-backed peace plan are facing an uphill battle to convince a sceptical public that a NATO plan to collect ethnic Albanian rebel arms can save their country from civil war.

The guerrillas vowed Sunday to hand over their arms to a NATO task force and return to their homes, but few among the majority Macedonian Orthodox Christian population believe that the conflict will be solved so simply.

Many accuse of the West of backing ethnic Albanian extremism and forcing what they see as their weak and corrupt politicians to back a humiliating peace plan which rewards the guerrillas for their rebellion.

"The United States supported the terrorists. They supplied all their weapons. Macedonian Christian people have suffered during all this and no-one has listened to us," says 49-year old Ace Nikusevci.

Most Macedonians believe that the West encouraged violent Albanian nationalism by supporting the Kosovo Liberation Army's (KLA) rebellion against Yugoslav rule in Kosovo, and that NATO has since failed to stop guerrilla weapons and ideology leaking over the border into Macedonia.

Many also believe that the military support given by the West to the KLA during its 1998-1999 war has continued.

Murky conspiracy theories -- encouraged by government hardliners and the nationalist press -- accuse the United States and NATO of plotting the break-up of Macedonia and of protecting Albanian criminals.

Western leaders have repeatedly and angrily denied all such charges, but inside a 10-year old republic which fears for its very future a paranoid nationalism, laced with ethnic hatred, drives public opinion.

"This country doesn't need mediators, its needs a psychoanalyst," sighed a senior European official who helped negotiate the peace accord which underlies the ceasefire.

The Macedonian government has promised from next week to begin an information campaign to persuade press and public that the deal guarantees their safety, democracy and a place in the European mainstream.

But the anger inspired by the recent fighting is still strong, and there are no shortage of opportunist politicians ready to stoke hatred to maintain pressure on the West and further their own ambitions.

Men like Nikusevski, who joined a protest blocking NATO convoys on the road from Skopje to Kosovo, are angry.

"I worked in English hotels -- in London, Yorkshire and on the East coast -- for 26 years. I came back to build a home for my family, and live the good life in my village, on my land," he says.

"Now my house has been destroyed, burned by the terrorists, and I have nothing."

A soft spoken and ironic family man, Nikusevski likes playing football -- his team won the Trusthouse Forte hotel chain's staff league in England -- and looking after his kids and 77-year old mother -- who are now refugees in Skopje.

Two weeks ago fighting broke out in the ethnically mixed village of Tearce, nestling under the spectacular Sar mountains in the northwest of the country.

"In the night two rockets hit the bakery behind my house. All my Albanian neighbours joined the terrorists, they had no choice. In the morning all the Macedonian families left, now our houses have been ransacked, some of them burned," he said.

"The Albanians will never give up their guns, if we had a better government this wouldn't have happened. Perhaps they were paid off, perhaps they sold the Albanians our land" he said.

Stories like Nikusevski's feed the Macedonians frustrated sense of injustice in being forced to accept Albanian demands for constitutional reform, and in Macedonia ethnic hatred is never far from the surface.

"It's true that we don't like the Albanians, we've never liked them," admits Nebosja, a 22-year-old student from the mainly Albanian city of Tetovo.

"But there is a difference. We don't like them, but they hate us. Our father bring us up not to fight, but they're ready to hate and play with little guns from when they're just this tall," he says, indicating a toddler's height.

And now some of that hate is being directed towards the West.

Nikseveski, the friendly family man who wanted a lazy old age after a career at the Heathrow Hilton and Yorkshire's spa hotels, suddenly bursts out: "You remember what happened in Somalia? Those dead American soldiers dragged naked through the streets? That could happen again. That could happen here."

Then he asks for the reporter's telephone number, so he can visit him for coffee in England one day.
Natos UK-led troops arrive in Macedonia.
Scotland on Sunday
By Daniel Simpson in Skopje

THE vanguard of a British-led Nato force charged with overseeing peace arrived in Macedonia yesterday as the two warring parties continued to break the ceasefire.

Around 400 British, French and Czech troops landed in Skopje to assess whether the ceasefire between Macedonian government forces and ethnic Albanian guerrillas is stable.

If they believe it is then a further 3,000 Nato troops will be dispatched to man arms-collection points where guerrillas will voluntarily hand in their weapons.

However despite the signing of a peace agreement last week, there remains much confusion and belligerence in Macedonia.

There was sporadic shooting over the weekend and yesterday morning two rocket-propelled grenades were fired at an army checkpoint in Tetovo, Macedonias Albanian-dominated second city.

Brigadier Barney White-Spunner, the commander of operation Essential Harvest, said that the vanguard would monitor the situation before reporting back to the Nato headquarters.

"What we have to convince ourselves of is that people are committed to the ceasefire," he said. "Violations such as we had yesterday are unacceptable because they show there really is not good faith (on the part of Macedonian security forces and ethnic Albanian guerrillas).

"We have various measures we are going to discuss with the parties over the coming days and we will certainly want to see these fulfilled before (we give) the military advice to (Nato ambassadors) that it is safe to proceed (with full deployment)."

On Friday an Albanian civilian was killed in gun battles in Tetovo following the fatal shooting of a policeman. But in hills above Skopje on Friday night, witnesses saw flames lighting up the sky near Matejce, a village where the state news agency MIA said "Albanian terrorists" were torching non-Albanian homes.

Although the ethnic Albanian National Liberation Army has vowed to surrender weapons to Nato after a reform package was agreed to grant greater rights to Macedonias one-third Albanian minority, serious obstacles remain.

The deal signed by politicians across the tiny republics ethnic divide could yet be derailed in parliament. Despite the agreement of a broad amnesty for rebels who disarm, both accords have been treated with scepticism by the Macedonian media, with few signs of the spirit of reconciliation needed to make either of them work in the long run.

Many Macedonians remain convinced the NLAs real agenda is not civil rights for Albanians but to cement its grip on the swathes of northern Macedonia it has seized since February, with support from neighbouring Kosovo despite Nato border patrols.

More than 100,000 civilians have been displaced by fighting, in many areas separating ethnic groups along the front lines.

A successful disarmament mission could stabilise the situation. But analysts doubt whether the 30-day operation Nato plans can be much more than a quick fix, given uncertainty over the size of the NLA arsenal and the emergence of a shadowy rebel faction which has condemned the peace deal.

Nato insists, however, that it will not be drawn into an open-ended mission alongside those in Kosovo and Bosnia, where about 60,000 troops oversee a flawed peace by policing de facto ethnic partitions in protectorates dependent on foreign aid.

But it has ruled out sending extra troops to the region. The troops are likely to face an icy reception from Macedonians and a heros welcome from minority ethnic Albanians, underscoring the deep divisions in the troubled Balkan nation after six months of bitter conflict.

Macedonians such as Dragica Vojnovska, whose 51-year-old son remains missing after being kidnapped last month, are not hoping for much.

"Nato isnt going to help us," she said on Friday, struggling to hold back tears. "Theyre only helping the Albanians."

Her thoughts were similar to those of many Macedonians, who blame Nato for their troubles, in part because the alliance failed to choke off weapons and supplies from Kosovo that are widely believed to be supporting rebel forces.

The insurgents took up arms in February, saying they were fighting for greater rights for ethnic Albanians, who account for about a third of Macedonias two million people.

Ethnic Albanians see Nato as nothing less than their saviours - and seem thrilled that the alliance is coming to town.

In Skopjes old market, Mustafa Arifi, 26, sat with his uncle in the cool shadow of the local mosque and gossiped about the deployment.

Not only does he want Nato troops to come, he wants them to stay far longer than the 30 days envisioned by the alliance.

"I know the big powers are on our side," he said with certainty. "I would love for them to be here for 20 years."
Sustained exchange of fire in northwestern Macedonia: witnesses.
AFP
SKOPJE, Aug 19 (AFP) -

Macedonian forces and ethnic Albanian rebels on Sunday exchanged sustained gunfire near the northwestern village of Neprosteno, local witnesses and a Macedonian military source told AFP.

Villagers contacted by telephone said fighting erupted around 8:00 pmand was still continuing over an hour later. During conversations with the residents, several loud explosions could be heard in the background.

A Macedonian military source confirmed the fighting, and said ethnic Albanian rebels had opened fire first and that government troops had responded.