Enter content here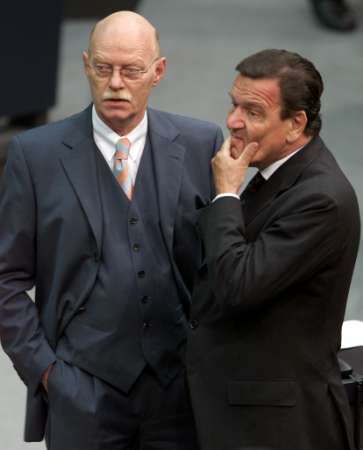 German Chancellor Gerhard Schroeder (R) grimaces as he talks with Peter Struck, parliamentary floor leader of the ruling Social Democratic Party (SPD), during the debate of the lower house of parliament, the Bundestag, in Berlin Reichstag's building August 29, 2001. Schroeder looked certain on Wednesday to win broad parliamentary support for the deployment of German troops to Macedonia after the conservative opposition dropped a threat to vote against it. REUTERS/Wolfgang Rattay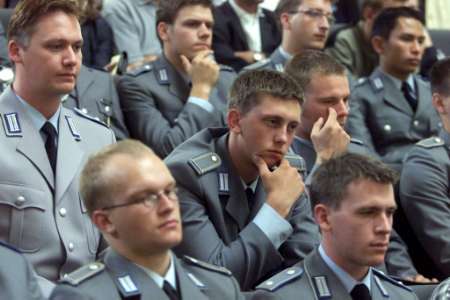 German soldiers follow the debate of the lower house of parliament, the Bundestag, in Berlin' Reichstag building August 29, 2001. German Chancellor Gerhard Schroeder looked certain on Wednesday to win broad parliamentary support for the deployment of German troops to Macedonia after the conservative opposition dropped a threat to vote against it. REUTERS/Fabrizio Bensch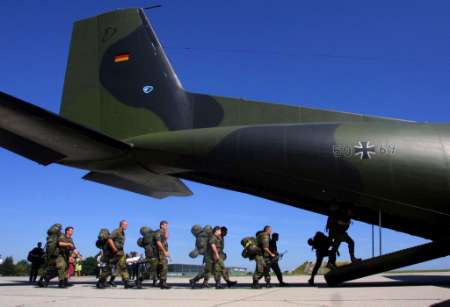 German soldiers of the so-called "special operations group" enter a Transall military transport aircraft in Penzing, near the southern German town of Landsberg, August 29, 2001. The airplane will leave for Macedonia immediately, should the German lower house of parliament, the Bundestag, decide to deploy some 500 troops for NATO's "Essential Harvest" mission later this afternoon. REUTERS/Michael Dalder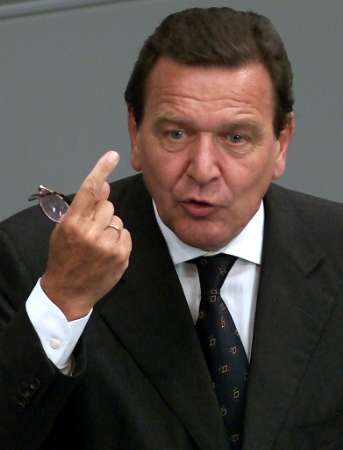 German Chancellor Gerhard Schroeder delivers his speech during the parliamentary debate in the lower house of parliament, the Bundestag, August 29, 2001 in Berlin. German Chancellor Gerhard Schroeder looked certain on Wednesday to win broad parliamentary support for the deployment of German troops to Macedonia after the conservative opposition dropped a threat to vote against it. REUTERS/Fabrizio Bensch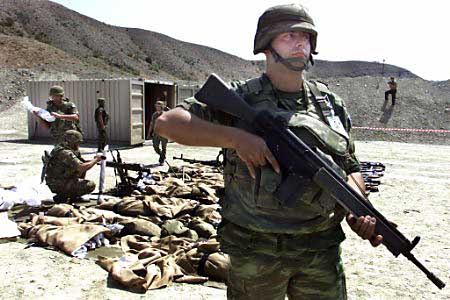 A Greek soldier stands guard as his colleagues unpack weapons collected from Albanian guerrilla fighters at the Krivolak military base August 29, 2001. NATO said August 30 it was well ahead of schedule in its mission to collect weapons from rebels in Macedonia, and put the onus on parliament to start ratifying political reforms the guerrillas demand in return. (Peter Andrews/Reuters)
NATO's number nonsense.
The Transnational Foundation for Peace and Future Research
PressInfo # 125
August 29, 2001
By Jan Oberg, TFF director

Macedonia in NATO - NATO in Macedonia

Successive Macedonian governments officially argue that the country must become a member of NATO. Macedonia is heading for NATO membership. However, since Macedonia is not yet "mature" enough to be in NATO, NATO will be in Macedonia.

Macedonia has not had, or been allowed to have, an independent national security commission that could investigate various future options for the country. NATO membership is the only idea in Skopje. If there are sceptical security experts and defence intellectuals, they do not seem to speak out. The local NGOs vary in their enthusiasm; however, peace groups, women's groups, etc who are not only sceptical but downright opposed to it have little influence. What NATO membership will cost, in money terms, in the next, say, twenty years is not analysed and there is no talk of a referendum &endash; but, of course, a lot of talk about democracy.

As they say nowadays in the emerging "democracies" in Eastern Europe: What is there to discuss? It is already in the air, we have no choice! We are told that if we don't come along, other doors will be closed too!

So NATO membership for Macedonia is a Godfather's offer you can't refuse. The same goes, of course, for the deployment these days of NATO's arms collectors. It's a great spectacle but NATO will not disarm KLA/UCK/ONA/ANA or whatever acronym we use for the militarist, nationalist Albanians fighting allegedly and mistakenly with weapons to get some more rights.

NATO/KFOR's utter failure as a disarmer in Kosovo

When I was in Macedonia a few weeks ago, I obtained a copy of something called the President's Plan - officially "Plan and Program for Overcoming the Crisis in the Republic of Macedonia." The first goal mentioned on page 1 is "to fully disarm and disband the terrorists"(the word used about the Albanians in KLA/NLA).

So this was "disarmament" and not, as it is now stated, "collection" of weapons. There is a world of difference.

We just have to wait a little while for the NATO/KFOR "disarmament" show to be repeated in Macedonia. The 30 days are already serialised by international media, press conferences held, "NATO is pleased and optimistic" with the Albanian deliveries. It's pure public propaganda! Because:

In autumn 1999 Michael Jackson, not the pop star, but the NATO general who rolled into Kosovo, declared that the mighty KFOR/NATO had not only driven all Yugoslav forces out of Kosovo, it had also disarmed KLA which was comprised of at least 20,000 man under arms. This was only natural since UN Security Council Resolution 1244 states: "15. Demands that the KLA and other armed Kosovo Albanian groups end immediately all offensive actions and comply with the requirements for demilitarization as laid down by the head of the international security presence in consultation with the Special Representative of the Secretary-General;"

International leaders in Kosovo including the highest authority and then head of the UN mission Dr. Kouchner declared that KLA was disarmed and its insignia and uniforms prohibited; the organisation was considered illegal. He had also managed to persuade KLA leaders to benignly change uniforms and be transformed into the purely civilian KPC, the Kosovo Protection Corps.

KPC would operate under the leadership of Agim Ceku, presumably on UN payroll. He told me in an interview last year that he was a leading officer in the Croatian Army but left in 1995 after it had driven out 250,000 Croatian citizens of Serb nationality. He had "helped", as he expressed it, UCK/KLA since it was formed in 1992 or 1993.

So, there are three possibilities. A) KLA was never disarmed and the statements to that effect were crystal clear deception of the international public who thought its tax money went to peace, disarmament and co-existence on Kosovo. B) NATO/KFOR's 46,000 heavily armed soldiers did their best to control and disarm KLA/UCK of which 5,000 changed uniform and joined KPC, but failed miserably. C) KLA/UCK was actually disarmed at the time but then re-armed with or without the consent of NATO/KFOR and the UN.

If it was a deception, a free press should investigate why we were all deceived. If NATO was simply unable, its failure in Kosovo is larger than the failure of any UN mission in the Balkans. If so, there should be a public outcry and we ought to hear the same about NATO as we were told about the UN: that it is expensive, incompetent, corrupt and not able to fulfil its mandate. But while the media and commentators gladly denounce the United Nations, few dare voice criticism of NATO. It is as if NATO can make no mistake.

We know now that UCK/KLA went into Southern Serbia and began warfare from bases in the demilitarised zone between Serbia and Kosovo. That is, they passed through the United States sector. We know that it is UCK/KLA that has unilaterally started the war in Macedonia under the name of UCK or NLA, the National Liberation Army. No one who has been disarmed and disbanded can conduct two aggressions; no one who does not have the support of Western governments and acts in their national and geo-strategic interest would get away with that!

(In the streets of Pristina you can buy UCK symbols and badges and buy publications with UCK on the front and lists with the Serbs it killed.)

So it strongly as if UCK/KLA has been allowed, if not assisted, to open two new theatres of war. It is inconceivable that NATO, the world's strongest alliance, and the UN which is the top authority in Kosovo should not have been able to control a force like UCK if they had wanted to.

In summary, NATO and some of its member states have no credibility as a disarmer. Their record in that field is pretty bad!

The strongest "peace"-keeping mission ever, with 46,000 much more heavily armed soldiers than the UN, has not been able to disarm some 10,000-15,000 KLA soldiers. Only a very naive person would believe that 3.500 or 5.000 NATO troops in Macedonia could do a better job. So why are they there? Because they are not meant to do a better job!

NATO this time does not even pretend to disarm KLA/NLA; it will only collect weapons voluntarily handed in by KLA/NLA fighters who will then be granted amnesty! Just ask yourself where such a deal has been concluded before with "armed thugs" (NATO's words for KLA/NLA) who already control sizeable chunks of territories of a sovereign, recognised UN member state.

Furthermore, politicians from countries who run "Essential Harvest" have sought to prevent the Macedonian government from importing weapons and the Macedonian Army is required to withdraw from its positions.

To put it crudely: this means good-bye to the right to self-defence, to respect for the territorial integrity of a sovereign, recognised European state and good-bye to impartial mediation between conflicting parties. I believe it also means good-by to a stable and reasonably peaceful Macedonia.

The arms number game and a possible Danish connection.

The Macedonian government's official estimate of the number of KLA/NLA weapons is 60,000-80,000. KLA/NLA says it has 2,500. After two days in the country, NATO makes a new, non-negotiable, deal with KLA/NLA and announces that the number of arms to be collected will be 3,500 and that it is a credible figure that will help put Macedonia on the road to peace.

Jane's Defence Weekly of August 29, Nr 9 refer to 2,500 NLA soldiers in Macedonia plus at least as many non-fighting supporters for logistics etc all of whom are assumed to possess arms. It adds that there are "also weapons hidden in arms caches. Some of these were procured in the aftermath of the crisis in Albania in 1997 when an estimated 575,000 small arms were stolen" And then there is likely to be 1-2 weapons per family in what it calls the gun culture of the Balkans "which is particularly strong among ethnic Albanians."

Given that NATO's generals are competent, it's hard to believe that they themselves believe any of what they say on this issue. But the figure is yet another Western slap in the face of the government.

CNN reports on August 25, 2001: "Danish General Gunnar Lange, the NATO commander in Skopje, did not release the weapons figure but said Operation Essential Harvest hoped to have about a third of the insurgents' arms in hand by the end of next week."

Ah, the NATO commander is Danish! But Denmark has contributed no troops to Essential Harvest? Well, my nasty mind tells me that there could be a pretty simple explanation:

The man who succeeded Kouchner as the highest authority in Kosovo is former Danish minister of defence, Hans Haekkerup. Under his guidance Denmark did not only support NATO's bombing of Yugoslavia politically and morally, it also dropped bombs. He spearheaded a remarkably activist security policy and developed very friendly relations with the Clinton administration. Haekkerup had held no international positions before. Sitting now in Pristina he could not possibly be without knowledge of military matters or the history of his mission and its entry ticket to the Kosovo province.

The KLA/NLA problem in Macedonia stems predominantly from Kosovo, from when NATO for all practical purposes became the Airforce of KLA. It is a spill-over of the failed UN/NATO missions there, or a deliberate ploy.

So, what could be more convenient for the UN Head of Mission than a friendly Danish general who can make it look as if KLA/NLA and its spill-over are minor problems? A Danish general who can fix the job in 30 days and cover up the ongoing UN/NATO deception which aims to support Albanian extremists - which his former boss (Haekkeup) has done nothing to change because, if he did, he would most likely lose his job?

Imagine that 3,300 weapons is all KLA/NLA has in Macedonia. Why on earth should they accept to make themselves defenceless at the day NATO is supposed to depart?

It is well-known that the Ministry of Interior has handed out thousands of weapons (some say 12.000) to Macedonians, among them former policemen. There are also local paramilitaries consisting of nationalist, hard-line Macedonians who have acquired weapons and prepare for future fights in their villages.

Is it likely, in the face of that that Albanians who have already risked their lives for their cause, should lay down all their weapons and voluntarily leave the places they have occupied?

On the other hand, can the Western diplomats and media find a single leading Macedonian politician or editor who personally believes that 3,300 is all the NLA has and that they will leave the occupied territories?

If the answer to these questions were "yes", NATO's mission might be a force for peace. However, this would mean a peace-making effort of a completely different sort, something like the UN's UNPREDEP coupled with a much more competent OSCE and a series of non-governmental , conflict-mitigating and educational organisations. This would be an Essential Spring operation!

It would mean not only a harvest of the weapons but a sowing of the seeds of peace. This is obviously not what the US, NATO and the EU are really up to.

All the above does not make sense in the perspective of peace, reconciliation, co-existence and democracy. But it does make non-sense.
NATO's New Job Inspires Doubts.
Los Angeles Times
Macedonia: Alliance officials say disarming rebels will take 30 days. As truce violations mount, skeptics note that missions in Bosnia and Kosovo have lasted far longer than planned.

By ALISSA J. RUBIN, TIMES STAFF WRITER

SKOPJE, Macedonia -- As foreign soldiers stream into this small nation for NATO's third Balkan mission in less than a decade, rising resentment and violence are fueling concerns that the operation's limited mandate could expand despite assurances from alliance officials that this deployment will be different.

The 30-day mission is aimed primarily at disarming ethnic Albanian rebels who voluntarily hand over their guns in exchange for amnesty. But there are already signs that NATO involvement could deepen amid a cease-fire that is shaken almost daily by bomb blasts and scattered gunfire.

On Tuesday, British NATO soldiers led a convoy of ethnic Macedonians back to the rural village of Lesok, where residents were forced from their homes a month ago by the guerrillas. As rebels watched from the hills above, the troops escorted the villagers to a service at the bomb-shattered local church. The NATO escort, according to Western diplomats, fell under the category of "confidence-building." Similarly broad phrases have been used by Western policymakers to justify a far bigger role for NATO-led troops in previous missions in the Balkans.

History looms large as the Macedonian mission begins: The 1995 Dayton, Ohio, accords ending Bosnia-Herzegovina's brutal ethnic war called for a pullout of NATO troops after a year. Six years later, there are still about 21,000 NATO troops on the ground.

In Kosovo--a mostly ethnic Albanian province of Serbia, Yugoslavia's dominant republic--Serbian troops who had waged a campaign of "ethnic cleansing" retreated in the summer of 1999, but nearly 40,000 NATO troops are still keeping the peace.

In both places, but especially in Kosovo, peacekeepers say they're sure that violence would resume if they left.

The prospect of renewed violence after a NATO pullout also hangs over the operation in Macedonia, where the rebels, who say they have been fighting for more rights for the sizable ethnic Albanian minority, took up arms nearly seven months ago.

"To go in and come out quickly is certainly desirable, but history tells us that it's difficult to accomplish these operations in a short period of time," said Sen. John McCain (R-Ariz.), who was a prisoner of war in Vietnam. "In fact, they are rarely accomplished in a short period of time."

Many ethnic Macedonians resent NATO's presence because they believe that the alliance has sided with ethnic Albanians, and some are ready to resort to violence. On the mission's first day, a British soldier was killed by a group of angry youths who heaved an object at his vehicle in an ethnic Macedonian and Gypsy neighborhood.

Ethnic Albanians fear that the anger will be directed toward them the moment NATO troops leave. And the guerrillas say they will immediately take up arms again if there is any provocation from ethnic Macedonians.

Privately, U.S. military officials have already begun to indicate that the 30-day time frame is just an estimate.

U.S. policymakers also sound as if they are preparing for the possibility of a longer mission.

"If it takes longer, it takes longer," said Sen. Charles Hagel (R-Neb.), a member of the Foreign Affairs Committee, during a quick visit to Skopje, the Macedonian capital, last week.

Former Army Col. Kenneth Allard, who served in Bosnia after the peace accords and is now a senior associate at the Washington-based Center for Strategic and International Studies, said it will be all but impossible to have an impact in the short period NATO has allotted.

"You can do just enough to fail," he said. "Sure, you can go in, check all the boxes, collect the weapons, declare victory and leave . . . but I can't see a worse approach to peacekeeping than that. You don't go in with that kind of a time frame and expect to accomplish anything."

President Bush has been leery of further involvement by U.S. troops in the Balkans and suggested during his campaign that perhaps they should pull out altogether. Although that idea seems to have faded, the United States is playing strictly a support role in the Macedonia mission, and no new troops were deployed to help NATO forces.

The conflict in Macedonia so far is much less deadly than the one in Kosovo was, but it has at its heart similar ethnic divisions. Although ethnic Albanians are in the Macedonian government, their language does not have official status and they have largely been excluded from the country's police force and military.

Police abuse has been a major issue for the Albanian community, and European observers say it is one of the most serious civil rights problems in the country.

Under pressure from Western diplomats, who feared a destabilizing civil war, the four political parties in the government--two ethnic Macedonian and two ethnic Albanian--signed a peace agreement Aug. 13. If it is implemented by parliament, the accord will raise the legal status of the Albanian language and add many more ethnic Albanians to the police force.

Parallel to the deal is an agreement that NATO troops will disarm the guerrillas at the same time lawmakers are considering the reforms outlined in the peace pact. A precondition for the disarmament was a durable cease-fire, which NATO says is now in force even though there are reports from rural villagers of nightly gunfire.

NATO officials hope that by focusing on disarmament, they will avoid the open-ended missions of the past.

"This is not a peacekeeping mission. It is not an intervention force. It will not separate fighting parties," said Maj. Gen. Gunnar Lange of Denmark, who has responsibility for the mission, known as "Essential Harvest."

The difficulty for the North Atlantic Treaty Organization is that the operation's limited mandate fails to fit the mission's goal: creating a climate of trust so that the accord will be enacted and implemented by the Macedonian government.

And even NATO officials admit that weapons collection has little meaning in a region where guns are far easier to buy than computers. The larger task of giving people a reason to lay down their arms will take longer than the 30 days that the alliance ministers have allotted.

Furthermore, the operation hinges on nothing going wrong. Any hitch could endanger the 30-day time frame. If cease-fire violations continue, they will seriously damage any goodwill among both the Macedonian security forces and the rebels.

Similarly, if both sides rush to retake their strategic positions as soon as NATO leaves, the mission could hardly be deemed a success, security experts say.

"Without the international community on the ground preventing a civil war, the Macedonian government will collapse," said William Hopkinson, an associate fellow at the Royal Institute of International Affairs, a British think tank.

"If they start shooting at each other again, the Albanian parties would find it difficult to remain in the government, and if [NATO troops] withdraw, the Macedonian government would find it impossible to assure security throughout Macedonia," Hopkinson said.

NATO officials are aware of the likely instability when their troops withdraw and are working to get a large team of unarmed international monitors on the ground to help stabilize the country when the troops depart.

Such teams have also been involved in Bosnia and Kosovo. In Bosnia, they were able to do nothing to stop the slaughter of thousands of Bosnian Muslims by Serbian soldiers and paramilitary members, and in Kosovo, their presence has been backed up by armed NATO troops. The landscape of Macedonia is less volatile, but it's difficult to tell whether they would be any more successful here.

There are signs of trouble for NATO's credibility. The Macedonian government estimates that the rebels have more than 60,000 weapons. NATO officials initially floated numbers closer to 3,000, and the rebels themselves suggested that 2,000 might be realistic.

The number settled on to be collected was 3,300. But having raised the public's worries about huge rebel stockpiles, Macedonian officials have sown the seeds of doubt about the collection effort.

NATO officials respond by saying it's a mistake to get too focused on the number.

"I haven't met anyone who thinks it's a bad idea to collect thousands of weapons from armed extremists," said Daniel Speckhard, the NATO deputy assistant secretary for political affairs.

When NATO undertook a similar weapons-collection effort in Kosovo, the Kosovo Liberation Army, which included some of the same guerrilla fighters who have been helping the rebels in Macedonia, turned in their old arms but kept many of their newer ones.

"They dug up every single weapon that had been buried in the ground since World War II," said James Lyon of the International Crisis Group, which tracks policy in the Balkans and in developing countries. "They brought in rifles with rusted butts. It was a joke."

NATO military officers say that so far they have seen both old and new weapons handed in.

But as NATO officials themselves say, the weapons are not enough.

"Macedonians have to be realistic," said Speckhard. "The success will not come immediately or overnight."
Macedonia Rebels Surrendering Too Few Weapons, Analyst Says.
CNSNews.com
By Beth Kampschror
CNSNews.com Correspondent
August 29, 2001

Sarajevo (CNSNews.com) - The number of weapons ethnic Albanian rebels in Macedonia are scheduled to hand over to NATO troops as part of a peace deal is too low, a military analyst warned Wednesday.

"It's a ridiculously low figure," said Richard Bennett of the 3,300 weapons NATO expects to collect from the self-styled National Liberation Army (NLA).

"It's a figure that has been given to NATO by the Albanians themselves. It's probably about 10 percent of what they've actually got in their possession," added Bennett, a senior analyst with the UK-based Armed Forces Intelligence (AFI) Research.

The NLA is supposed to turn over the weapons as part of NATO's Operation Essential Harvest, which is aimed at keeping Macedonia from sliding into civil war.

The rebel group began its insurgency in February, saying they were fighting for more rights for Macedonia's sizeable ethnic Albanian minority. The government believes the rebels were trying to carve out an Albanian mini-state and charges that the trouble has been imported from neighboring Kosovo, where ethnic Albanians are in the majority.

The Macedonian government puts the number of NLA weapons as high as 85,000. Bennett said in a phone interview that sounded like a more accurate figure.

"I doubt they have actually got that in their hot little hands," he said, but added that all the NLA has to do is cross the relatively open border into Kosovo to find all the weapons they need.

There are also concerns that the NLA is keeping back its most effective weapons and giving NATO its oldest and least effective ones.

Macedonian government spokesperson Antonio Milososki said earlier the operation should be called "Museum Harvest" because of the age of the several hundred weapons already turned in to the British-led NATO force.

"I wouldn't disagree with that for a second," Bennett said. "The NLA is getting rid of arms that are no use to them. NATO's basically doing a dustman's job - a garbage removal job for the NLA."

Bennett said that the NLA, like all guerrilla organizations, doesn't want weapons that are difficult to maintain or to hide. A tank, for instance, would be of no operational value in this case but would give NATO something to show to the media, he said.

"[The valuable weapons] will either be buried or be taken safely back across the border into Kosovo for further use," he said.

Bennett said NATO had a "golden opportunity" to disarm the ethnic Albanians in Kosovo when the alliance took over the province in 1999, after its air campaign against Yugoslav forces. But neither disarmament nor demobilization took place, with dire consequences for Macedonia.

"It's shutting the stable door after the horse has bolted," he said.

Earlier, defense analyst Philip Mitchell of the International Institute for Strategic Studies in London said the success of the NATO mission would have to be judged on the quality and quantity of weapons surrendered.

"Even then, given the fact that entire region is awash with weapons ... however many weapons are handed in, it's true to say they could quickly be replaced by what is hidden in the mountains of Kosovo, just over the border," he said.

NATO Secretary-General George Robertson is in Macedonia Wednesday to inspect Essential Harvest, though tensions in the country have not subsided. The state news agency reported that a bomb went off at an ethnic Albanian primary school after midnight last night. No casualties were reported.

The NLA agreed to disarm only if political changes granting ethnic Albanians in Macedonia more rights were imminent.

An agreement reached earlier this month aims to give the Albanian language semi-official status and to ethnically balance the country's police forces. Parliament is expected to begin debating the changes Friday.
Oasis of peace in Macedonia, Villagers determined that civility will prevail amid violence.


San Fransisco Chronicle
Juliette Terzieff, Chronicle Foreign Service
Wednesday, August 29, 2001

Glogi, Macedonia -- The Milevskis spend the bulk of their time lounging in the garden of their small village home, confident that neither ethnic Albanian rebels nor Macedonian government forces will invade their oasis of tomato plants and flowers.

While most other Macedonians wait uneasily to see if a shaky peace plan will be implemented, the Milevskis know their peace is already in place.

"War has not had, nor will it have, a place here," insists 72-year old Ivanka Milevski as she offers visitors quince and apples fresh off the trees.

Fellow villagers stroll in the afternoon sun shouting "Dober dan" ("Good day") in answer to Ivanka's two-toothed grin. Nearby, a group of men lounge under the trees of a small park -- the fear and tension gripping Macedonia's northern regions simply absent in this simple farming community.

Over the last six months, the 1,600 residents of Glogi have struggled to maintain a measure of normalcy as fighting raged sometimes literally right around them. While residents of other area villages near the flash point city of Tetovo took up arms to fight each other, Glogi's 3-to-1 mix of ethnic Albanians and Macedonians vowed to avoid the unfolding disintegration.

"I have to be honest. It was the attitude of the Macedonians living here that kept our village intact," said Llokman Elezi, a local ethnic Albanian council member. "They were heavily outnumbered here and could have chosen to fight. They did not."

At a critical juncture in the crisis that engulfed Macedonia, peacemakers will be looking to places like Glogi to set an example for the rest of the country.

Earlier this week NATO troops launched Operation Essential Harvest, a monthlong mission to collect over 3,000 weapons from ethnic Albanian rebels. The undertaking is central to the peace accord, signed by Macedonian and Albanian leaders earlier this month, designed to address grievances of the country's one-third Albanian minority and end the six-month insurgency by Albanian guerrillas.

NATO MISSION CRITICIZED

But both NATO's mission and the political agreement, which includes changes to Macedonia's constitution, have come under heavy criticism from hawks inside the government as well as the vociferous ethnic Macedonian public, which views NATO as

JUMP TEXT STARTS HERE

siding with the Albanian rebels and allowing the collection of only a symbolic portion of their arsenal.

After a first day's collection of more than 400 weapons that also saw the death of a British soldier and continued sporadic clashes, Interior Minister Ljube Boskovski accused the international community of "playing with the feelings of the nation and of every honest Macedonian."

Glogi has had a reputation for ethnic tolerance dating back to its formation as a municipality nearly three centuries ago. Elezi said police are frequently summoned to mixed villages to settle ethnically based disputes -- but not to Glogi.

"There was a general attitude toward keeping relations with each other as they were before the war started," he said. "But it wasn't always easy."

Residents were showered with reports of neighbor fighting neighbor in nearby Tearce and Neprosteno, and hundreds of Macedonians leaving or being forced out of other area villages like Lesok as the dog days of summer approached.


INTERCEDING WITH NLA
Local Albanians subsequently pleaded with guerrillas of the National Liberation Army (NLA) to keep their incursions into the village at a minimum.

"In other villages, the NLA entered homes to seize weapons and for searches.

We told them there was simply no need for that here," recalled Elezi.

Nonetheless, about 40 percent of Glogi's Macedonian population and a small number of Albanians fled in June as the fighting in the area intensified. They have yet to return.

Glogi endured months of isolation when civilians were largely unable to travel the main road between Tetovo and Jazince, the border crossing with Kosovo, because the rebels and army set up checkpoints at unpredictable intervals. Some, like the local bakers, braved the road only to have their goods confiscated despite pleas that they were providing bread to all residents.

On at least one occasion, villagers were forced to rely on the guerrillas to deliver much-needed medicines to elderly residents with chronic conditions. Albanians also delivered bread, fresh vegetables and meat to their Macedonian neighbors housebound by age or lingering fear.

Although most of the cafes formerly patronized by both ethnic groups are now largely empty of Macedonians, the local barber, Musa, never stopped seeing a steady stream of Slav patrons.

"My father is from this village, his father is from this village," Musa said while recently giving one of his regular Macedonian clients, Mitre, a haircut and a shave. "The village is ours. Of course we are friendly to each other."

Most echoed Musa's sentiment.

'SOMEONE ELSE'S WAR'

"We have all been here hundreds of years, and our families, our blood, is the same. Why should we fight someone else's war?" asked Ivanka, who, like many residents, blames politicians for Macedonia's decade-long economic and social decline.

It will be up to those same politicians to ratify the guns-for-rights peace plan. On Friday, the Macedonian-dominated parliament will sit for its first session on the agreement.

In order for the process to progress, lawmakers will need to begin ratifying constitutional changes and pass a contentious amnesty for NLA members presented by moderate President Boris Trajkovski.

Villagers in Glogi fervently hope the Western-backed peace plan will take hold.

"We have been super living together through all this," said Ivanka.

"But my children have not been able to come see us for almost three months, " she lamented. "We all just want our lives back to normal again."
Nato chief demands Macedonia reforms.
BBC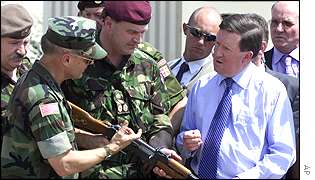 Robinson says that the onus is now on the Macedonian authorities to implement change.
Nato Secretary-General George Robertson, has urged Macedonian politicians to approve constitutional changes improving the position of ethnic Albanians in the country.

He said the rebels fighting the government were handing in their weapons, and that the Macedonian parliament now had a moral obligation to fulfil its side of the peace agreement.

He was speaking during a visit to Macedonia where he has been inspecting weapons collected by Nato from ethnic Albanian rebels and meeting the country's political leaders.

Meanwhile the German parliament has voted to allow German soldiers to join the Nato mission in Macedonia - the first German troops are due to leave on Wednesday night.

Nato troops are now into their third day of weapons collection and they hope to have reached a third of their target of 3,300 weapons by the end of Wednesday.

Successful operation

Lord Robertson flew by helicopter to visit a depot at Krivolac in central Macedonia where the turned-in weapons are being held.

Speaking afterwards he said that the operation was going well so far and that even local politicians had been surprised by how successful it had been.

He said the Macedonian parliament now had a "moral obligation" to honour the agreement, and he expected members to vote it through.

"Insurgents are disarming, handing over the weapons and disbanding as well.

"Just as I expect the insurgents to disarm, I expect the members of the Macedonian parliament to recognise their responsibilities," he said.

He warned that the alternative to the Nato plan would be horrifying to all who lived in Macedonia.

"I hope these people of Macedonia will see these weapons coming out of Macedonian politics and will draw the right lessons," he said.

'One third collected'

He again defended Nato's decision to set the target for weapons to be handed over at just over 3,000 - far below the number the government says are in rebel hands.

"Its not just the number of weapons that matter, it is the fact that the so-called NLA is handing over these weapons and disbanding its organisation," he said.

There are reports that Nato troops have already collected one third of the weapons held by ethnic Albanian rebels, fulfilling part of its agreement with the Macedonian government.

Nato had pledged to gather one third by Friday, before parliament meets to debate implementing a wider peace agreement.

Mr Robertson said that he expected General Gunnar Lange, the commander Operation Essential Harvest, to be able to confirm the meeting of that target by Friday.

Mr Robertson also said that he remained confident that Nato would be able to complete its task within its 30-day time period.

Disarmament to continue

Meanwhile Macedonia's hard-line Interior Minister Ljube Boskovski said that government security forces would ensure that the task of disarming the paramilitaries would continue after Nato leaves.

"We have to act repressively to show we are serious as a country and that we intend to disarm all those bandits that can upset the peace in Macedonia," he said.

He said that a special reserve unit, known as "The Lions" was being formed to deal with the aftermath of the Nato withdrawal, but denied that the new force was a paramilitary group too.

"It will be an anti-terrorist unit for rapid intervention... to clear the terrain of remaining bandits," he said.
Macedonia to Clear Up Guerrillas NATO Leaves Armed.
Reuters
By Ana Petruseva

SKOPJE (Reuters) - Macedonia's hardline interior minister said on Wednesday that special forces will crack down on guerrillas that he expected to retain an extensive arsenal after NATO's limited mandate to collect rebel weapons expires.

The Western alliance began a 30-day mission on Monday to gather 3,300 arms from the National Liberation Army (NLA) guerrillas, who have agreed to disband in return for reforms to improve the civil rights of their minority Albanian ethnic kin.

But Interior Minister Ljube Boskovski, who has dismissed NATO weapons targets as laughably low, said the weapons collecting operation had no hope of succeeding. Shadowy new security forces, which he denied were paramilitaries under his command, would be forced to step in.

``NATO's mission will not rid us of the bandits,'' warned Boskovski, who has repeatedly proposed an all-out military strike as the only feasible tactic to counter the insurgency.

``We have to act repressively, to show we are serious as a country and that we intend to disarm all those bandits that can upset the peace in Macedonia,'' he told Reuters in an interview.

``The rule of law is not established by an act of parliament or with nice speeches by three or four politicians,'' he added.

``And only once the security forces have cleared the terrain of the last remnants of the terrorist bandit groups can we even talk about establishing the rule of law.''

NATO officials insist that Boskovski, the most outspoken voice in a government split between hawks and moderates, does not speak for all Macedonian leaders. But his control over armed police special forces, and allegedly over civilians issued with guns during the six-month conflict, give him considerable power.

MACEDONIAN PARAMILITARIES?

A Reuters reporter met a group of armed men in plain clothes on Tuesday, who said they were being trained for a new operation to combat ``urban terrorism'' in the arc of northern and western Macedonia occupied by the NLA since it surfaced in February.

A special reserve unit was indeed being formed to deal with the aftermath of NATO's mission, Boskovski said. But he insisted that the new force, dubbed ``the Lions,'' was not a paramilitary grouping of armed civilians, as Western diplomats believe.

``This is the most preposterous thesis I have ever heard -- that a minister who controls an army of policemen is forming a paramilitary organization,'' he added. ``The Lions are not formed yet but this process is under way in accordance with the law and the constitution and they will be formed in the coming days.''

Asked what role this new force would play if NATO troops departed as planned, Boskovski said it would have to complete a task started by 4,500 alliance soldiers, but left unfinished.

``It will be an anti-terrorist unit for rapid intervention ... to clear terrain of the remains of the bandits,'' he said.

Talk of compensation and amnesty for fighters who hand in guns after the NATO mission ends, as defense ministry sources have suggested, was simply unacceptable, Boskovski added.

``We have to do a clean up, a search,'' he said, adding that the operation should extend all the way down western Macedonia, beyond the northern crisis zone NATO aims to demilitarize.

``If people fail to surrender their arms voluntarily, then those found in possession of weapons should be punished with a longer prison sentence than standard for these offences.''
German parliament approves sending troops to Macedonia.
AFP
BERLIN, Aug 29 (AFP) -

Germany's parliament voted overwhelmingly Wednesday in favor of sending German troops to join NATO's arms collection operation in Macedonia.

The mission was approved by a vote of 497 to 130, with eight abstentions.
Kosovo peacekeepers under fire in border clash.
Reuters
PRISTINA, Yugoslavia, Aug 29 (Reuters) - NATO-led peacekeepers in Kosovo said on Wednesday a mortar bomb was fired into Kosovo from Macedonia after an exchange of fire with a group of people trying to illegally cross the border.

Captain Daniel Byer, spokesman for the U.S. contingent of the KFOR force, said the incident occurred on Tuesday afternoon when the peacekeepers tried to stop 10 people coming across the border from Macedonia into U.N.-governed Kosovo.

He said the peacekeepers returned automatic weapons fire when they were shot at, after which the group retreated into Macedonia.

"They fled to Macedonia and after 10 minutes they fired a mortar round from Macedonia into an area south of (the village of) Gornje Zlokucane in Kosovo," he told Reuters.

He said KFOR suffered no injuries in the incident.

He did not identify the people who had opened fire at KFOR soldiers.

Since Friday the peacekeeping force has detained about 220 suspected members of an ethnic Albanian guerrilla group operating in Macedonia as they tried to cross into Kosovo.

KFOR spokesmen have said those detained did not carry weapons.

Tuesday's incident took place on the second day of a NATO operation in Macedonia to collect weapons voluntarily handed in by the guerrilla National Liberation Army (NLA) in Macedonia.