Enter content here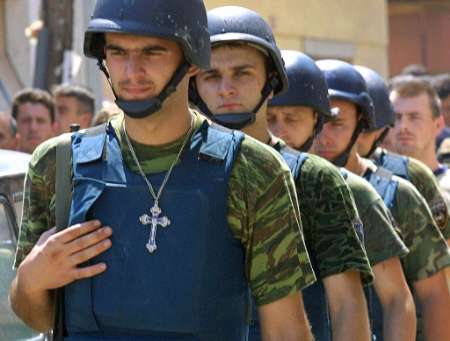 Comrades of Macedonian policeman Coki Stoikovski, killed by Albanian guerrillas, escort his casket during funeral ceremonies. The funeral was held in the flashpoint town of Tetovo, west from the capital Skopje on August 2, 2001. REUTERS/str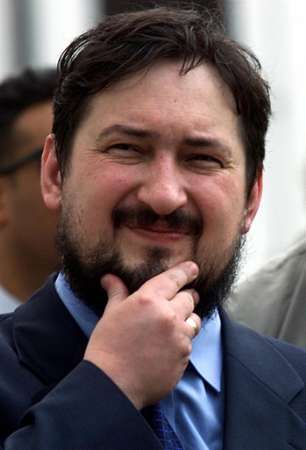 Macedonian Prime Minister Ljubco Georgievski stands in front of Saint Prohor Pcinski monastery south of Belgrade August 2, 2001. The Macedonian government visited Saint Prohor Pcinski in southern Serbia to mark Macedonian National day. Georgievski called for more decisiveness in the state leadership to free the occupied territories from ethnic Albanian guerillas before signing a peace agreement. REUTERS/Goran Tomasevic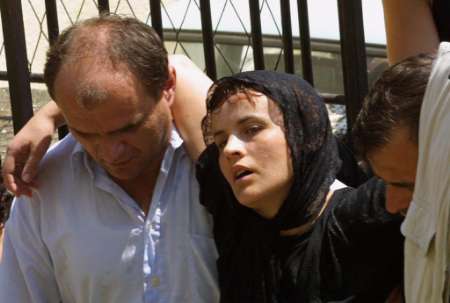 The wife (C) of Macedonian policeman Coki Stoikovski, killed by Albanian guerrillas, is helped by her relatives during a funeral in the flashpoint town of Tetovo, west of the capital Skopje on August 2, 2001. Macedonia's Prime Minister on Thursday urged tougher action to recapture territory held by ethnic Albanian insurgents, saying it would be shameful to sign any peace deal under rebel threats. REUTERS/str
CELEBRATION OF NATIONAL HOLIDAY "ILINDEN" IN KRUSEVO.
Today is the 98th anniversary of the Ilinden Uprising - August 2, when Macedonian people started a fight against the five-century slavery to say that people who live here love freedom and is prepared to build its own country, Speaker of the Macedonian Parliament and patron of the celebration Stojan Andov said Thursday at the ceremony in Krusevo.

"We shall keep celebrating this holiday in the sovereign and independent Macedonia, as we are going to preserve the country's integrity and its democratic orientation," Andov said.

The celebration was held at the locality "Meckin Kamen", and is part of the cultural and scientific meetings, titled as "Ten Days of the Krusevo Republic".

In the address, Andov also extended his congratulations on the Second Ilinden - on 2 August 1944, the first National Antifascist Liberation Council of Macedonia held a meeting on creating of the Macedonian State at the monastery "Prohor Pcinski".

"We live in a time that has brought new difficulties to us, in a time when evil people are burning the homes and villages of Macedonians, drive them away from their homes, justifying their actions with alleged fight for human rights, " Andov said.

He stressed that Macedonian people has never repressed anybody due to ethnic or other grounds. On the contrary, Macedonian always offers friendship and hospitality, which was proved by receiving of 350,000 refugees during the Kosovo crisis.

Referring to the ongoing political dialogue for surpassing of the crisis, Andov expressed conviction that it would result in a document "which will not undermine the Macedonia's national integrity and its democratic development.

He said the Parliament would review and make the final decision whether this document would be adopted or not, but only after withdrawing and disarming of terrorists.

"We have proved our ability to create effective governing institutions and in these critical moments it is very important for all citizens to have confidence in them, " Andov said.

He also sent a message to young ethnic Albanians in Macedonia, who have been raised with the ides for "Great Albania", to put down their arms, re-integrate and extend their loyalty to the country, which takes care for them as for any other citizen.

Zoran Todorovski, President of the manifestation Council, also addressed before the gathered people, who, as he said, came to "Meckin Kamen" - source of the Macedonian patriotism, to mark once again the Ilinden anniversary-symbol of freedom.