Enter content here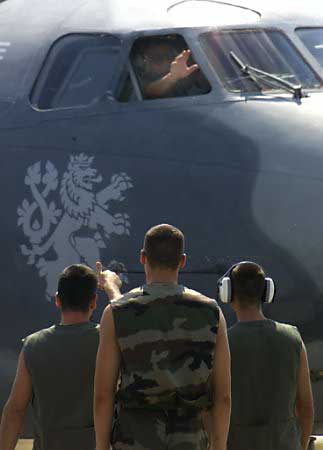 A Czech pilot greets the ground crew at the Macedonian Airport of Petrovec after landing his military aircraft August 17, 2001. Macedonia accused ethnic Albanian rebels of new truce violations Friday as NATO nations meeting in Brussels looked likely to put off a decision on whether to risk sending a 3,500-strong force to implement a peace plan. The Czech Republic deployed the first group of NATO's Essential Harvest mission in Macedonia on Friday. (Petr Josek/Reuters)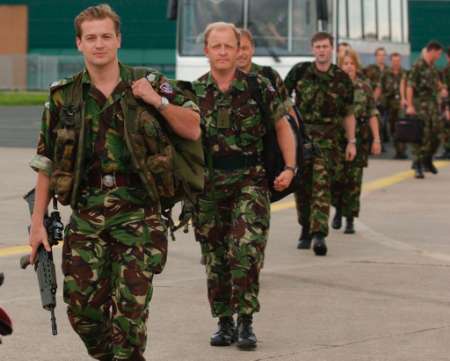 The first British troops leave for Macedonia from Wattisham airbase, August 17, 2001. The contingent of 41 soldiers of the 13th Air Assault support regiment, part of the 16th Air Assault Brigade left Britain to form part of the multinational NATO peace keeping force. REUTERS/Dan Chung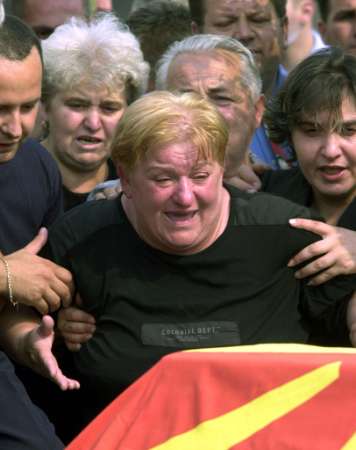 Mother of killed policeman Saso Sokolov mourns over his coffin in Skopje, August 17 2001. British troops are expected to arrive in Macedonia as an advance party of the 3,500 NATO troops who will collect ethnic Albanian rebels' weapons in the NATO-run Essential Harvest operation. REUTERS/Ognen Teofilovski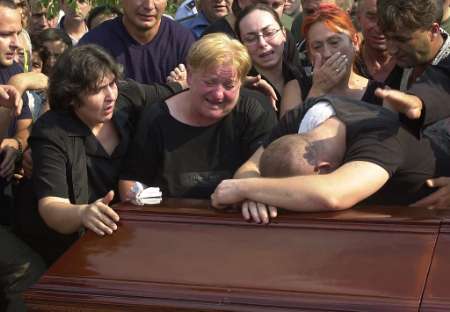 Mother and brother of killed policeman Saso Sokolov mourn over his coffin in Skopje, August 17 2001. British troops are expected to arrive in Macedonia as an advance party of the 3,500 NATO troops who will collect ethnic Albanian rebels' weapons in the NATO-run Essential Harvest operation. REUTERS/Ognen Teofilovski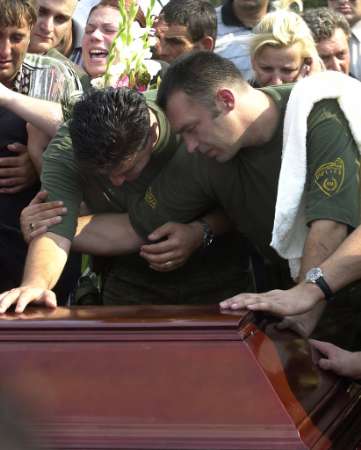 Policemen mourn over a coffin of policeman Saso Sokolov killed yesterday in Tetovo some 40 km (25 miles) from the Macedonian capital Skopje, August 17 2001. British troops are expected to arrive in Macedonia as an advance party of the 3,500 NATO troops who will collect ethnic Albanian rebels' weapons in the NATO-run Essential Harvest operation. REUTERS/Ognen Teofilovski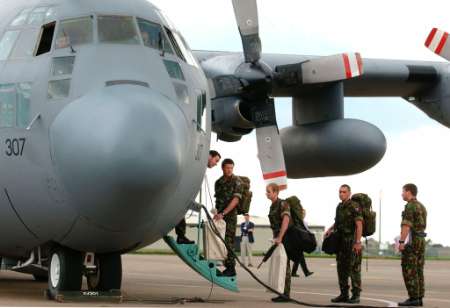 The first British troops leave for Macedonia from Wattisham airbase, August 17, 2001. The contingent of 41 soldiers of the 13th Air Assault support regiment, part of the 16th Air Assault Brigade, left Britain to form part of the multinational NATO peacekeeping force. REUTERS/ Dan Chung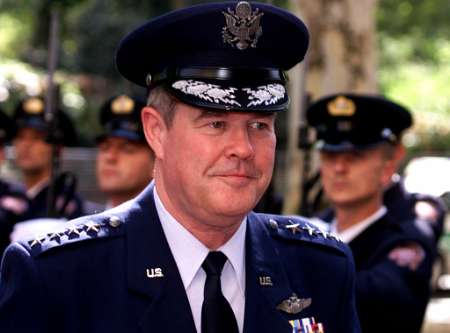 NATO ambassadors agreed on Friday, August 17, 2001, to send NATO commander General Joseph Ralston to Macedonia to assess the situation before making a decision on whether to send thousands of NATO troops, a diplomatic source said. The ambassadors, meeting in Brussels, took no decision on deploying a 3,500-strong force to Macedonia to collect weapons from ethnic Albanian rebels, according to the source. File photo shows General Joseph Ralston passing an honor guard during a visit to Croatia in Zagreb, August 30, 2000. REUTERS/Nikola Solic
Macedonian government welcomes NATO, with reservations.
AFP
SKOPJE, Aug 17 (AFP) -

The Macedonian government on Friday welcomed the arrival of NATO troops on its soil while insisting that their presence should not be seen as a step towards the break-up of the country.

"NATO has to send a clear signal to those who want to create a little Kosovo that this will not be permitted," government spokesman Antonio Milososki said.

"We hope and expect that NATO will use this chance to prove to the world that it is acting in the interests of peace and stability in the country."

Many Macedonians fear the NATO force set up for a brief mission to accept the voluntary surrender of weapons by ethnic Albanian guerrillas will end up dividing the country.

If the NATO troops are drawn into policing a front line between the rebels and government troops, something the have insisted they will not do, this could create a de facto ethnic Albanian autonomous enclave.

"NATO is going to help Macedonia, a small democratic country, overcome this crisis, which was provoked by the region's extremist paramilitary forces," Milososki said.

"We welcome them, and offer them our support in the search for a common goal, the re-establishment of a lasting peace," he added.

NATO peacekeepers were sent into Kosovo in 1999 to end a war between Yugoslav forces and ethnic Albanian guerrillas.

They turned the province into an international protectorate and the divisions between the breakaway province's Albanian majority and the remaining Serb population has only deepened.

But the NATO troops who began arriving in Macedonia on Friday have a more limited mission: to set up weapons collection sites and protect them while the rebels hand in their arms under the terms of a peace deal signed Monday.

NATO spokesman Major Barry Johnson said: "The authority of the commander of the mission will only extend to the weapons collection sites. The Macedonian government retains sovereignty and control of its territory."

The so-called National Liberation Army claims that it is fighting to improve the civic rights of Macedonia's ethnic Albanian minority, which represents around one third of the republic's two million population.

But many suspect them of wanting to split the country, and annex the Albanian majority areas of the north and west of the country to a future "Greater Albania". Some fear that NATO intervention help this goal closer.

"There are certainly some Albanians who think that NATO is going to freeze the battlefield around its current positions," another senior government official said, on condition of anonymity.
Macedonia mission likely to go over schedule.
the Irish Times
By Nicholas Wood, in Skopje

MACEDONIA: NATO'S commitment of more than 3,500 troops to Macedonia is meant to last little more than a month, but even before the troops arrive there are predictions that they could be here for a lot longer.

A Macedonian policeman was shot dead by suspected ethnic Albanian rebels in Tetovo yesterday, puncturing the fragile ceasefire declared on Sunday. An NLA commander said a civilian was injured in the shooting and accused police of opening fire.

The week before the peace deal was signed saw some of the worst violence in the conflict, with 18 Macedonian soldiers ambushed or blown up by landmines, five NLA gunmen seemingly executed by police in a house in the capital and five Albanian civilians apparently shot in cold blood in a village.

"I'm sceptical that NATO's presence will last only 30 days," said Daniel Serwer, director of the Balkans Initiative at the US Institute for Peace in Washington. "I don't think they \NATO planners think that either, only they can't face . . . telling the authorities at home that it is going to last more."

A Western ambassador in Skopje said: "Albanian youths have had a taste of a successful insurgency. Part of the guerrilla group feels very sure of itself. It might not surrender its weapons."

Before the EU's foreign affairs envoy, Javier Solana, and NATO's secretary general, Lord Robertson, witnessed the signing of the so-called framework peace document, a splinter group of the NLA rejected the agreement.

NATO's ability to disarm the guerrillas is called into question by its experience in Kosovo, from which the Macedonian gunmen get a constant supply of men and weapons.

In theory, the Kosovo Liberation Army was disarmed by K-For in 1999, but numerous arms finds and continued attacks on the Serb, gypsy and Slav-speaking minorities have proved otherwise.

The Macedonian government has no desire to give in to the Albanian demands only to see them take up arms again this autumn. Some believe NATO's "Operation Essential Harvest" should turn into a peacekeeping mission.

There are also fears that NATO's planned deployment in northern Macedonia could increase ethnic divisions. "You will have an unintended consequence of Albanians moving to NATO areas and Macedonians moving out," Mr Serwer warned.

Macedonian Slavs see NATO as the cause of their problems. Most regard the West as being pro-Albanian. When fighting started in February, Western governments supported their government, saying no state should give in to "terrorism".

But, as time wore on, it became clear that the NLA could not easily be defeated and that discrimination against the Albanians was real and reforms were needed.

Under pressure from the EU and US, the government has had to give in to the rebel demands. But Macedonia needs Western support. It has a $227 million budget deficit, mainly as a result of the war.

"There's no one else to turn to," Mr Serwer said. "They tried the Russians and the Ukrainians, but they can't give real assistance." Western governments also know that if they do not deploy troops now the conflict may spiral.
Washington will not send troop reinforcements to Macedonia: Rumsfeld.
AFP
WASHINGTON, Aug 17 (AFP) -

The United States will not send reinforcements to aid in the disarmament of ethnic Albanian rebels in Macedonia, relying instead on troops already on the ground and from Kosovo, Defense Secretary Donald Rumsfeld said Friday.

"We are not sending forces, technically, to Macedonia," Rumsfeld told reporters. "The forces that would be used are forces that are already in Macedonia or Kosovo -- they're either in Kosovo at Camp Bondsteel or they're in Macedonia for the intelligence assistance and the logistic assistance."

NATO has sent a British battalion of 400 troops to evaluate the situation, Rumsfeld said, but the organization had yet to give the green light to the disarmament mission.