Enter content here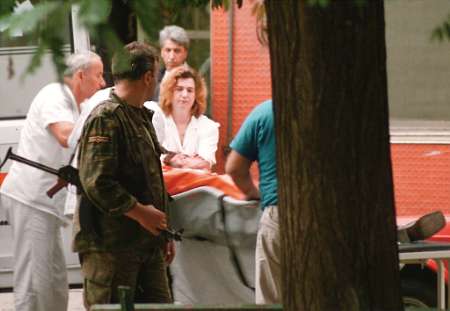 A Macedonian policeman escorts a wounded ethnic Albanian guerrilla fighter as he is taken to the city hospital in the Macedonian capital Skopje, August 12, 2001. Leaders of the main ethnic Albanian and Macedonian political parties are meant to sign a deal Monday in Skopje aimed at defusing the six-month-old conflict. But diplomats say it has little chance if the fierce fighting continues. REUTERS/str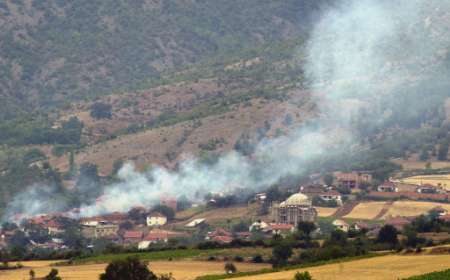 Smoke rises from the ethnically mixed village of Ljuboten, some 10 km (6.2 miles) north of Skopje, during a fight between Macedonian government forces and ethnic Albanian guerrillas, August 12. Fighting raged in Macedonia on Sunday between the security forces and ethnic Albanian guerrillas, casting doubt over plans for NATO and EU chiefs to attend the planned signing of a peace deal on Monday. REUTERS/Ognen Teofilovski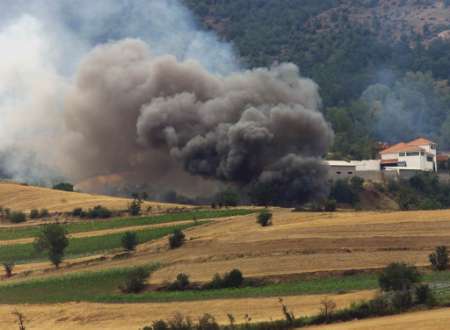 Smoke covers a 14th century Eastern-Orthodox church in an ethnically mixed village of Ljuboten, some 10 km (6.2 miles) north of Skopje, during a fight between Macedonian government forces and ethnic Albanian guerrillas, August 12, 2001. Fires could be seen from Skopje on the hills around Ljubanci, about five km (three miles) from the capital and the nearby predominantly ethnic Albanian village of Ljuboten on Sunday. Eight Macedonian soldiers died in mine explosions, blamed by the government on the rebels, in the area on Friday. REUTERS/Oleg Popov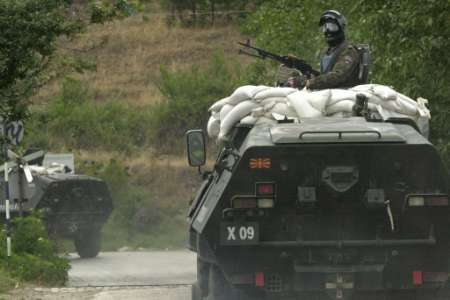 Macedonian special police forces "Tigers" make their way along a road to the village of Radusa in Skopje, August 12, 2001. Macedonia accused ethnic Albanian guerrillas from neighboring Kosovo of mounting attacks on Saturday, even as the government and a local guerrilla leader expressed support for a plan meant to avert a new Balkan war. REUTERS/Ognen Teofilovski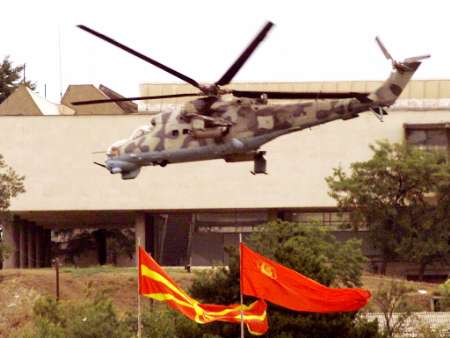 A Macedonian army MI-24 combat helicopter flies over national flags in front of a building in central Skopje on its way to the north of the country, August 12, 2001. Fighting between ethnic Albanian rebels and government forces broke out on Sunday just outside the capital Skopje, close to where eight soldiers were killed by landmine blasts on Friday. REUTERS/Oleg Popov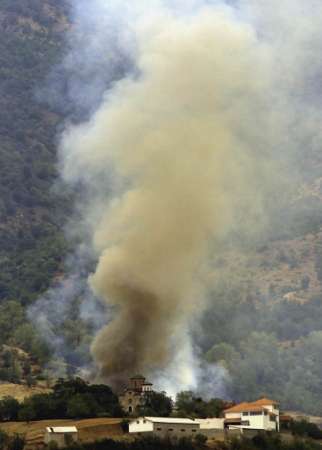 Smoke rises around the14-th century East-Orthodox church in the ethnically mixed village of Ljuboteh, some 10 km (6.2 mile) north of Skopje, during the fight between Macedonian government forces and ethnic Albanian guerrillas August 12, 2001. Macedonia accused ethnic Albanian guerrillas from neighboring Kosovo of mounting attacks on Saturday even as the government and a local guerrilla leader expressed support for a plan meant to avert a new Balkan war. REUTERS/Oleg Popov
Albanian rebels torture civilians in Macedonia.
Scotland on Sunday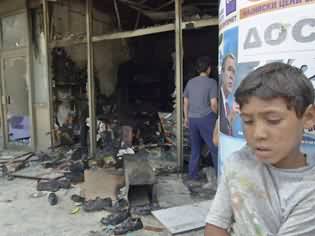 Burning resentment: a boy stands next to a Albanian- owned shop burnt out in the town of Prilep in a revenge attack after ethnic- Albanian guerrillas killed eight Macedonian soldiers with a mine.
By Christian Jennings in Skopje

Torture, beatings, kidnap and sexual abuse are just some of the methods being used by Albanian rebels from the self-styled National Liberation Army against Macedonias civilian population as they continue their six month fight against government forces, according to international human rights monitors.

Macedonias government forces stand accused of fostering Slav paramilitary violence, which resulted in the shooting of an eleven-year-old Albanian child this week, of summary executions of Albanian rebel prisoners, and massive police brutality.

Macedonias political parties are poised to sign a crucial peace deal on Monday in an attempt to bring an end to six months of clashes between the rebels and government forces which last week left twenty soldiers and policemen and at least five rebels killed in the most intense violence since fighting began in January.

In one incident on Tuesday, five Macedonian road-workers erecting road-signs on the main Skopje-Tetovo dual carriageway were abducted by Albanian rebels who then tortured, sexually abused and mutilated them.

"The abuse started with a severe beating," said Peter Bouckaert, a Human Rights Watch monitor in Skopje. "One of the rebels then used a knife to carve letters on the Macedonians backs and to cut them on other parts of their bodies.

"One of the rebels forced the men to perform oral sex on each other, and tried to anally rape one of the men with a wooden stick. The abductions were part of an increasing pattern of illegal detentions and kidnappings by ethnic Albanian fighters." said Bouckaert.

Incidents like these are rapidly worsening the divide between Albanians and Slavs in Macedonia, with many western officials fearing that the gulf between both sides may now be too great for reconciliation, even if the so-called Framework Agreement for Peace is signed tomorrow.

"Macedonia is facing the threat of civil war, we must not allow it to perish in flames," wrote Macedonias foreign minister, Ilinka Mitreva, in an open letter to UN Secretary General Kofi Annan, NATO chief Lord George Robertson and EU envoy Javier Solana.

She called upon the international community to take more robust action against Albanian guerrillas from the self-styled National Liberation Army who have spread their fight against the Macedonian government across the entire north of the country.

The authorities declared yesterday a day of national mourning after eight soldiers were killed in an anti-tank mine blast outside Skopje on Friday.

Five Macedonian police reservists were also wounded late on Friday after police units, backed up by Mi-24 Hind helicopter gunships flown by Ukrainian pilots, fought with Albanian rebel units near the village of Radusa, north-west of the capital on the mountainous border with Kosovo.

On Wednesday ten army reservists were killed in a rebel ambush outside Skopje, believed to have been carried out by the NLA as a reprisal for the killings of five alleged terrorists by Macedonian Special Police teams on Tuesday night in an Albanian quarter of Skopje.

Under current NATO planning, Operation Essential Harvest will follow the signing of a peace deal, its ratification by parliament, and the establishment of what NATO calls a "durable and tenable cease-fire".

Including a reinforced battalion of the Parachute Regiment, a 3,500-strong multi-national mission has been tasked to deploy to Macedonia to collect the rebels weapons under a voluntary disarmament scheme.
Macedonia gunships try to rescue trapped cops.
AP, Chicago Tribune
By Misha Savic
Associated Press
Published August 12, 2001

SKOPJE, Macedonia -- Army helicopter gunships rushed to the rescue of a police unit encircled by ethnic Albanian rebels in the mountains of northern Macedonia, state television reported Saturday.

The escalation in fighting, which threatened to further erode confidence in a tentative peace agreement, came as Macedonians buried seven soldiers and declared a day of mourning after earlier rebel attacks.

The rebel fighters reportedly surrounded the police unit in Radusa, a village near the border with Kosovo. Helicopter gunships could be seen taking off from the capital Skopje, 10 miles away.

The Defense Ministry said the army and police were "successfully pushing back terrorists" with "all available means."

Crowds of mourners, Orthodox priests and soldiers gathered for the soldiers' funerals held at several cemeteries in Skopje. Officers delivered emotional speeches, praising the slain men as heroes who died defending their fatherland.

At one of the funerals, the body of 28-year-old army reservist Marjanco Boskovski was in an open coffin. His face was scarred from the blast that shattered his truck, part of a military convoy that hit a land mine just north of the capital Friday.

On Wednesday, 10 soldiers were killed when rebel artillery hit a military convoy west of the capital, in the volatile and mostly ethnic-Albanian populated area.

Ethnic Albanian militants took up arms in February, saying they wanted more rights for their community, which accounts for a third of the country's population of 2 million. The Macedonians say the rebels simply want to seize territory to establish an independent state.

On Wednesday, ethnic Albanian and Macedonian leaders agreed, under Western pressure, to a peace settlement. The parties are scheduled to sign the compromise deal Monday, despite the continuing violence.

Macedonians angry at the slayings rioted on the streets of Skopje late Friday, looting and ransacking ethnic Albanian-owned businesses. A mob surged toward the U.S. Embassy to protest what many Macedonians perceive as a Western bias in favor of ethnic Albanians. The crowd was turned back.

The U.S. State Department issued a warning the same day, advising U.S. citizens to defer travel to Macedonia.

It also ordered the departure of embassy personnel in non-emergency positions and dependents.
YU Chief of Staff to offer troops to Macedonia in event of full-scale Cvil War.
beograd
2001.08.12 18:42 ICG

General Pavkovic Promised to General Petrovski Intervention in Macedonia.

The international Crisis Group makes in its report alarming theories, in accordance to which the Yugoslav Armed Forces Chief of Staff General Nebojsa Pavkovic has promised military intervention of Yugoslav Armed Forces in Macedonia to his Macedonian colleague Pande Petrovski, in case of a larger scale civil war, reports SENSE news agency. According to ICG report, the two generals were in permanent phone contact during the unsuccessful attack on the village of Aracinovo, organized by Macedonian Army in June. The worst scenario is the one containing suggestion that General Pavkovic tried to dismiss General Krstic, commander of the Special Yugoslav Joint Force in June, only because General Krstic was against such actions.
MACEDONIAN GOVERNMENT DECLARED CEASE-FIRE, IN ORDER TO GIVE THE PEACE A CHANCE.
MIA
Skopje, August 12 (MIA) - Macedonian President Boris Trajkovski, after an agreement with the state top officials, ordered a cease-fire that would start at 19.30 hours on Sunday, sources in the President's Cabinet said for MIA.

The step was a "sign of goodwill" ahead of the signing of a peace accord scheduled for Monday, the sources said, adding Albanian terrorists would also halt their actions this evening.

As MIA finds out, the cease-fire was agreed by leaders of Albanian terrorists groups and NATO representative Piter Feight, who had several meetings with them in the last two days. ev/lk/19:24

...

The so-called commander Shpati for the foreign informative agencies announced that the so-called NLA is not accepting the cease-fire. Commander Shpati stated that he does not believe that the MKD security forces will stop attacking the poor Albanian freedom fighters, and they will continue the attacks and their battle for freedom.
Macedonian PM accuses UN-run Kosovo of waging war.
AFP
SKOPJE, Aug 12 (AFP) -

Macedonia's Prime Minister Ljubco Georgievski accused the United Nations protectorate of Kosovo of waging war against his country, in a letter to UN Secretary General Kofi Annan made public Sunday.

Georgievski said in a message read in Macedonian on state television that 600 members of a militia supported by Kosovo's international administration had crossed into Macedonia on Saturday and attacked government forces.

"I, personally, consider this an official declaration of war by the international protectorate of Kosovo and by the Kosovo Protection Corps (KPC), which is unfortunately part of the UN civil administration in Kosovo," Georgievski said.

"This is an unprecedented event in international politics, in which a sovereign and democratic country has been the object of aggression from an international protectorate of the United Nations," the letter said.

The hardline Macedonian leader repeated Skopje's longstanding criticism of Kosovo's NATO-led peacekeeping force, accusing it of allowing ethnic Albanian fighters to cross the border with impunity.

Both Georgievski and President Boris Trajkovski, who wrote separately to NATO Secretary General George Robertson to complain about the incursion, accused the rebels of firing shells from bases within the UN-run province.

Georgievski attacked Kosovo's chief UN administrator, Hans Haekkerup, urging Annan to "think about releasing him from his duties".

Macedonian forces on Saturday exchanged fire with a group of ethnic Albanian rebels near the village of Radusa, two kilometres (one mile) south of the republic's frontier with Kosovo.

Government officials said that the rebels had crossed from Kosovo 15 kilometres (nine miles) northwest of Skopje and surrounded a police unit.

The KPC was set up by NATO and the United Nations in 1999 to provide employment for former guerrillas of the officially disbanded Kosovo Liberation Army.

The unit -- which receives funding, training and equipment from Western countries -- was supposed to be an unarmed civil defence militia, but its members have frequently been implicated in criminal activity inside and outside the province.

KPC leaders make no secret of their ambition to one day form the basis for the army of an independent Kosovo, but have denied involvement in the six-month ethnic Albanian uprising in Macedonia.

Trajkovski called on NATO and the United Nations to shut down the KPC's training camps, state television reported.

Georgievski and his nationalist VMRO-DPMNE party are due to sign a peace accord Monday with the leaders of Macedonia's three other main democratic parties -- including two representing ethnic Albanians.

The government in Skopje on Sunday called a unilateral ceasefire to prepare the ground for the signing, but Georgievski warned that the rebels were not ready to make peace.

"Today when the political parties in Macedonia are one step towards signing the peace agreement, the Albanian paramilitary groups organised by the KPC continue with their aggression," the letter said.

"That confirms that they don't want any kind of agreement and it shows that they are not interested in peace," he said.
NATO May Enter Another Balkan Mission.
AP
By DUSAN STOJANOVIC, Associated Press Writer

SKOPJE, Macedonia (AP) - If Macedonia's rival factions sign a peace deal as planned despite a surge in fighting, NATO is poised to be drawn into another murky Balkan mission with no clear goals or solutions.

The mission, code-named Operation Essential Harvest and involving 3,500 troops, could begin as early as a week after Monday's planned signing of a tentative peace agreement reached last week between rival Macedonian and ethnic Albanian parties.

NATO's almost impossible mission: to collect and destroy weapons held by ethnic Albanian rebels who have been battling government forces since February.

There is a risk that the British-led operation could be caught in the crossfire if hostilities resume after NATO begins deploying troops in Macedonia. And with anti-Western sentiment rising, they could come under attack from both ethnic groups.

``It is as if NATO has not learned its lessons in Bosnia and Kosovo,'' said a Western diplomat in Skopje, referring to missions in the two former Yugoslav regions where the alliance planned a limited peacekeeping operation - only to end up sucked into an increasingly fuzzy and costly campaign.

NATO's spokesman in Macedonia, Maj. Barry Johnson, said the disarmament mission won't start until a series of conditions are met and an open-ended cease-fire is in place.

Among the preconditions: General political agreement among the main political parties, agreement between the government and the militants on how and when the weapons will be handed over, and the ``explicit consent of ethnic Albanian armed groups that they are prepared to surrender their weapons.''

Underscoring the confusion that awaits NATO troops, the rival factions have offered very different interpretations of what they see as the alliance's intentions.

A spokesman for the rebels' self-styled National Liberation Army who gave his name only as Besniku, or Faith, told The Associated Press that ``the NLA will fully disarm only when all the elements in the peace agreement are fulfilled by the Macedonian government.''

``We will never lay down our weapons if the aggression against Albanian civilians continues,'' Besniku said Sunday by telephone from neighboring Albania as fighting raged across Macedonia.

A rebel commander who goes by the name of Sokoli, or Falcon, said he was ``personally very pessimistic about both the political and military aspects'' of the disarmament plan.

Speaking by phone from his hideout in the Macedonian mountains, Sokoli said the rebels will give up their weapons only after the NLA, NATO and the Macedonian government sign a separate accord on the details of disarmament.

``A deadline for the disarmament must be defined and the political agreement must be implemented,'' Sokoli said, suggesting the rebels were willing to hand over their weapons only until a certain date.

The militants say they are fighting for greater rights for minority ethnic Albanians, who account for about a third of the country's 2 million people. The Macedonian government considers them terrorists more interested in grabbing territory.

The rebels say they will lay down their arms only when Macedonia's parliament ratifies the peace accord - which could come up to 45 days after the signing - and only when it starts implementing initiatives designed to give ethnic Albanians more influence in how the police forces, the legislature and education are run.

NATO envisions a 30-day operation. The rebels want a permanent NATO presence in Macedonia; the government prefers a limited mission with limited goals.

Although NATO has offered to collect and destroy only those weapons voluntarily handed over by the rebels, Macedonian government officials have been demanding the forcible disarmament of the insurgents if necessary.

``It is unrealistic to expect that the rebels will disarm voluntarily,'' said government spokesman Antonio Milososki. ``NATO will have to think about the use of force so we don't get another Kosovo farce.''

In neighboring Kosovo, after NATO's 78-day bombardment in 1999 that chased Serbian troops out of the province for cracking down on ethnic Albanians there, the alliance had a free hand to collect weapons from the Kosovo Liberation Army. But most of the rebel arms simply vanished; some weapons have resurfaced in Macedonia and are now being used in the fight against government troops.

Few people in Macedonia expect NATO to collect all the rebel weapons. In the Balkans, just about everybody has a gun, and it can be difficult to determine the difference between a rebel weapon and a rifle in the closet on a farm.

The collection and destruction of weapons is part of a process of building trust between Macedonians and ethnic Albanians, so both sides will have to be satisfied with how it's done. NATO officials said the Macedonian Defense Ministry and the rebels will have to agree on how many weapons is enough - and it won't be easy.

``What is an acceptable number?'' said Johnson, the NATO spokesman in Skopje. ``It's going to have to be a figure that all sides have confidence in.''