Enter content here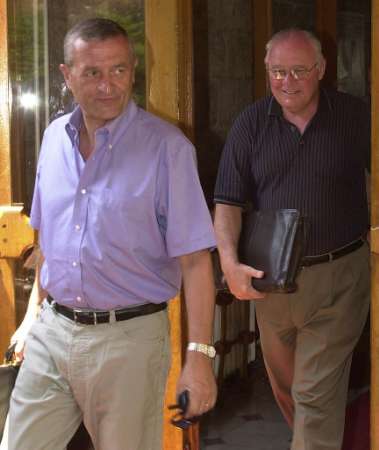 Envoys to Macedonia Francios Leotard of the EU (L) and James Pardew of the U.S. (R) walk out of their hotel together in Ohrid August 3, 2001. Leotard and Pardew have now reached the second part of crisis talks on Western peace proposals in Ohrid, some 160 km from Macedonian capital. The talks aimed at ending a five-month-old revolt among Macedonia's Albanian minority. REUTERS/Ognen Teofilovski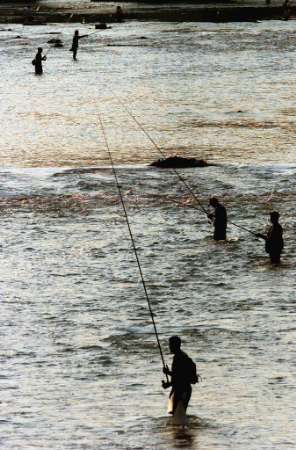 Macedonians fish in the Vardar river in Skopje late August 3, 2001. The river Vardar divides the Macedonian capital from the Albanian dominated part in the east and a Macedonian Slav dominated part in the west. Macedonia's government and ethnic Albanian rebels accused each other of stepping up violations of a cease-fire on Friday as political parties gathered for more talks on averting a new Balkan war. REUTERS/Oleg Popov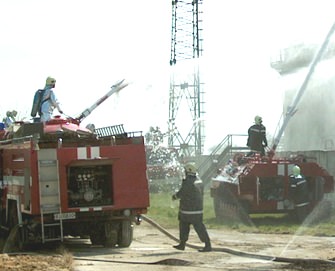 Firefighter was injured while putting out a fire.
More than 500 people have been fighting the big fire in Ivaylovgrad region for a third consecutive day today. The fire has already spread over more than 25 kilometers nearby the villages Dabovets, Malki Voden and Valche Pole. A firefighter from the Haskovo squad was slightly injured in a car accident with one of the firefighters trucks today.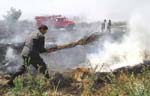 The fire in Eastern Rhodopa is getting bigger.
News.bg
The fire in the eastern part of Rhodopa Mountains near the villages Voden and the town Ivailovgrad is getting bigger and has started moving towards the Saint Marina peak. A Greek helicopter carrying 15 tons of water came to help the firemen. Prognoses for putting the fire out are unfavorable because of the strong wind and the difficult terrain.
Union of Democratic Forces reconfirmed its support for President Petar Stoyanov.
News.bg
Union of Democratic Forces reconfirmed its support for the nomination of President Petar Stoyanov for a second term as an independent candidate. After talking with the President this morning, the leader of Union of Democratic Forces Ekaterina Mihailova announced that Union of Democratic Forces would expect that other political forces except the Union of Democratic Forces would back the candidature of Petar Stoyanov for a President since he could be the guarantee for the continuation of the reforms and foreign policy priorities of Bulgaria. She also said that eventual amendments in the Election Law could hamper the election procedure during the political elections.