Enter content here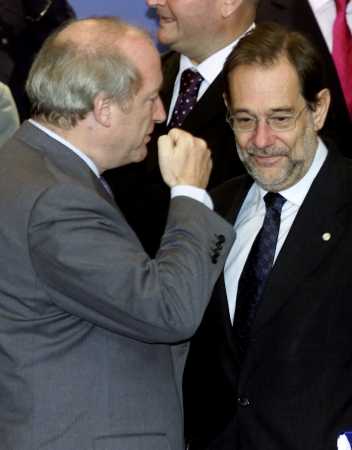 European Union Foreign Policy Representative Javier Solana, right, listens to France's Foreign Minister Hubert Vedrine while posing for a group photo at the informal EU Foreign Ministers meeting in Genval, 20 kilometeres (12 miles) east of Brussels, Sunday, Sept. 9, 2001. EU foreign ministers considered a German plan Sunday for a new, smaller military force in ethnically divided Macedonia, one that would still be led by NATO but widened to include non-NATO nations. (AP Photo/Yves Logghe)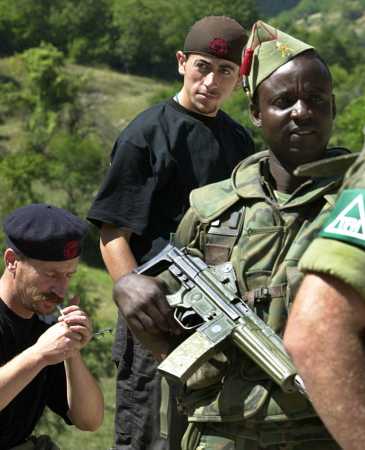 A Spanish soldier, right, a member of NATO's Task Force Harvest (TFH) stands next to ethnic Albanian guerrillas in the village of Brodec, Macedonia, some 40 kilometers west of the capital Skopje, Sunday, Sept. 9, 2001. The European Union moved toward broad agreement that an international force will be needed to protect civilian observers in Macedonia after NATO's 4,500-member brigade pulls out later this month.(AP Photo/Vadim Ghirda, Pool)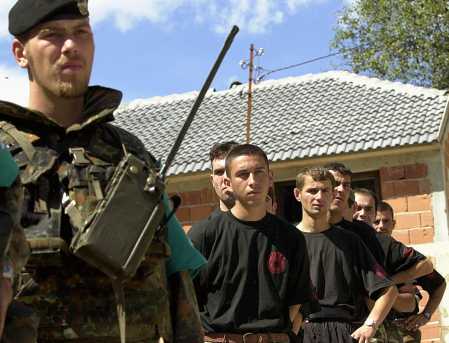 A German soldier, a member of NATO's Task Force Harvest (TFH) guards a group of ethnic Albanian guerrillas at the weapons collection point in the village of Brodec, Macedonia, some 40 kilometers west from the capital Skopje on Sunday, Sept. 9, 2001. The European Union moved toward broad agreement that an international force will be needed to protect civilian observers in Macedonia after NATO's 4,500-member brigade pulls out later this month. (AP Photo/Vadim Ghirda/Pool)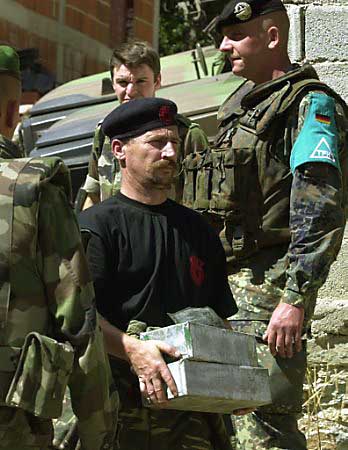 An ethnic Albanian guerrilla (C) carries boxes of ammunition as he walks next to French soldiers, members of NATO's Task Force Harvest (TFH), at the weapons collection point at the village of Brodec, some 40 kms west from the capital Skopje, September 9, 2001. The European Union moved toward broad agreement that an international force will be needed to protect civilian observers in Macedonia after NATO's 4,500-member brigade pulls out later this month. (Pool/Reuters)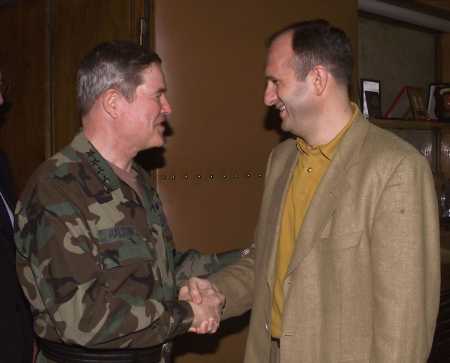 The NATO Supreme Allied Commander for Europe U.S. Gen. Joseph Ralston, left, meets Macedonian Defense Minister Vlado Buckovski in Skopje, Macedonia, Sunday, Sept. 9, 2001. The European Union moved toward broad agreement Saturday that an international force will be needed to protect civilian observers in Macedonia after NATO's 4,500-member brigade pulls out later this month. (AP Photo/Boris Grdanoski/Pool)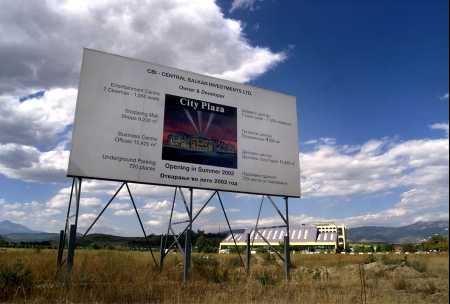 A billboard advertising a planned shopping mall sits in front on an empty field in Skopje, Macedonia, Sunday, Sept. 9, 2001. Construction on the mall has been delayed as the nation struggles for peace after a six-month conflict between government forces and ethnic Albanian rebels. Many foriegn investors are staying away until the peace process is complete. (AP Photo/Boris Grdanoski)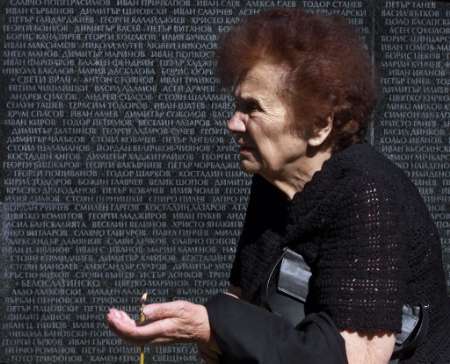 An elderly Bulgarian woman holds a candle as she searches for relative's names on the marble plates of the monument to some 20,000 victims of Communist rule, during an open air mass in Sofia September 9, 2001, the date of the Communist takeover in 1944. Bulgaria spent 45 years under one-party Communist rule, which collapsed in November, 1989. REUTERS/Dimitar Dilkoff
Macedonia's ghost militia ready for war.
Sunday Times
James Clark, Ratae, Macedonia September 9 2001

THE heat was intense, the flies infuriating and the mood ugly. A Macedonian commander clenched his red beret and spat in disgust. Isolated and outgunned, he had just learnt by mobile phone that his men would not be getting their milk.

Albanian rebels from the National Liberation Army (NLA) had kidnapped the milkman and two other Macedonians at the local petrol station.

"Every week they take people," railed the commander, who calls himself "Bumbar" (hornet) and is one of the leaders of a shadowy Macedonian paramilitary force known as the Lions. "The Albanians cut the fingers and ears, they rape, they leave bodies on road," he said.

It was a tragi-comic Balkan scene. Young men with visions of Rambo cradled their weapons as an intense debate ensued about who should break the news to the milkman's wife.

The only thing that was clear was that groups such as the Lions and breakaway factions of the opposing NLA have little interest in disarmament. Despite Nato's Operation Essential Harvest, aimed at collecting 3,300 rebel weapons, men on both sides are preparing for Balkan civil war: one that would pit village against village, neighbour against neighbour.

Six feet tall, thickset, and with a shaved head and a heavy beard, Bumbar says he is a target for Albanian terrorists. His men, who carry top-of-the-range assault rifles and the latest flak jackets, were equipped at a time when the Macedonian government was assuring Nato no paramilitary forces existed.

At 28, Bumbar controls Ratae, the last Macedonian village in an area now dominated by the NLA. "We are disciplined men, and we obey orders, but we cannot take much more like this," he said. "We must fight or we will have to leave and run to Skopje."

Identified by their red berets, the Lions are an elite unit backed by the Macedonian government. Ordinary Slav Macedonians regard them as saviours. Taxi drivers and waiters produce small lion badges to show where their loyalties lie. They support war against the Albanians rather than the fudge of western mediation and the possible division of Macedonia.

Given that the Lions do not officially exist, their funding is necessarily hazy. Rumours abound that their money comes from a charity controlled by the Macedonian diaspora and run by a leading politician's wife.

"We will never have peace with the NLA," said Bumbar, sipping from a coffee cup that looked absurdly delicate in his bear-like paw. "They take, they take and they take - from Macedonians, from Serbs and now from Nato."

Mutual resentment is growing in Macedonia, and President Boris Trajkovski used the 10th anniversary of independence yesterday to warn that any Albanian rebels who fought on would be destroyed.

For their part, the Albanians fear that once they have relinquished their weapons and Nato leaves at the end of its 30-day mandate on September 26, groups such as the Lions will seize their chance to strike. A follow-on force is deemed essential, and senior British Army sources have lambasted the alliance for being slow to realise that the achievements of Essential Harvest could be reversed if a "security vacuum" were left on its departure.

"The Albanians are convinced elements of the government's forces will attack," said one British source. "We need to be here on day 31 to assure them it won't happen."

With a second phase of arms-collecting due to begin today, a follow-on force of European Union, American and Russian troops is being frantically put together. Spain's foreign minister, Josep Pique, said yesterday alliance troops could stay for two or three months longer.

Britain has agreed to supply soldiers for a follow-on force, mostly in a command capacity. But it seems virtually certain that it will relinquish its lead role in the operation.

"I will need a lot of persuading for any follow-on force to be British," said Geoff Hoon, the defence secretary, in Skopje last week. Sources suggested pressure was being put on the French and Germans to provide the bulk of such troops.

So far, the Macedonians have gone along with the peace plan. MPs voted last week for constitutional changes giving the Albanians new rights, and linguistic and cultural equality.

But in the frontline villages such as Ratae the niceties of twin-track peace negotiations are lost on a fearful population.

The mood improved as news came through that the hostages had been freed. But the scowl remained on Bumbar's face. "You go home, and we get milkman back in parts," he said.
He ventured out of his makeshift bunker, gesturing at the surrounding hillsides with their Albanian villages; nests of terror, he said, from where tunnels would be dug towards Ratae.
"They see me or someone, they shoot, then they go back in tunnel," he said. "They make it impossible for people to work in the fields, winter is coming and they have no food and no money. Nato wants us to let this happen. Me, I think some Macedonians say 'no more'."

Sunday Times.
Macedonia Wants NATO to Do the Job and Go.
Reuters
September 9, 2001 7:33 am EST
By Anatoly Verbin

SKOPJE, Macedonia (Reuters) - NATO troops were set to collect more weapons Sunday from ethnic Albanian guerrillas in Macedonia as a senior government source said their mission should not be extended.

"Thanks to NATO but we can handle things. After the end of this mission they should leave," the source, who declined to be named, told Reuters.

"At the moment there is no mood for accepting an extended military mission. Only civilian monitors are acceptable."

A defense ministry source also said a new NATO mission was not acceptable.

The international community, concerned that violence could erupt again after NATO's 4,500 troops pull out when the "Essential Harvest" operation ends on September 26, is unanimous that a security void should be filled.

But the size, rules of engagement and form of any force -- whether NATO, European Union, or U.N. -- are still being intensely debated.

Several European Union ministers said Saturday their countries were willing to stay on in the tiny Balkan state.

"One way or another, Europe must stand by Macedonia. We must not suddenly change our stance," French Foreign Minister Hubert Vedrine said in the Belgian town of Genval.

Vedrine said NATO command of a military force to protect foreign peace observers made most sense, since the EU was not yet ready to take charge of such missions.

German Foreign Minister Joschka Fischer called for a NATO-led force with a United Nations mandate.

Spanish Foreign Minister Josep Pique said: "Our troops could stay for two or three months longer."

EU diplomats said European governments did not want to serve under a U.N. command and wanted to keep the United States engaged. Russia has backed the idea of an international force.

PEACE NOT ASSURED YET

The fragility of the peace process was underscored by a report that government troops and the rebels exchanged fire late Saturday night in the western Tetovo area where the weapons collection is due to take place.

An army spokesman said there were 20 "provocations" by the rebels and in one case troops returned fire, near the village of Ratae. No one was hurt.

NATO confirmed the shooting took place and said it was looking into the details.

Meanwhile, Maki Shinohara, a spokeswoman for the UNHCR refugee agency, told Reuters that some 7,000 ethnic Albanian refugees had returned to Macedonia from neighboring Kosovo in the last three days.

Last week UNHCR said some 44,000 refugees from Macedonia were still in Kosovo while some 38,000 had already returned.

The Macedonian Red Cross says some 70,000 people remain displaced inside the country.

NATO had gathered a third of the rebel National Liberation Army's (NLA's) declared arsenal, but stopped when parliament's preliminary debate on reforms to give more rights to ethnic Albanians was dragged out, then frozen, by ultra-nationalists.

Western diplomats pushed hard-liners to drop deal-wrecking demands and legislators finally voted last Thursday to authorise drafting of reforms.

The changes are meant to decentralize power, allow more official use of the Albanian language and give Albanians jobs in public services, especially the police force, commensurate with their one-third share of the population.

The fragile peace process edged into round two Friday. Hundreds more guerrillas disarmed after parliament grudgingly embarked on the constitutional reforms.

NATO officials said they were satisfied with the haul.

The alliance says the second phase of weapons collections is to be completed by September 13, in time for second round of parliamentary action under the 45-day timetable for implementation of the peace plan.

Guerrillas would then relinquish the final third of an agreed 3,300 weapons to set the stage for a ratification vote in parliament, within three days of NATO's September 26 deadline for completing disarmament.
EU Mulls German Plan for Macedonia.
AP
By Jeffrey Ulbrich
Associated Press Writer
Sunday, Sept. 9, 2001; 7:09 a.m. EDT

GENVAL, Belgium European Union foreign ministers considered a German plan Sunday for a new, smaller military force in ethnically divided Macedonia, one that would still be led by NATO but widened to include non-NATO nations.

The 19-nation alliance deployed 4,500 troops to Macedonia last month to collect weapons from ethnic Albanian rebels. That mission is in support of a political agreement signed by all the major parties in Macedonia aimed at giving the ethnic Albanian minority greater rights.

NATO's Operation Essential Harvest ends Sept. 26 and the alliance has said that mission will neither be extended nor replaced with a new one.

Foreign ministers from the 15-nation EU agree that some sort of follow-on mission is necessary in Macedonia, a former Yugoslav republic of 2 million inhabitants, about one-third of whom are ethnic Albanians. The EU and the Organization for Security and Cooperation in Europe have increased the number of civilian monitors in Macedonia, but the remaining question is their security.

"We cannot purely and simply leave," French Foreign Minister Hubert Vedrine told reporters.

While the French and some others might favor using the EU's own rapid-reaction force for the mission, it is generally agreed the European military force is not yet developed enough. The EU is planning to have a 60,000-man rapid reaction corps by 2003, with initial elements ready by the end of this year.

The German idea, presented by Foreign Minister Joschka Fischer, is for a smaller force than the current 4,500 now in Macedonia. Its mission, also like the current one, must be limited in time.

The successor force, according to German thinking, must be made up of NATO troops and open to non-NATO members, including Russia and the Ukraine. It must have a U.N. Security Council mandate and be invited by the Macedonian government.

Britain, for one, does not like the idea of requiring a U.N. mandate, and so far, Macedonia has been cool to the idea of another mission.

"We don't need NATO to stay on as guarantor for peace," Macedonian President Boris Trajkovski said Saturday in Skopje. "Macedonian security troops will be the only true guarantee for peace and loyal ethnic Albanians must understand this."

The three principal challenges facing Macedonia at present, according to the Germans, are a security vacuum after the end of the NATO mission, what the Germans call a "silent coalition of extremists on both sides opposed to reconciliation," and prevention of an ethnic division of the country.

In no case, the German thinking goes, must a new military mission be an interposition force between two sides.

A new military mission must be complimentary to further EU economic aid, $14.7 million in the short term for infrastructure projects and $228 million in longer-term aid.
NATO troops pass through Yugoslav territory.
Free Serbia
Foreign troops on the way to Kosovo started passing through Yugoslav territory. Yugoslav Ministry of Defense has made a detailed plan for passing of foreign military convoys. So far, Russian, Slovakian, Ukrainian, Turkish and troops from Finland have passed. Soldiers are traveling apart from their weapons and equipment. Only stops on the road are permitted, for no Yugoslav objects are available for use.
Pure fiction in Macedonia.
Washington Times
Gary Dempsey
Published 9/9/2001

The first wave of 3,500 NATO troops has poured into Macedonia to begin a 30-day mission to "disarm" ethnic Albanian guerrillas as part of Operation Essential Harvest. But Essential Harvest is just the latest move NATO has made that gets it wrong in the Balkans.

First, look at the numbers. The Macedonian government estimates that ethnic Albanian rebels have 70,000 weapons, roughly 23 times more than the 3,000 that rebel leaders say they'll turn over to NATO weapons collectors. NATO officials, meanwhile, barely disagree with the rebels, and say 3,300 weapons is a "credible, accurate, and non-negotiable" estimate of what should be turned in before the alliance declares the disarmament a success.

Macedonian Prime Minister Ljubco Georgievski, however, says, "We used to seize that quantity in a single raid.... I think it is laughable to speak about 3,300 pieces six months after the outbreak of crisis."

If NATO's involvement in neighboring Kosovo is any guide, Mr. Georgievski has a right to be incredulous. After the Kosovo Liberation Army (KLA) turned in roughly 10,000 guns -- many of them broken or antiquated -- NATO officials declared that the rebel group was disarmed. What NATO officials failed to mention was that a few days earlier, German soldiers stumbled on a secret cache of 10 tons of ammunition. And that was only the beginning.

British troops later found two concrete bunkers dug into a hillside in a forested area of central Kosovo containing 67 tons of weapons and explosives, including 20,000 grenades, thousands of mines, and half a million bullets. A NATO spokesperson said the weapons were enough to eliminate the entire population of Kosovo's capital, Pristina, or to destroy 900 to 1,000 tanks.

NATO units have since discovered dozens of hidden weapons stockpiles scattered throughout Kosovo. One included sniper rifles, machine guns, more than 80 mines, 100 pounds of TNT and paraphernalia to detonate bombs remotely -- "clear indications of a terrorist capability," explained a prepared NATO statement on the find.

In another incident, NATO soldiers in Kosovo discovered a complex of bunkers and fighting positions only 12 miles from the Kosovo-Macedonia border.

What's more, even if Macedonia's rebels turn in 3,300 weapons as NATO wants, it really won't make much difference militarily. According to a top NATO commander, the rebels can easily and quickly replace the weapons they turn in. Indeed, over the past six months, NATO's Kosovo force has intercepted as many weapons destined for Macedonia as the rebels now claim to have in their possession, and what NATO intercepted is probably a drop in the bucket compared to the total number of weapons that made it across Kosovo's mountainous border.

Macedonia's rebels could also replenish the few weapons they turn in by smuggling others in from neighboring Albania. In 1997, the central government in Albania collapsed. In the ensuing chaos, the government's arms depots were thrown open. Between 650,000 and 1 million light weapons and 1.5 billion rounds of ammunition were stolen. An estimated 3.5 million hand grenades, 1 million anti-personnel mines, 840,000 mortar shells, and 3,600 tons of explosives also went missing. Many of the plundered weapons headed straight into the hands of the region's gun traffickers and ethnic Albanian militants.

Lastly, Macedonia's rebels could turn to drug trafficking to resupply whatever arms they turn over to NATO.

Indeed, as early as June 1994, the Paris-based Geopolitical Drug Watch (GDW) issued a bulletin that concluded narcotics smuggling had become a prime source of financing for civil wars already under way -- or rapidly brewing -- in southeastern Europe.

The GDW bulletin went on to identify Albanian nationalists in Kosovo and Macedonia as key players in the region's accelerating drugs-for-arms traffic and noted they were transporting up to $2 billion worth of heroin annually into Central and Western Europe "in order to finance large purchases of weapons" from black-market arms dealers in Switzerland.

At the time the report was written, more than 500 Albanians from Kosovo and Macedonia were in prison in Switzerland for drug- or arms-trafficking offenses, and more than 1,000 others were under indictment.

Ultimately, Operation Essential Harvest is based on two fictions: that Macedonia's ethnic Albanian rebels have only 3,300 weapons, and that their objective isn't to keep NATO in Macedonia indefinitely. Neither belief is true. The rebels have far more weapons and easy access to resupplies. They are also served by NATO's presence because it keeps Macedonia's government forces out of their occupied territory.

What remains to be seen is how the rebels keep NATO in Macedonia or how they will make the alliance return when Operation Essential Harvest comes to an end.

Gary Dempsey, a foreign policy analyst at the Cato Institute, is the lead author of the newly published book, "Fool's Errands: America's Recent Encounters with Nation-Building."
Macedonia: Another Peace Farce in the Making.
Beograd
Bob Djurdjevic
Special Series on Balkan Affairs
09.09.01.

Spinning Albanian Terrorists into Statesmen

When the Kosovo war ended in June of 1999 with a peace agreement signed by the Yugoslav Army and NATO in Kumanovo (Macedonia), this writer said what the western officials and the media hailed as a peace process, would turn into a peace farce (see http://www.truthinmedia.org/Kosovo/tim-peace.html ). It did. In the wake of such a peace deal, more than 1,200 Kosovo Serbs were murdered by Albanians, and over 250,000 driven from their ancestral homes.

With the Aug. 13 signing of the Macedonian peace accords in Skopje, another Peace Farce is in the making. Even before the ink was dry on the new peace documents, artillery fire could be heard north of Skopje, the New York Times reported in its Aug. 14 edition. And in the days preceding the signing ceremony, a new assault against Macedonia was launched from the NATO-occupied Kosovo by the Albanian rebels, while the KFOR border troops evidently looked the other way. Kosovo Troops Openly Attack Macedonia, read the headline of the Aug. 11 Macedonian Information Agency dispatch.

I find it interesting that no major American media we are aware of bothered to carry this news story. And for a good reason For, it would have once again exposed the duplicitous role the U.S. government and NATO have played in the Macedonian conflict, as in Bosnia and Kosovo a few years earlier.

Kosovo Troops Openly Attack Macedonia

SKOPJE, Aug. 11 (MIA) - Just before 16:00 Saturday afternoon, hundreds of members of the Kosovo Protection Corps [TiM Ed.: A NATO-created police force into which the murderous Kosovo Liberation Army (KLA) morphed in late 1999], came from Krivenik, Kosovo into Derventska Klisura (Dervent's Canyon), (and) fiercely attacked the Macedonian security forces in the Radusha area.

Sources from the Macedonian Defense Ministry stated for MIA that the Macedonian Army most vigorously responded and took an offensive against the Albanian terrorists in Radusha.

One thing is not clear (to MIA): If NATO troops were supposed to protect the MacedoniaKosovo border, how and why is possible for the Kosovo troops to cross the border and openly attack Macedonia?

(MIA) Editors comment: It is well known that, or if you prefer (it is) a public secret, that the Kosovars (Kosovo Albanians) were actively participating and helping the terrorists in performing the crimes against humanity, torturing the Macedonian and the local Albanian civilians, smuggling drugs, weapons, and all other criminal activities against Macedonia.

With a lot of help from the Albanians in the Macedonian government, Macedonia was an El Dorado, a promised gangland for these people.

When will the International public admit that the pour Albanian people that the whole world was defending, now are the same criminals, the same murderers wanted internationally for crimes, are now attacking Macedonia!

Our only fault was that we were blind and nave to see, that while we the Macedonians, were making efforts to help the poor refugees from Kosovo, making efforts to create a multiethnic community, the Albanians were preparing for WAR!

Meanwhile, NATO Secretary-General Lord Robertson attended the Aug. 13 signing ceremony in Skopje which paved the way for the deployment of some 3,500 NATO troops in Macedonia. Robertson said that he hoped the alliance could move "very swiftly indeed" on launching the mission, according to an Aug. 13 Associated Press report.

Robertson and European Union envoy Javier Solana, the NATO civilian boss during the 1999 bombing of Serbia, watched as Macedonias president Boris Trajkovski and the leaders of the four largest parties, two ethnic Albanian and two Macedonian, signed the accord. The two mediators - Francois Leotard of France and James Pardew of the United States - also signed the 15-page document at Trajkovski's residence.

The British-led mission, dubbed Operation Essential Harvest, would also include troops from the United States, France, Germany, Italy, Spain, Greece, the Netherlands, Norway, Turkey, Hungary and the Czech Republic.

Robertson called the signing a remarkable moment for the history of Macedonia. This day marks the entry of Macedonia into modern, mainstream Europe, the AP said.

Translation it pushes Macedonia deeper into financial and political slavery to the New World Order masters. Proof?

On Aug. 15, this writer received a letter from a TiM reader who offered the following comment on the just-signed peace agreement in Macedonia:

The government of Macedonia and someone who allegedly represents the Albanian rebels signed today the Framework Agreement for Peace. I say allegedly because the rebels were not present at the negotiating table and it is not known whether they would adhere to the agreement. []

I replied as follows:

Yes, they were. The Albanian "rebels" - a.k.a. KLA (UCK) or KPC - are nothing but the New World Order mercenaries. They were represented there by no less than three officials - James Pardee (U.S.), Lord Robertson (NATO), and Javier Solana (EU, also former NATO). For what its worth

Spinning of Terrorists into Statesmen

The New York Times Helps Transform Albanian Terrorists PR Images

Prior to the Kosovo war (1999), Hashim Thaci, a Kosovo Albanian who emerged as the UCK (Albanian abbreviation for Kosovo Liberation Army - KLA) was a virtual nobody. A few photo-op sessions later, in which Madeleine Albright kissed the thug, and she and her spokesman, James Rubin, shook his hand and treated him as a head of state, a virtual nobody became a virtual head of state (see Thugs of the World Are Uniting (Again), June 21, 1999). Just like Yasser Arafat. At least thats what an average American or Western European citizen might have concluded.

Well, the New York Times is at it again. This time, it is providing its terrorist-to-statesman PR services to an UCK offshoot in Macedonia, where a peace farce agreement has just been signed (see Item 1 of this TiM Bulletin). Ali Ahmeti, also a virtual nobody until the fighting in Macedonia broke out earlier this year, is an Albanian terrorist, like Thaci in service of the New World Order, whom the Times is now spinning as a future Macedonian statesman (see Shadowy Rebel Assures Macedonia That He Seeks Peace, Aug. 17).

The PR pattern is unmistakable. A mysterious and enigmatic figure emerges from the shadows of the rebel world (read the CIA or other spook agencys world - the latter, of course, is never mentioned in the Times stories), to carry the torch for an ethnic minority (Albanian) cause.

Despite its biased reporting, however, the Times sometimes provides useful confirmations of our analyses and theories. Heres, for example, what its Aug. 17 report says about Ahmetis dealings with the NATO brass:

But since then, to the ire of Macedonians, Mr. Ahmeti has become a regular partner for negotiations with NATO leaders. Even today, four- wheel drive vehicles carrying NATO officials and foreign diplomats climbed a dirt road to this village, which is filled with armed guerrillas, their supplies, a hospital, a mess hall and children wearing red N.L.A. patches.

When fighting flared to the edge of full-blown civil war, NATO leaders regularly visited him and urged him to pull back his troops. And, given the limits of heading what one diplomatic official today called a "disparate" guerrilla group, officials say he has generally kept his word.

See that NATO leaders regularly visited him-line? Now go back and reread our Foreword, written a couple of days ago.

For now, Ahmeti is still donning his (German/NATO-made) military garb. In the next phase, however, stand by for a shirt-and-tie image, just like Thacis. Ahmeti will then be posing for pictures surrounded by adoring children (Just like his Marxist idols, Thaci hugs children by day while murdering by night, read our caption of his June 25, 1999 photo - http://www.truthinmedia.org/images/NatoPeace/thaci6-25.jpg ).

As with most things, however, you get what you pay for. While the New York Times PR service appears to be free and voluntary, it is not necessarily very good. In fact, it is quite sloppy at times...

Take a look at the two Ahmeti images at the TiM web site - http://www.truthinmedia.org/Images2001/ahmeti-nyt.gif . In the one on the left, Ahmeti is shown at the Times web site with the Albanian double-headed eagle crest on the wall behind him. The photo on the right, however, which was carried only in the print edition, clearly shows the UCK letters above the crest.

In other words, the Albanian NWO mercenaries in Macedonia dont even bother to hide the Kosovo insignia under which they exterminated the Serbs from that Serbian province. Is that why the letters UCK have been cropped from the Times web edition photo?

A coincidence? Only for the uninitiated. Check out The New York Times Lies and Distorts - Again and Again (Feb. 5, 2000 - http://www.truthinmedia.org/Bulletins2000/tim2000-2-3.html ). This TiM Bulletin provides two additional examples of image and truth manipulation by the Times. This included switching the identity of victims (from Serbs to Croats), such as in a 1993 example provided in that last years TiM Bulletin.

U.S. to Fund Macedonia Media Blitz

Just in case you may have thought that the New York Times went out on a limb with its todays pro-Albanian terrorists media campaign, take a look at the front page story in the Aug. 17 Washington Post, the Times ideological globalist/liberal brethren. Headlined U.S. to Fund Macedonia Media Blitz, the Post article clearly illustrates how the New World Order media carry out the brainwashing of both domestic and overseas masses. Heres an excerpt:

The U.S. government is planning to finance an extensive political advertising and lobbying campaign here in the next 45 days to secure parliamentary passage of a peace deal that would expand the rights of the ethnic Albanian minority, but is regarded with skepticism by Macedonian political parties and the public, according to sources here and in Washington.

The United States could spend up to $250,000 -- a significant amount of money for a media campaign in this country of 2 million people (Macedonia) -- buying radio, television and newspaper advertisements. U.S. officials are also considering direct mailings to every household, which would be the first such effort in this Balkan country.

The campaign, which could be launched in the next few days with radio spots, will be coordinated with the office of Macedonia's president, Boris Trajkovski. His advisers will work with Western strategists to fashion a message that could change week to week, as in an election campaign. Local advertising agencies will be hired to translate the strategy into a viable media campaign. Trajkovski's involvement is regarded as critical, because U.S. officials say they are nervous that the project will be construed as interference. []

TiM Ed.: Fancy that! U.S. officials are nervous because the truth may come out?

The International Republican Institute (IRI), a Washington-based nonprofit group that is partially funded by the U.S. government, has commissioned a nationwide voter survey with 35 questions, mostly about the peace agreement. The results of the survey, expected in the next few days, will allow Western consultants and presidential advisers to tailor what they are calling "public service announcements" to legislators and the public.

IRI was heavily involved with the media campaign of Otpor, the Serbian student movement that helped defeat Slobodan Milosevic in Yugoslavia's presidential elections last year. [] (TiM Ed.: Check out "How Washington Bought Yugoslav Presidency," Dec. 12, 2000).

The United States is also considering flying members of parliament, particularly members who are hostile to the accord or uncertain about how they will vote, to some American states, possibly California or Texas, to see how bilingualism works in those places; one of the most controversial aspects of the agreement is the elevation of Albanian to the status of a second official language.

A secondary motivation for the effort, sources said, is to restore the domestic standing of Trajkovski, a Western ally who was elected with cross-community support, but whose approval rating has plummeted in both the Macedonian Slav and ethnic Albanian communities. Macedonians blame him for not forcefully pursuing a military option and stamping out the rebels; ethnic Albanians blame him for the military force that was employed.

Any similarities with the U.S. funding and control of DOS and Otpor in Serbia are, of course, purely coincidental. Thats at least what the brain-dead folks in Yugoslavia are supposed to think, according to the Washington PR spinsters. Luckily, not all Serbs have been stupefied yet by the NWO media.

Or should I have said, unfortunately, instead of luckily? For, where ignorance is bliss, tis folly to be wise (Thomas Gray).

No. I refuse to believe that citizens of a tiny country, who have stood tall for 79 days against the greatest military power the world has ever seen (NATO), can suddenly turn to mush - just because the West promised them Coca-Cola and McDonalds hamburgers instead of bombs. I refuse to believe that a nation with a history as proud as Serbias can revel in slavery. Which is why I decided to chance it (re. Grays ignorance is bliss), and agreed to come back to Beograd.com for this three-part series.

But you can only lead a horse to water; you cant make him drink. Its up to the Serbs to chose between drinking Coke or freedom at the fountain of wisdom.

ATTRIBUTION: Bob Djurdjevic is an internationally published writer and founder of the Truth in Media, a Phoenix, Arizona-based non-profit organization (www.truthinmedia.org).