Enter content here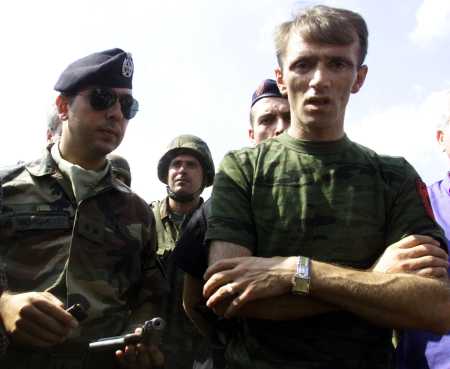 National Liberation Army (NLA) rebels commander Shpati, crosses his arms in the village of Otlja, Macedonia after handing in his pistol Sundayn Sept. 23, 2001 to Italian 1st Lt. Fulvio Morghese, left, from "Task Force Harvest" of NATO peacekeepers. NATO troops are on a limited 30-day mission ending Wednesday to collect 3,300 weapons being voluntarily handed in by the NLA. (AP Photo/Radu Sigheti/Pool)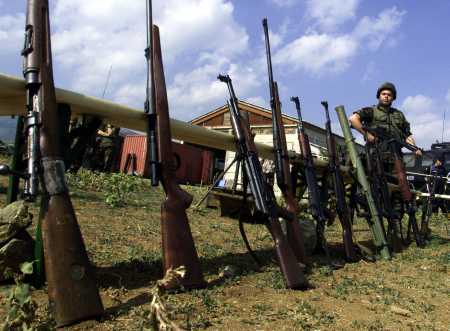 An Italian NATO peacekeeper guards weapons handed in by rebels from the ethnic Albanian National Liberation Army (NLA) Sunday, Sept. 23, 2001 in the village of Otlja, Macedonia. NATO troops are on a limited 30-day mission ending Wednesday to collect 3,300 weapons being voluntarily handed in by the rebel National Liberation Army. (AP Photo/Radu Sigheti/Pool
New blow to Macedonia peace deal.
Telegraph
By Macer Hall and Philip Sherwell

MACEDONIA'S faltering steps towards peace took another blow this weekend, when a crucial parliamentary debate on constitutional reforms was adjourned until tomorrow after Macedonia's unruly MPs began hurling abuse at each other.

The deputies had been due to decide on 15 amendments granting new powers to ethnic Albanians - key to the Western-sponsored peace deal - but the session was abandoned after just four: three scraped through with a one-vote majority and the fourth was defeated.

In a further serious complication, the speaker, Stojan Andov, said he planned a vote this week on whether to submit the reforms to a referendum. This would sabotage the proposed timescale and, say Albanian rebel leaders, endanger the deal.

The latest setback came as a battalion of the Parachute Regiment was put on standby for Macedonian duty amid concerns that British troops will remain beyond this week's deadline for their 30-day weapons collection mission.

Senior officers fear that an extended commitment to oversee the peace deal could leave commanders short of troops elsewhere, particularly if Britain joins America in military action against Afghanistan.

Nato has said that some members of the 4,500-strong multi-national contingent that is disarming Albanian forces under Operation Essential Harvest will not leave when the mission officially ends on Wednesday.

Plans to finalise the new force's national make-up may have to be abandoned, however, if Macedonian MPs, many of whom are opposed to concessions to the rebels, vote down the proposed reforms or call a referendum.

Western backers of the precarious peace hope that Skopje's fear of alienating would-be US and EU financial donors will carry the reforms through parliament largely intact.

The Sunday Telegraph has learnt that troops from 1 Para, based in Aldershot, have been told to be ready to fly out as replacements for 680 soldiers of 2 Para who comprise a large proportion of the Nato arms collection team.

The prospect of more British troops being dispatched to the Balkans is fuelling worries about "mission creep". When the Army was sent to Macedonia last month, the Government insisted that the deployment was for 30 days.

The taskforce is estimated to have collected more than two thirds of the 3,300 guns that the rebels of the National Liberation Army agreed to surrender. The collection operation was launched as part of a deal aimed at averting a civil war in the former Yugoslav republic.

Nato wants a small military follow-up force to provide protection for several hundred civilian observers who will monitor the implementation of the peace plan. Under this, the Macedonian government must improve conditions for the Albanian minority in return for the handover of rebel weapons.

If some British troops are required to stay in Macedonia, pressure on overstretched Army resources will mount at a time when they may be required for action after the suicide attacks on America.

A senior officer said: "The alliance wants to maintain a force in Macedonia. While that is a good idea in principle, Britain has already made a major contribution. The world situation means there is a host of contingency plans being considered. Commanders must ensure they have the necessary troops available to meet any scenario."

A spokesman for the Ministry of Defence refused to say if 1 Para was on standby, but confirmed that some British troops could remain in Macedonia after Wednesday's deadline.

He added: "It is likely that Britain will play a lesser role in a future protection operation because we have committed the bulk of the deployment to the weapons collection mission."

A Nato spokesman said: "It appears that Operation Essential Harvest will end as expected and the forces will start leaving the next day. We are studying a request from the Macedonian president about providing security for the international observers."
Are Macedonia's rebels giving up all their weapons?
AFP
RADUSA, Macedonia, Sept 23 (AFP) -

Rebels in Macedonia have begun giving NATO the last third of 3,300 weapons the Alliance estimates is in their arsenal, but will the fighters be completely disarmed by the end of the week?

In the northwest village of Radusa, few weapons apart from pistols could be seen two days after NATO began the final phase of its arms collections mission, Operation Essential Harvest.

The uniforms were still there, but even the rebel commander known as "Teacher" was happy to welcome journalists a few days ago to the National Liberation Army (NLA) headquarters here under his real name -- Rafiz Aliti.

As some 100 of Aliti's NLA guerrillas carried automatic weapons and rifles to the NATO collection point near his village on Thursday, NATO spokesman Major Alex Dick was realistic about whether the future would be arms-free.

"I would like to say that tomorrow we'll be leaving here and there wouldn't be a weapon in the village. We've always said that we would never be taking all of the weapons out of the Balkans, and I think it would be foolish to say that anyone ever could," Dick said.

"But these 3,300 weapons in our view show a genuine commitment from the NLA to disarm militarily, and let's hope that's the way it stays," the representative for British forces here said.

During the first two phases of the 30-day Essential Harvest mission, Alliance troops gathered 2,481 weapons and more than 172,000 pieces of ammunition, including mines and grenades.

NATO maintains that 97 percent of those arms were in working order. Three percent were described as broken, while more than a third, 34 percent, were classified simply as fireable.

At the collection site in Radusa, a Russian-made T-55 tank captured from the Macedonian army was surrendered, as were anti-tank weapons and a rocket launcher capable of bringing down a low-flying aircraft.

But the dusty assault rifles, which did appear in reasonable condition, paled alongside the well-oiled, blackened AK-47-type arms being carried by Aliti's bodyguards and which were not handed over.

In most NLA-held villages, guerrillas can be seen carrying small arms like revolvers. Some carry older pistols, like the imam (religious leader) in Slupcane who wears a World War II Luger on his belt, but many have weapons that are the sidearms of choice amongst special forces soldiers.

"There was no agreement ever to hand in pistols, so they're not on the weapons list," Dick said.

For NATO spokesman Mark Laity, small arms fall into the category of illegal weapons.

"There is still a lot of illegal weaponry in Macedonia in the nature of personal weapons and so on. It is a sad fact that illegal weaponry will continue to be a problem in this country and indeed in other countries in the Balkans," Laity said on Friday.

While the Macedonian authorities have always contested NATO's figures and believe the NLA has tens of thousands of arms, Laity is convinced the rebels are showing good faith.

"We believe that the vast bulk of the NLA's arsenal is being handed over," he said, adding: "Mortars, heavy machine guns, anti-tank mines -- these are the kind of things that you fight a war with."

But the NLA is still withholding some of its weapons of war.

When the rebels took the village of Aracinovo some eight kilometres (five miles) from downtown Skopje in June, they bragged they had weapons capable of striking at the heart of the Macedonian capital.

No sign has yet been seen of weapons with that sort of range, but Dick warned journalists to wait and see what was surrendered during this final phase, which is scheduled to end by Wednesday.

Doubts linger, especially among the Macedonian community, over whether the NLA will simply take up arms again. Indeed some rebels have told journalists that they will dig up weapons if the peace process fails and the Macedonian security forces try to move in.

Aliti himself had an ominous warning for parliamentarians who continue to delay adopting changes to the constitution to implement the peace accord.

"It won't take a long time because every one of my fighters promised me that if things don't go right they would be back here within a few hours," he said.
US to build buffer zone in Balkans.
the Sunday Times
Tom Walker, Diplomatic Correspondent

THE Bush administration is planning to strengthen its military presence in the Balkans, which it now sees as a potential buffer against terror threats from the east.

William Farish, the American ambassador to Britain and a close friend of President George W Bush, has said US policy advisers are evaluating how best to safeguard American and European interests in the region, including planned pipelines to the vast oil and gas reserves of central Asia.

Before Bush became president it was widely thought he favoured a phased withdrawal of troops from Bosnia and Kosovo. During a recent visit to Bondsteel, the main American base in Kosovo, he said the burden of peacekeeping should be borne by European armies. But after the terrorist attacks on New York and Washington, Farish told The Sunday Times that foreign policy was being radically rethought.

"I think all of that is under review now, particularly in light of recent developments," he said in an interview. "What the final deployment is, is something that is under discussion - as it falls into play with the whole terrorist plan."

Unusually for a new ambassador to Britain, Farish hopes to visit the Balkans within the next three weeks, and to assess American policy in Macedonia, the region's current tinderbox, before reporting back to Bush.

He identified the Northern Ireland peace process and enlisting support for Bush's national missile defence plan as his other foreign policy priorities.

Although Nato's operation to collect weapons from rebel Albanians ends this week, Nato planners are hoping many of the troops involved can stay on until a follow-up mission is agreed with the Macedonian government. Hardline members of the government in Skopje want Nato out of the country.

Farish outlined a very different possible scenario, in which Nato strengthened its presence in the region, turning the Balkans into a prominent theatre of operations and training. Perhaps reflecting US fears of a rise in Islamic fundamentalism in Turkey, a Nato ally, Farish sees the Balkans as a possible buffer zone in future against unstable regimes to the east.

There are currently 3,350 American peacekeepers in Bosnia among a total Nato-led force of 18,000, and 6,200 in Kosovo, among a force of 37,500. Several hundred American troops are providing logistical support for the arms-gathering operation in Macedonia.

Farish said the key thinkers behind Bush's strategy were his deputy, Dick Cheney; the defence secretary, Donald Rumsfeld; the national security adviser, Condoleezza Rice; and the secretary of state, Colin Powell. Their policy would be geared towards long-term stability, rather than what Farish described as the haphazard troop deployments of the Clinton years.

"We won't see American troops thrown into every crisis like it's a dartboard," he said.

The new ambassador is hardly limiting his field of vision, however. A son of one of the five great oil families of Houston, Texas, Farish is fascinated by the "black gold" that lies in large quantities in the countries around the Caspian Sea. He sees America's relationship with Russia and its leader, Vladimir Putin, as vital to its future influence in the area.

"I think we'll see a whole new era between the United States and Russia," he said. "Putin appears to be very direct, very straightforward - he and President Bush will get along very well."

Last week the former prime minister of Kazakhstan, Akezhan Kazhegeldin, said America should join forces with Russia and use former Soviet pipelines to move oil to northern and southern Europe.

Farish believes the stability of Macedonia, which lies on a projected pipeline route between the Black Sea and the Adriatic, is vital to the region's economic development. "The whole area is in a state of flux," he said. "It's going to be a fascinating study for the next few years."

oThe remains of 72 Muslims, believed to have been killed by Bosnian Serb forces during the 1992-95 Bosnia war, have been exhumed over the past five days from a mass grave in the northwest of the country, a Muslim-led commission for war missing said yesterday. The bodies appeared to have been thrown down a 280ft cliff, which was mined so that rock and soil collapsed over them.