Enter content here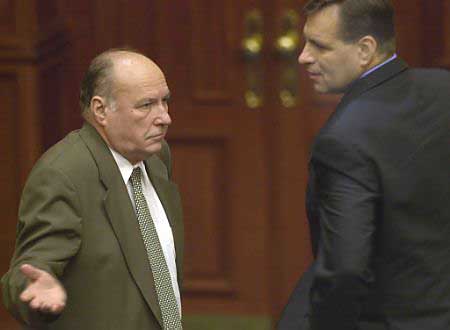 Speaker of the Macedonian Parliament Stojan Andov (L) talk with Macedonian President Boris Trajkovski after a Parliament session in Skopje September 6, 2001. Macedonia's parliament voted overwhelmingly to draft reforms vital to a Western- backed peace plan with ethnic Albanians, after delays that threatened to derail the disarmament of guerrillas. (Ognen Teofilovski/Reuters)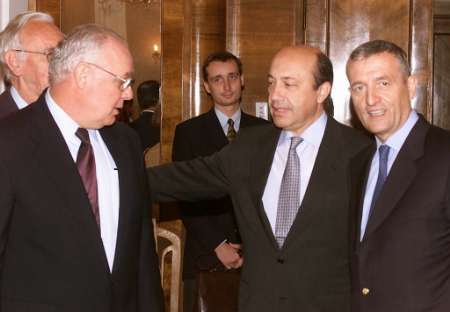 Russian Foreign Minister Igor Ivanov (2R) stands with European Union's envoy to Macedonia Francois Leotard (R), U.S. envoy to Macedonia James Pardew (2L) and OSCE's high commissioner for national minorities Max van der Stoel before talks, in Moscow September 6, 2001. Leotard said on Wednesday that Russia had a role to play in establishing peace in Macedonia, and urged Moscow to swing its support behind the deployment of more unarmed monitors there. REUTERS/Sergei Karpukhin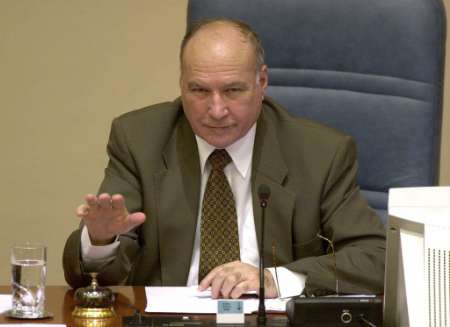 Speaker of the Macedonian Parliament Stojan Andov hits a bell during a parliament session in Skopje September 6, 2001. The Macedonian parliament voted on Thursday to draft constitutional reforms essential to a Western-mediated peace plan with ethnic Albanian guerrillas. REUTERS/Ognen Teofilovski MACEDONIA OUT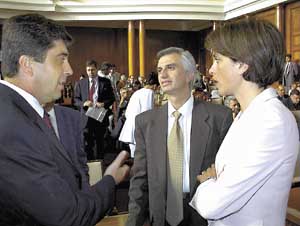 Parliament Opened without Speeches and Champagne. Without any speeches and champagne the MPs met yesterday for the opening of the new political season. On the photo: the chiefs of parliamentary groups Georgi Parvanov, Plamen Panayotov and Nadezhda Mihailova discuss the tasks of the MPs. Photo Nikolai Donchev
West ready to remain in Macedonia, but unsure of ground rules.
AFP
BRUSSELS, Sept 6 (AFP) -

The West appears determined not to leave a "vacuum" in Macedonia when NATO's Essential Harvest mission to collect weapons from ethnic Albanian rebels ends this month, but has yet to choose the parameters of an extended presence.

French President Jacques Chirac and Prime Minister Lionel Jospin and German Chancellor Gerhard Schroeder agreed after an informal dinner in Berlin Wednesday that operation Essential Harvest would "require a follow-up."

And US envoy to Macedonia James Pardew said in Moscow Thursday that the Russians were "in agreement on the need for an extended international presence" in Macedonia.

The European Union and the Organization for Security and Cooperation in Europe (OSCE) have said they intend to send more civilian observers to Macedonia as spelled out in the August 13 peace agreement.

The security of such a mission would in principle be the resonsibility of the host country, but western observers are highly sceptical that the Macedonian army in its present state could provide sufficient protection in areas controlled by Albanian rebels.

The legal mandate for dispatch of such troops is also vague.

EU foreign ministers, meeting informally near Brussels this weekend, are expected to take up the problem and examine the options, particularly one voiced in Skopje by European envoy Francois Leotard for an EU force to replace the NATO contingent when it leaves.

"An EU force seems very premature," said a European official on condition of anonymity. "That's an idea of Mr Leotard, not of the 15."

In theory, the EU's crisis-management wing is not scheduled to be fully operational before the end of the year.

A new international mission, either under the auspices of NATO, the EU or the UN could only be carried out if the Macedonian government officially requested it.

And for their part, the Macedonian authorities appear cool to any extension of the NATO mission, highly unpopular with many Macedonians, who sees it as sympathetic to the country's ethnic Albanian minority.

Debate in the Macedonian parliament on adoption of reforms called for in the August 13 peace accord are dragging out, and peace on the ground remains fragile, with both sides -- Macedonians and ethnic Albanians -- seemingly primed to resume fighting.

In fact, Macedonian lawmakers Thursday finally approved the first step in applying the framework peace agreement, a move hailed by NATO Secretary General George Robertson as an "historic decision...bringing the country closer to the European family of nations."

Macedonian President Boris Trajkovski has suggested a UN operation, an option Leotard sees as impractical, requiring time-consuming passage of a Security Council mandate.

There is also the option of "a coalition of the willing," composed of countries prepared to send troops to Macedonia to protect international observers and assure stability.

The West feels it is generally too early to talk openly about post-NATO options in Macedonia.

"Some are talking about post-Essential Harvest as if the success of the operation were a done deal, but things can turn sour," said an EU diplomat in Brussels.

NATO insists it foresees neither an extension of its current operation in Macedonia nor a new one.

The United States, reticent about Essential Harvest, is considered unlikely to commit to an extended presence in Macedonia, and the German government is still smarting from the heated Bundestag debate over participating in the current mission.
Del Ponte wants NATO to give tribunal weapons data.
Reuters
KARLSTAD, Sweden, Sept 6 (Reuters) - The chief U.N. war crimes prosecutor said on Thursday that NATO was not cooperating with the Hague tribunal's investigation in Macedonia.

NATO has ignored requests for details of weapons collected from ethnic Albanian guerrillas, Carla del Ponte told a news conference.

"We just want to know what kind of weapons they are...we have had no answer," she said.

"I will personally get in touch with the secretary-general to know what the reason is," she said, referring to the North Atlantic Treaty Organisation Secretary-General George Robertson.

Del Ponte said the Hague tribunal needs evidence on the weapons to establish that an armed conflict has occurred before it can indict any suspected war criminals.

Last week NATO began a 30-day mission to collect firearms from ethnic Albanian rebels, who had fought Macedonian government forces since February to stop what they have described as state discrimination against Albanians.

Del Ponte was in Sweden to receive an award for her contribution to human rights in Europe.
SKOPJE: too grave. Parliament backing was vital to the effort to end the.
AP
By Associated Press, 9/6/2001 09:28

Parliament backing was vital to the effort to end the six-month-old conflict. But the assembly was only asked whether to back the general concept of the accord: granting wider ethnic Albanian rights in exchange for rebel disarmament.

The difficult and potentially disruptive details come next. Lawmakers will now have to decide on the specific constitutional changes.

Under the accord, brokered by American and European mediators, ethnic Albanians would receive greater political autonomy and authority to use Albanian as the official language in some areas. Ethnic Albanians make up about a third of the nation's 2 million people.

''This peace process is crucial to regional security,'' said German Foreign Minister Joschka Fischer, who was in Skopje. The European Union has offered the nation increased aid if the peace process moves forward.

Rejection would have thrown the peace process into chaos.
PRESIDENT TRAJKOVSKI RECEIVES SOLANA AND PATTEN.
MIA
Macedonian President Boris Trajkovski had a meeting late Thursday with the European Union high Representative for Common Foreign and Security Policy, Javier Solana, and Euro-Commissioner for external relations Chris Patten.

At the meeting, also attended by Macedonian Foreign Minister Ilinka Mitreva, Solana and Patten welcomed the progress of the political process in Macedonia, reaffirming the EU full support to the country, including financial assistance in economic revitalization, as well as in renewal of destroyed infrastructure, houses, and production facilities.

The EU officials also said they would help Macedonia to intensify its relations with the international financial organizations, as well as in faster organizing of a donor's conference.

Trajkovski said that the international community assistance would give concrete contribution for the citizens of Macedonia to believe that conditions would be really created for their safe return home.

The officials also expressed hope for successful and timely completion of the NATO mission "Essential Harvest", enabling to the Macedonian security forces to reestablish law and order in the entire country.

At the meeting with Macedonian Prime Minister Ljubco Georgievski, Solana and Patten welcomed the Macedonian Parliament's decision on starting of a procedure for constitutional changes, expressing hope for its successful competition that would mean stabilization for the country.

Patten said that tomorrow he would sign the CARD's program, i.e. a financial assistance of $42 million for economic development of the country. Implementing of the Stabilization and Association Agreement would bring additional $30 million, he added.

The guests were convicted that a donor's conference in Brussels would be also successful.

Georgievski reiterated the country's determination to join the EU and NATO. He expressed hope that the international community, which had favorable position towards Macedonia, would continue and intensify its support of the country in this difficult period.

The crisis in Macedonia was spilled over form Kosovo and therefore the international community should take measures against terrorists and extremists, who present a threat to the security and stability of the country, he said.

Solana and Patten also met with Macedonian Foreign Minister Ilinka Mitreva.

The officials welcomed today's vote of the Macedonian Parliament, considering it a great step to stabilization of the country and its returning o the road to Europe.

They also underlined the necessity for urgent aid to Macedonia, particularly for renewal of the areas affected by the crisis. In that respect, Patten said the planned EU assistance would arrive to Macedonia very soon. he also informed Mitreva that a donor's conference was scheduled for October, 2001.
Macedonia's Tragedy Masquerading as Farce.
Balkan Express
EPIPHANIES

Nine months ago, Macedonia was known for being the only part of the former socialist Yugoslav federation to gain independence without a war; for having a bitter dispute with Greece over its name, and with Bulgaria over its ethnic identity; for sheltering hundreds of thousands of Albanians who left Kosovo during NATO's 1999 air assault, and serving as a logistical base for NATO's occupation of southern Balkans; and for its superb food and textile products.

Now its name stands for a tragedy masquerading as farce.

Two days from now, Macedonia is supposed to celebrate its tenth birthday as an independent nation. If the Sobranie, the Parliament, succumbs to pressure and blackmail from both NATO and the Albanian bandits, the only thing that will be celebrated this September 8 will be its funeral.

Macedonia has been flayed alive, then accused of suicide. Its people have been stripped of their ethnic identity, nationhood and even their right to life and property. Albanian thugs control swathes of its territory while pretending to disarm. German tanks rumble through its landscape again, after sixty years, while British paratroopers stand at their side and pretend to be gathering weapons from the bandits they helped train.

LEAVE? WE'RE JUST GETTING STARTED!

The farcical operation "Essential Harvest" is essential in only one regard: to convince the citizenry of the soi-disant "international community" that their governments honestly intended to stay in Macedonia for only 30 days and help the "peace process" there. Alas, cruel fate has forced the brave defenders of democracy to stay much, much longer, because peace has been so elusive. Yet what did they expect? As daily images from Northern Ireland, Israel and now Macedonia keep proving, peace process is the exact opposite of peace.

Denizens of Imperial lands may be such complete morons as to believe this claptrap, their rulers certainly know better. In a shockingly rare display of honesty, a British Defense Ministry source told The Scotsman on Monday, "This mission was a way of getting in. Once you're on the ground it's much easier to justify staying." For someone who has seen the slow creeping infiltration of NATO into Croatia, Bosnia and Kosovo, this statement should be quite enough.

DEATH BY DESCRIPTION

However many times it has been said before, it needs to be said again: none of this would be possible without a powerful and committed propaganda apparatus. Slow to react at first, it is a terrifying sight when operating in full gear. Day after day, it churns out stories that are at best only illusions of truth, at worst pure, unadulterated lies. Who, what, where, when and how are usually drowned in the sea of editorial guidance, which seeks to present a politically correct version of the "why."

Thus Macedonia's Prime Minister, top policeman and even chairman of the Parliament are smeared as "hard-liners," "nationalists," even "certified hardliners" and "ultra-hardliners," in an effort to bolster the subservient President Boris Trajkovski at their expense. This is the same President who invited foreign "mediators" to compose an ultimatum to his own government, invited foreign troops to occupy his country, and sold his people for hundreds of millions of dollars in aid, none of which will ever materialize. No matter. All that makes him a "moderate," and all those who see something wrong with this picture are "certified ultra-nationalist hardliners" perhaps?

RIPPLES ON THE SEA OF FATE

Why, then, are Georgievski and others still going along with NATO's nefarious scheme? Why is everyone in the Balkans so pathetically willing to do NATO's bidding, almost always at their own expense? For answers, look just across the Macedonian border to the northwest, and some two and a half years in the past.

"We should not play with NATO's authority," said Georgievski in his bitter address to the Sobranie, in which he urged the delegates to ratify the Treaty of Ohrid despite its treasonous implications. He knows, as everyone should, what happens to those who defy that authority. NATO's power comes out of missile tubes and off the bomb racks, from legions of obedient reporters, millions of dollars in bribes, and millions of willing servants throughout the world. This power set a haunting example when it pulverized the Serbs and turned them into a pathetic, servile rabble.

SURRENDER, OR I'LL SUE

Another reason could be that Macedonia's leaders might be afraid of ending up like the Serb leadership, imprisoned in a Dutch castle at the mercy of NATO's judges and prosecutors, whose only rule is "guilty until proven innocent and we dare you to try!" Where else in the world can anyone be tried multiple times on the same charges by a self-appointed court, given harsher sentence after appealing, accused by anonymous, protected witnesses and already convicted in the media before the arrest, let alone trial?

The Hague Harpy is currently roaming Belgrade, asking for more heads for her collection, but she may well soon descend upon those "hardliners" who just can't seem to get with the program in Macedonia. Then again, Georgievski and others should not worry it if so desires, the Inquisition will come for them regardless of what they do. Even without the examples of Croatia and Bosnia, Macedonians ought to know that submissiveness to NATO has never been a guarantee of protection.

THE MARCH TO MINSK

Rightfully important as they are to their residents, who are most affected by imperial meddling and the incessant pandering of local collaborators, Macedonia and the Balkans are but a strand in the vast web of the Empire's policy. Just as the Empire's experiences in Latin America, the Middle East and Afghanistan were used in staging massacres and arming "insurgents" in Croatia, Bosnia, Kosovo and now Macedonia, experiences from the Balkans are now being applied in other corners of the world.

The Great Belgrade Experiment, which produced the 18-headed creature now supposedly in charge of the hemorrhaging Yugoslavia, is now set to be replicated in Belarus. A day after Macedonia's moribund anniversary, this nation is supposed to hold elections, in which the Empire hopes to topple the current President, Aleksandr Lukashenko.

Geographically speaking, Belarus is as far from the Balkans as France. Belarus is, however, no older than Macedonia in terms of statehood. For the past decade, it has been an exception to the rule in Eastern Europe, surviving as an oasis of peace and relative prosperity as other former socialist countries slid into a social, political and economic morass. Unlike her neighbors, Belarus did not sell off its economy to foreign predators, nor did it pledge allegiance to NATO quite the contrary, it expressed a desire to rejoin Russia in a federation! Belarus did not attack anyone; there have been no wars on its soil in the past decade, nor has it expressed territorial ambitions or aggressive tendencies. Its only sin is that President Lukashenko refuses to bow to the "international community" and its notions of "democracy" and "human rights," which have so devastated the rest of Eastern Europe.

Now Lukashenko is being targeted for removal, the same way Slobodan Milosevic was targeted in 2000.

What happened in the Balkans is already being used as a template for other parts of the world. Yesterday Serbia, today Macedonia, tomorrow (it is planned) Belarus. After all, they are all "Slavs" to the Western media. Who will be next? Fill in the blank.

AGAINST THE FALL OF NIGHT

As the macabre spectacle in Macedonia continues, one is left with an exasperating question: if this is happening despite everything that was said and written about Kosovo, everything that was said and written about Bosnia, everything that has been said and written about Macedonia itself is there hope?

The answer should, perhaps, lie in history. It is not for nothing that the Balkans is known as "graveyard of empires." Its people have shrugged off the Communists, defeated the Nazis, broken the teeth of the Hohenzollerns and smashed the scepters of the Hapsburgs not to mention surviving five centuries of oppression under the Ottoman Turks.

Perhaps this time, this particular empire bit off more than it can chew.

One can only hope.
Macedonian parliament approves crucial vote on peace plan with ethnic Albanians.
AP
By Katarina Kratovac, Associated Press, 9/6/2001 09:35

SKOPJE, Macedonia (AP) Macedonia's peace process cleared a crucial test Thursday as parliament backed its overall framework and opened the way for NATO to resume collecting weapons from ethnic Albanian rebels.

The vote passed 91-19, with two abstentions, following a nearly weeklong process in which many lawmakers assailed the pact but conceded the consequences of defiance were too grave.

Parliament backing was vital to the effort to end the six-month-old conflict. But the assembly was only asked whether to back the general concept of the accord: granting wider ethnic Albanian rights in exchange for rebel disarmament.

The difficult and potentially disruptive details come next. Lawmakers will now have to decide on the specific constitutional changes.

Under the accord, brokered by American and European mediators, ethnic Albanians would receive greater political autonomy and authority to use Albanian as the official language in some areas. Ethnic Albanians make up about a third of the nation's 2 million people.

''This peace process is crucial to regional security,'' said German Foreign Minister Joschka Fischer, who was in Skopje. The European Union has offered the nation increased aid if the peace process moves forward.

Rejection would have thrown the peace process into chaos.

NATO was awaiting the parliament decision to resume collecting weapons from the rebel National Liberation Army, or NLA, possibly immediately after the vote or Friday. It has already taken more than a third of the 3,300-piece arsenal to be surrendered by late this month.

''I am an optimist ... both sides are fed up with war,'' said NLA spokesman Nazim Beqiri.

But there were signs the rebels were prepared for any contingency in case the deal stumbles later.

A group of fighters, holding semiautomatic rifles, trained in formation in Lipkovo, about 12 miles northeast of Skopje.

''We are brave soldiers,'' they chanted.

And an incident Tuesday underscored the tensions.

A Macedonian paramilitary gunman fired on an ethnic Albanian police officer driving near the city of Tetovo, said NATO spokesman Maj. Barry Johnson. The officer was not injured, but British NATO soldiers intervened to prevent a clash between the paramilitary unit and armed ethnic Albanian civilians, he said.

''The main goal of the world community is to prevent the development of the situation in Macedonia from leading to destabilization of the situation and not to worsen the already difficult situation in the Balkans,'' said Russian Foreign Minister Igor Ivanov in Moscow.

He met with Western envoys seeking possible Russian support for an international presence in Macedonia after the NATO mission.
Illegal arms holding Macedonia to ransom.
Reuters
By Mark Heinrich

SKOPJE: Men smuggling millions of dollars of weapons on mule trains under the noses of NATO peacekeepers have held a European country to ransom. They are melting away for now, but could reemerge any time if they do not get what they want.

That is the risk for Macedonia and NATO troops trying to restore its security by collecting weapons from guerrillas under a Western-engineered peace deal. If planned political reforms do not work, the guns will be back.

For every rifle or rocket launcher turned in, there may be one or more stashed in a homestead cellar, buried in highland woods or slipping over a wilderness frontier in a Balkan region weaned on centuries of smuggling and marked by a loss of state power over the periphery in the post-Communist era.

"People in this part of the world are steeped in a culture of resistance to "occupation." The proliferation of weapons in unseen places are the incurable symptom of that," said Tim Ripley, Balkans analyst for Jane's Defence Weekly.

"So all Macedonia can do is treat the disease, which is to settle its political dispute with the Albanians. If that's not done, the guns will never go away, even if NATO built a Berlin Wall along Macedonia's borders, which is inconceivable."

Ripley said that the National Liberation Army is believed to have raised a $60 million warchest from rich emigres for a revolt that ignited like a gas leak in northern border hills in February and seared the gates of three major cities by June.

After Western diplomatic intervention, the NLA agreed to yield a declared stockpile of 3,300 weapons to NATO troops over a 30-day period during which Macedonia's parliament is to reciprocate with constitutional reform benefiting Albanians.

NATO opened arms-collection depots behind NLA lines on August 27. Guerrillas queued up and within three days they had turned in 1,210 weapons, 627 mines and grenades and 118,212 rounds of ammunition, according to NATO's tally.

Commanders of "Operation Essential Harvest", as NATO has dubbed its mission, said that the quantity and quality of the firepower handed over exceeded expectations.

On Monday, NATO invited media to see 944 assault rifles, 194 machine guns, 69 mortars and anti-tank launchers, three air defence systems laid out ready for destruction.

Ammunition was already being blown up on a nearby heath. For NATO peace publicists, it made for good pictures - the means of violence going up in smoke. But Macedonians are not impressed.

They reckon the NLA has many more and better ones squirrelled away to hive off territory later, after manufacturing violence to make ethnic co-existence impossible.

The guerrillas insist they are surrendering their essential arsenal and seeking integration in Macedonia, trusting the West's imprimatur on the peace terms, especially an amnesty and promises of police jobs for Albanians.

Western experts dismiss the row over weapon numbers, saying political intentions are what count in a region saturated with arms circulating ceaselessly between myriad factions.

"The whole reason for collection is to drive on the political process. It's a means to an end. No one should be deceived that weapons collection is an end in itself. Weapons can be replaced in a heartbeat here," said a Western military official.

"The key is what one intends to do with a gun. The idea is to forge a lasting peace deal on the back of something constructive, and that's handing in weapons." But the most recent precedent is a cautionary tale. The Kosovo Liberation Army was a separatist guerrilla movement in the adjacent Yugoslav province in which many NLA fighters cut their combat teeth in 1998-99.

The KLA turned in 10,000 weapons and five million rounds of ammunition to NATO peacekeepers (KFOR) anchoring an interim U.N. administration after Serbian security forces left.
Bulgaria does not have market economy and justice again, European Parliament pointed out.
News.bg
Yesterday, European Parliament adopted with a big majority a resolution concerning the yesterday - published report of the European Commission about the situation with the negotiations with Bulgaria for membership in the European Union. According to the report, Bulgaria has made efforts to fulfill its commitments concerning the European agreement and has applied the basic requirements without any problems. Moreover, Bulgaria has adopted a renewed national program for harmonizing with the European legislation. In the same time, the European Parliament found out significant drawbacks in state Administration and mentioned that juridical system is the weak point, and corruption continues to be a problem for Bulgaria. According to the resolution, all restrictive texts about homosexuality should be removed from the Bulgarian legislation. The assessment about the work of the Council for Ethnic and Demographic Issues to the Cabinet was positive. European Parliament mentioned that although Bulgarian economy had suffered the effects of regional crises, still the country had achieved remarkable results. Among the weak points were mentioned idle land market and non-restructured energy industry, with the reminder that closing down several Kozloduy Nuclear Power Plants units is forthcoming. The report ended with the conclusion that if the government had will for reforms, Bulgaria could catch up with the delay in the mentioned fields.
As early in May, Relatives of Bulgarian medical personnel in Libya had asked Seif al Qadaffi to be an observer at the case.
News.bg
At the initiative of lawyer Vladimir Sheytanov, relatives of 6 Bulgarian medical personnel detained in Libya had sent a letter to the son of Muammar Qadaffi Seif al Qadaffi asking him to be a mediator concerning the case as early in May, the husband of Nasya Nenova Ivan Nenov announced after his meeting with the Chairman of Bulgarian Parliament Ognyan Gerjikov. Nenov expressed his confidence that had Seif al Qadaffi became observer at the case against the Bulgarian medical personnel, the case would have had turned differently. The relatives talked with Ognyan Gerjikov and Evgeniya Zhivkova for more than one hour. He has informed them about his visit in Libya and about his meeting with the detainees. According to him, the lawyers of the detainees could plead again. With its yesterdays letter, Ministry of Foreign Affairs authorized the Chairman of Qadaffi Foundation Seif al Qadaffi to be observer at the case on Bulgarian part. The relatives thanked Ognyan Gerjikov for the meeting and expressed desire to travel to Libya for the hearing on September 22.
Kuchma and the Premier at 'Boyana' in Private.
Standart
Simeon Saxe-Coburg-Gotha had a tete-a-tete with the Ukraine's president, access of journalists to the residence was forbidden.

Ukraine's President Leonid Kuchma and Premier Simeon Saxe-Coburg-Gotha had a nearly one-hour tete-a-tete conversation yesterday. It had been the desire of the prime minister for the two of them to meet in private. For this reason the 'Boyana' residence was closed for journalists. Reporters were sent back at the central entrance of the compound. The meeting wasn't attended even by the government press director Tsvetelina Uzounova. She explained that there would be no statements after the conversation. No information was released on the topics the premier and the Ukraine's guest touched upon, either. The talks had to focus on some concrete agreements on cooperation in the economy and trade. A day earlier the Ukrainians met with Bulgarian businessmen. The premier and his guest also had to discuss a plan for the introduction of entry visas for Ukrainian nationals. Last Tuesday Leonid Kuchma insisted that the visa regime be put off for October next year. He promised to suggest a scheme for that at his conversation with Simeon Saxe-Coburg-Gotha.

Dilyana Dimitrova
Evgeni Genov
(SB)
Simeon Won't Take a Rest, He's Getting Ready for Brussels.
Standart
The premier won't have a rest during the holidays, 'Standart' was told. Simeon Saxe-Coburg-Gotha will work either at the Council of Ministers or in his home in 'Vrana'. His main priority will be to get ready for his first visit abroad. He will fly to Belgium on September 12. The premier will also be occupied with a number of issues connected with the activity of the government. Several more ministries are waiting for new deputy ministers to be appointed. The latest appointments came out last Monday. However, some more appointments will be made in the individual departments. Because of his busy program the premier also declined an invitation from Plovdiv to attend the celebrations to mark Unification Day on September 6.

Dilyana Dimitrova
(SB)