Enter content here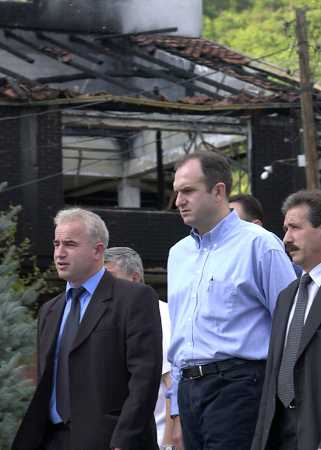 Defense Minister Vlado Buckovski, center, walks by a burned-out building in the Macedonian village of Tearce, Macedonia, near Skopje, during a visit to an area still under control of the ethnic Albanian rebel National Liberation Army Sunday, Sept. 16, 2001. Buckovski said repatriation efforts should begin Tuesday, with the first group returning to Tearce, just north of Tetovo, and an area of repeated clashes during the six-month ethnic Albanian insurrection. (AP Photo/Vadim Ghirda)
In the hills, Macedonia's rebels pin hopes on NATO.
AFP
SIPKOVICA, Macedonia, Sept 16 (AFP) -

Ethnic rebel leaders voiced cautious optimism about prospects for peace in Macedonia as signs grew Sunday that NATO would after all remain in the fragile Balkan state.

But on the ground some fighters warn that the coming weeks will be crucial, and a seven-month ethnic insurgency could yet explode afresh if NATO does not maintain a strong long-term presence here.

"We will give up all our weapons to NATO," says 29-year-old Commander Cela in Sipkovica, headquarters of the ethnic Albanian National Liberation Army (NLA). "NATO... will guarantee our security."

Others were not so sure. "We are a peaceful people, but if NATO pulls out, there will be war again," said 27-year-old Fatmir, echoing comments by many other khaki-clad young rebels in Macedonia's hills.

They were speaking as officials confirmed that Skopje, apparently bowing to Western pressure, would allow a small force of NATO-led troops to remain in the country after a 4,500-strong mission leaves this month.

A Western diplomat confirmed that a force of up to 1,000 foreign troops could deploy to protect unarmed international monitors foreseen under a Western-backed peace plan signed in August.

"Both sides are talking about a relatively small presence, less than four figures," the diplomat told AFP. "If this is what President (Boris) Trajkovski wants, we can probably sort it out."

In the hills overlooking the northwestern town of Tetovo, normal life has slowly but visibly started to return to rebel-held villages.

Dirt-faced children play in the streets. Old men drink coffee in the village square. Donkeys which used to haul guns across the mountains from Kosovo now sag under huge bales of wood, preparing for winter.

But appearances can be deceptive.

Up a short cobbled side-street, gun-toting teenage fighters wearing the trade-mark red double-headed NLA insignia surround the local NLA command post, housed in a white-brick villa at the top of the village.

It was in these steep hills that the NLA began pounding the flashpoint town of Tetovo in March, at the start of a half-year insurgency which brought the country to the brink of all-out war.

The West, fearing yet another drawn-out ethnic conflagration in ex-Yugoslavia, brokered a hard-won accord in August, under which over 4,500 NATO troops have been deployed to collect arms from the rebels.

In return, Skopje's nationalist-led government agreed to pass constitutional changes to strengthen the rights of ethnic Albanians, who make up over a quarter of the country's two-million-strong population.

NATO's presence here has calmed the fighting. The NLA has handed back two thirds of the 3,300 arms it says it has. Thousands of refugees who fled to neighbouring Kosovo have flooded back over the border.

The key sticking point has been the make-up of a force to protect the unarmed international monitors from the European Union and the Organization for Security and Cooperation in Europe (OSCE).

On Sunday, a government official said Skopje is likely to make a proposal Monday for forces to protect the obsevers.

Further tension has been added by stalling tactics by nationalist lawmakers, who delayed the first parliamentary session of the three-phase Western-backed peace plan.

The lawmakers are due to resume debate this week, although again nationalists opposed to the peace accord are stalling and it could be Wednesday before the session gets underway.

Back in Sipkovica, Commander Cela seems confident that NATO will protect the rebels, at least in the short term.

But he admits full peace cannot return overnight. "This is going to take a long time," he said.
Macedonia Asks NATO to Retain Troops.
AP
Associated Press
Sunday, September 16, 2001; Page A44

SKOPJE, Macedonia, Sept. 15 -- Macedonia's government has asked NATO to keep some troops in the troubled Balkan country even after the expiration of its mandate to collect ethnic Albanian rebel weapons, government officials said today.

Macedonia has asked NATO Secretary General George Robertson to keep 350 troops in the country to protect monitors who will assess the situation after the 4,700 troops of Operation Essential Harvest end their mission on Sept. 26, the officials said on condition of anonymity.

NATO found the government's proposals "very constructive and useful," alliance spokesman Mark Laity said, but he declined to say what the proposals were.

Yves Brodeur, a spokesman at NATO headquarters in Brussels, said no formal request had been received.

NATO has said it was reviewing its options on the form of any new mission to protect civilian monitors in tense regions. "We do not wish to have a vacuum," Laity said.

During a visit to Macedonia on Friday, Robertson said the country remains high on the agenda of the world's leaders despite the intense focus on the terrorist attacks Tuesday in Washington and New York.

Macedonia previously ruled out an international security force. Some hard-liners have insisted that the goal of ethnic Albanians, who account for about one-third of the population, was a NATO-enforced division of the country along ethnic lines.