1, Sept-2001.
2, Sept-2001.
3, Sept-2001.
4, Sept-2001.
5, Sept-2001.
6, Sept-2001.
7, Sept-2001.
8, Sept-2001.
9, Sept-2001.
10, Sept-2001.
11, Sept-2001.
12, Sept-2001.
13, Sept-2001.
14, Sept-2001.
15, Sept-2001.
16, Sept-2001.
17, Sept-2001.
18, Sept-2001.
19, Sept-2001.
20, Sept-2001.
21, Sept-2001.
22, Sept-2001.
23, Sept-2001.
24, Sept-2001.
25, Sept-2001.
26, Sept-2001.
27, Sept-2001.
28, Sept-2001.
29, Sept-2001.
30, Sept-2001.




Saturday.

Enter content here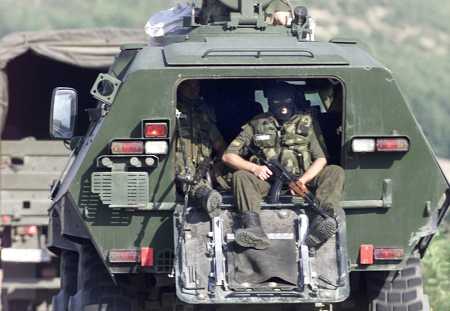 A hooded Macedonian police officer holds his weapon ready while riding in the back of an APC on the Skopje - Tetovo highway Saturday, Sept. 22, 2001. Macedonian police units pulled back to their bases after skirmishes with ethnic Albanian rebels of the National Liberation Army in the Tetovo area. (AP Photo/Nikolas Giakoumidis)
Mujahedins In Macedonia Serving The NLA.
MIA
Skopje, September 22 (MIA) - At least ten of Osama bin Laden's close associates are directly and personally involved with the implementation of the Muslim fundamentalism, organizing, financing and arming of the terrorists of the so-called NLA in Macedonia, reads the headline of Utrinski vesnik daily newspaper.

This daily finds out that these men were in Kosovo during the crisis in this Yugoslav province. During that time they managed to infiltrate in the territory of Macedonia and to originate the NLA's structure. Most of them were staying in the territory of the Republic of Macedonia, while some of them are still here legally or illegally, mostly possessing false passports.

Utrinski vesnik publishes a list of the most important persons in the bin Laden's network that operate in the Balkans. Fatah Ali Hasanin, with origin of Saudi Arabia and Al Kaida, in charge of the extreme jihad in Southeast Europe. During the Kosovo crisis, according to some intelligence sources, Hasanin were in Macedonia, i.e. in Skopje, Tetovo and Gostivar. He used to travel to Kosov from time to time by a vehicle, belonging to KFOR with French license plates. In that period of time he had a meeting with Hashim Taci, who used to be a leader of KLA (UCK) and now is a leader of the Democratic Party of Kosovo.

During the past few years, Hasanin was staying in Vienna, where he had founded a humanitarian organization, named "the third world," with a priority task to collect financial means for expansion of the Muslim fundamentalism in the Balkans, especially in Kosovo and Macedonia. He was identified as a man who organized military training for the Albanian militants in Macedonia and Kosovo. He used to be a councilor of Alija Izetbegovic in Bosnia, but he aslo traveled in the other countries in the region, such as Bucharest and Sophia.

Omar Alavadi, also from Saudi Arabia is directly in charge of the Balkan. He is very close associate of Bin Laden and is closely connected to Hasanin, according to some intelligence sources. It is believed that he made necessary arrangements for military training of the Albanian terrorists in Macedonia, being in touch with the extremists in Tetovo, Gostivar, Skopje and Kicevo. He might be anywhere, from Skopje to Athens.

The next one in the hierarchy is Edi Debsi. He is the chief executive of Omar Alavadi and is considered to be connected with the German secret services.

Fatah Hasanin and Omar Alavadi are the principal founders of the so called NLA (ONA) in Macedonia, following the model of the so-called KLA (UCK) in Kosovo. Several members of the extreme jihad with origin of Egypt came to Macedonia illegally via the Romanian territory.

The intelligence sources in the region, found out that two persons, staying in Bucharest but originally from Egypt and Saudi Arabia ordered some time ago certain amount of arms for the needs of the so-called NLA.