Enter content here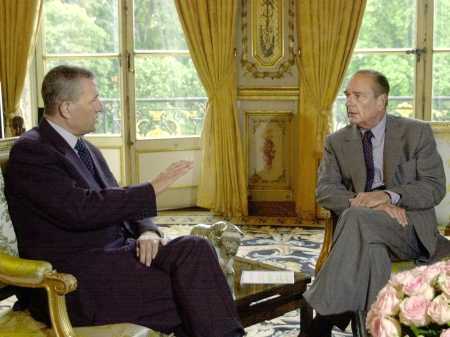 French President Jacques Chirac, right, listens to the European Union's envoy to Macedonia, Francois Leotard of France, during their meeting at the Elysee Palace in Paris, Saturday, Sept. 8, 2001. The European Union, worried that a security vacuum will develop in Macedonia after NATO's 4,500-member brigade pulls out later this month, is thinking about sending its own force to protect civilian observers. (AP Photo/Jaques Brinon/Pool)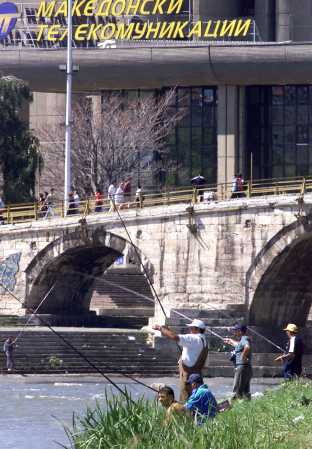 Anglers fish in Vardar River in downtown Skopje, Macedonia Saturday, Sept. 8, 2001. Skopje, the Macedonian capital, was quiet Saturday as Macedonians celebrated the 10th anniversary of independence from Yugoslavia. (AP Photo/Boris Grdanoski)
Macedonian Independence Day.
Reality Macedonia
Skopje, September 8, 2001 - Ten years ago over 71% of the citizens voted for independence of the Republic Macedonia. The referendum was not supported by the ethnic Albanians in Macedonia.

The Macedonian Parliament adopted a declaration of independence of Republic of Macedonia from the Socialist Federative Republic of Yugoslavia on 17th of September 1991.

On 17-th of October 1991, the Macedonian Constitution was adopted, and again the ethnic Albanians did not vote for it.

On 10-th and 11-th of January 1992, ethnic Albanians in Macedonia held a referendum for "Republic of Ilirida," which was supposed to take part of Western Macedonia.

In the meantime, the EU have adopted a declaration in which it took the Greek stand in the dispute over the name of Macedonia [instead of the rightful name Republic of Macedonia, using the unfair addition "Former Yugoslav Republic of Macedonia", which was not used with the name of any other 5 former Yugoslav republics Slovenia, Croatia, Bosnia and Herzegovina, Serbia, and Montenegro]. On 15-th of January 1992, Republic Bulgaria recognized Macedonia as a sovereign country, and three days later Republic of Northern Cyprus did the same.

On 21-th of February, an agreement was reached for peaceful withdrawal of the (Former) Yugoslav Army (JNA) from Macedonian soil. The last Yugoslav soldier left Macedonia on 27-th of March 1992.

The Macedonian currency "Denar" was introduced on 26-th of April 1992.

Macedonia was accepted in the UN organization under the name Former Yugoslav Republic of Macedonia on 8-th of April 1993.

On 14-th of June 1994, the Yugoslav Army took one check point on Macedonian territory Chupino Brdo near the border. This tension lasted for several weeks and ended by withdrawal of the YU Army.

On 21-th of June 1994 the first census in independent Macedonia was conducted. On 16-th of October, the first parliamentary elections were held and Kiro Gligorov was elected again for President.

On 27-th of September, Macedonia became a member of Council of Europe.

On 3-rd of October, an attempt on President's life was done in Skopje. Gligorov survived the bomb attack.

On 12-th of October 1995 Macedonia became member of OCSE.

On 24-th of March 1997, the general secretary of NATO Havier Solana came to first visit to Macedonia.

On 9-th of July, violent protests took place in Gostivar, while the Macedonian Police was removing the Albanian flags in front of the Local Government Building.

On 18-th of October 1998, the second parliamentary elections were held.

In March 1999, the refugee crises started. Over 300.000 Kosovars found shelter in Macedonia.

On 11-th of January 2000, three Macedonian policemen were killed in Arachinovo near Skopje.

On 16-th of February, Tanushevci was occupied by NLA.
Macedonia marks anniversary with ethnic crisis on knife edge.
AFP
SKOPJE, Sept 8 (AFP) -

Macedonia marked the 10th anniversary of its independence on Saturday with a stark warning to ethnic Albanian rebels who have brought the country, once a haven of Balkan stability, to the brink of all-out war.

President Boris Trajkovski used the fragile country's birthday to warn that the rebels would be "destroyed" if they continued to fight government troops once a Western-backed peace plan was implemented.

He also said explicitly that NATO should leave at the end of its current mission to disarm the rebels, which ends in barely two weeks' time.

"If the terrorist groups continue to fight for territory ... we are ready to firmly deal with them until they are destroyed," he said in a speech marking Skopje's 1991 separation from the former Yugoslavia.

Macedonia, which was the only ex-Yugoslav republic to break away peacefully from the collapsing Belgrade regime a decade ago, managed to avoid the wars which scarred the region throughout the decade.

Finally this year it signed an association agreement with the European Union, apparently having managed to avoid the ethnic turmoil which led to war over neighbouring Kosovo in early 1999.

But meanwhile, just as it appeared set on its EU course, an ethnic insurgency exploded in this tiny country of two million people, sandwiched between Yugoslavia and Greece.

Now, after seven months of increasingly violent fighting which has forced over 100,000 people to flee their homes, Macedonia is on a knife edge.

And it is blaming the international community for failing to get to grips with the region's problems.

In a radio interview, Trajkovski specifically blamed Macedonia's instability on criminal gangs from the neighbouring Serbian province of Kosovo, which has been run by the UN for the last two years.

"If the international community had successfully dealt with the problem of Kosovo we would not be in the situation we are facing today," he said in the hour-long interview.

But at the same time Trajkovski said he expected the full support of the international community if the rebel National Liberation Army (NLA) did not respect an August 13 Western-backed peace accord.

Under the accord, 4,800 British-led NATO troops are in the country for a 30-day mission to collect 3,300 weapons from the rebels. In return, parliament is due to reform the constitution to boost the rights of the country's large Albanian minority.

NATO's Operation Essential Harvest will not under any circumstances be extended into a longer stay, Trajkovski warned.

"NATO will finish its mission successfully and should leave the country," he said. "If NATO remains there will be a false peace. NATO's mission will be artificial."

Under the peace plan, unarmed international monitors from the European Union and the Organisation for Security and Cooperation in Europe (OSCE) are to be deployed in Macedonia.

But there is growing concern about a "security vacuum" if the monitors are not backed up by an armed force.

Trajkovski said on Saturday that the UN could send a force like the UN Preventive Deployment Force deployed here from 1992-99.

UNPREDEP was set up after a UN Security Council decision in December 1992 to place a preventive force in Macedonia -- the first strictly preventive force in UN history.

"We expect that the Nordic countries, the US and Russians would take part and that would be a possibility for the US and Russia to work together to foster peace and stability in the region," Trajkovski said.

NATO spokesman Mark Laity meanwhile again rebuffed any talk of NATO troops -- Task Force Harvest -- remaining in Macedonia after their weapons collecting mission ended.

"There is obviously an active debate going on in national capitals and in international organisations... We will find out what will follow over the coming weeks," he added.

Laity also wished Macedonia happy birthday.

"We would like to add our congratulations to the many others," he said. "Task Force Harvest is proud to be making its contribution to ensure the future stability and prosperity of this nation."
Armed Gangs Suspected in Macedonia.
AP
Saturday September 8 3:15 PM ET
By ELENA BECATOROS, Associated Press Writer

TETOVO, Macedonia (AP) - The police chief in Macedonia's main ethnic Albanian city predicted new clashes Saturday unless authorities can rein in Macedonian paramilitary gangs that may have been joined by militias from neighboring Serbia.

Saip Bilali's report of a Serb presence has not been independently confirmed. But if true, it would add another worrisome element threatening the fragile calm as Macedonia marked the 10th anniversary of its independence from Yugoslavia. ``The danger is permanent,'' said Bilali, who is ethnic Albanian.

He said there was ``verified information'' that paramilitary militiamen from Serbia have been seen near the western Macedonian town of Gostivar, but he did not elaborate.

In the capital, Skopje, President Boris Trajkovski urged political leaders to unite behind a peace plan designed to end six months of ethnic conflict.

``Macedonia's political leadership must show courage and explain to the people that there is no reason to fear the agreement,'' Trajkovski said on state radio Saturday.
The peace process in Macedonia is edging through a potentially hazardous phase with NATO collecting more weapons from ethnic Albanian rebels, known as the National Liberation Army, in return for lawmakers' promises to grant more minority rights. But Western officials fear security problems could destabilize the fragile process.

A Macedonian paramilitary group known as the Lions appears to be operating in the Tetovo area, said Bilali. It has been blamed for harassing ethnic Albanian villagers and even ethnic Albanian police officers, he added.

There has been no clear information on the size and structure of the paramilitary group, although its presence has been confirmed by NATO and other Western officials.

Bilali suggested such gangs may have links to Macedonian police units and supporters of the leading VMRO party of Prime Minister Ljubco Georgievski. Top government officials have denied any connection.

Earlier this week, the deputy head of the Tetovo traffic police, an ethnic Albanian, was attacked by the Lions in the ethnic Albanian village of Palatica east of Tetovo.

A NATO liaison team - in the area by chance - intervened to defuse a potential clash after armed ethnic Albanians responded to the shooting, the alliance said.

``We were hoping the problem would start to be resolved through political methods,'' Bilali said. ``But it's a pity that in Tetovo ... there will be further developments regarding the mistreatment of citizens.''

The peace accord calls for the National Liberation Army to hand over its weapons to NATO. But the NATO mission is to last only 30 days, ending Sept. 26. The European Union has begun deliberations on sending its own force to protect civilian observers who would stay to monitor the situation.
Trajkovski insisted Macedonia needs no international force once NATO leaves.

``If NATO troops stayed on, this would only give us a sense of false security ... and create another Bosnia or Kosovo in the Balkans,'' he said on state radio.
More ethnic Albanians returning to Macedonia from Kosovo: UNHCR.
AFP
PRISTINA, Yugoslavia, Sept 8 (AFP) -

The number of ethnic Albanians returning to Macedonia from Kosovo has increased since the lifting of a roadblock, a UN refugee agency (UNHCR) spokeswoman said Saturday.

"Some 2,050 people crossed the border on Friday, and today (Saturday) at 2:00 pm (1200 GMT), more than 2,000 had already gone back," Astrid van Genderen Stort told AFP.

"People have a positive feeling because of the latest political developments and many think it is time to go home, even if for many it is unknown if they will be able to stay in their houses," she added.

"They just want to go home," she said.

The refugees' return was made possible after the lifting of a barricade set up two weeks ago by Macedonian protestors on the main road linking Kosovo to the Macedonian capital of Skopje.

The displaced Macedonians who set up the roadblock had said they would stay on until they were allowed to return to their own homes and groups of missing Macedonians had been released.

However they later lifted the roadblock, while the Macedonian parliament on Thursday approved a key peace deal that is linked to a NATO operation to collect weapons from the ethnic Albanian rebels.

More than 42,000 ethnic Albanians have now returned from Kosovo to Macedonia since the insurgency in the north of their country began in February.

More than 30,000 refugees remain in Kosovo, mostly in the southeastern region of Gnjilane.
Commander denies war criminal accusations.
UPI
Saturday, 8 September 2001 12:30 (ET)

Commander denies war criminal accusations
By STEFAN RACIN

BELGRADE, Yugoslavia, Sept. 8 (UPI) -- The ethnic Albanian commander of the Kosovo Protection Corps, Gen. Agim Ceku denied he is a war crimes suspect for involvement in conflicts in the former Yugoslavia. He also dismissed suggestions that the conflict in Macedonia might now spill over into Montenegro in his first interview with Serbian media published Saturday.

The KPC was set up by the U.N. administration and the international peacekeeping force in Kosovo to replace the Albanian Kosovo Liberation Army at the end of the conflict with Yugoslavia in 1999. Ceku was promoted to the rank of general in the Croatian forces, which fought the Yugoslav army in the early 1990s and later mounted operations to expel rebellious Serb populations from areas in Croatia where they lived. He told reporters in Pristina that he holds a Croatian passport.

Asked if he was worried because his superior officer in Croatia, Gen. Rahim Ademi, also an Albanian, had surrendered to the war crimes tribunal in The Hague, Ceku said "During the armed actions in Croatia and the war in Kosovo I neither ordered nor committed any war crimes." "Consequently, I don't think I am a subject of any Hague investigation. My conscience is clear," Ceku added.

He said the idea for the Kosovo Serbs to form their own parallel protection corps was out of the question. "Taking part in the KPC are all those who work for the benefit of Kosovo and who, in accordance with U.N. Security Council resolution 1244, will act to ensure security and rapid reaction in emergency situations."

He also said that 10 percent of the 3,500-strong KPC would be reserved for Serb recruits who U.N. mission chief Hans Haekkerup recently said would have their own unit within the Corps.

As for this resolution's provision envisaging the return of some Yugoslav security forces when circumstances permit, Ceku said "I don't advise them to come for this might result in a conflict. I advise Serbs to accept Kosovo as it is, that is, to accept an independent Kosovo."

He said the Albanians did not expect anyone to present them with an independent Kosovo as a gift and that they would attain it by their own efforts. "I don't believe there is any other solution," Ceku said.
Macedonian president rejects post-NATO international force.
AFP
SKOPJE, Sept 7 [must be Sept 8, red] (AFP) -

Macedonian President Boris Trajkovski on Saturday rejected Western calls for an international force to remain in the troubled Balkan state once NATO leaves early next month.

"It is not in the interests of NATO or Macedonians to have another Kosovo or Bosnia, another protectorate," Trajkovski said during a one-hour interview with state radio here.

"It was different here because the Macedonian army was not involved in ethnic cleansing. They did not start a war, so there is no need to have NATO to preserve an artificial peace," he said.

"Nato will finish its mission successfully and should leave the country," he said. "If NATO remains there will be a false peace."

The president said international monitors from the European Union and Europe's OSCE security organisation should remain in Macedonia but that conditions should not be placed on their presence.

NATO began a 30-day mission uniquely to collect weapons from rebels of the ethnic Albanian National Liberation Army (NLA) on August 27.

Under a peace accord between the country's main Macedonian and Albanian political parties, the rebels will hand in 3,300 arms by September 26 and parliament will change the constitution to extend civil rights to the large ethnic Albanian minority by September 27.

Trajkovski also said that more ethnic Albanians should be taken into the police force now so that a joint security force could go into any future trouble spots together once NATO leaves.

The August 13 framework peace agreement provides more jobs for minorities in the police force. The force is supposed to recruit 500 ethnic Albanians by next July with 500 more joining over the following year.

On Friday, a parliamentary source said Macedonia rejected the presence of an international force on its soil because its sovereignty could come under threat.

"We agree with monitors but we do not need any forces," the source said, in reference to observers who will verify that the peace accord is being respected.

"There are legitimate reasons for not wanting this. Our full sovereignty comes under question and we have to deal with strong (negative) public opinion about NATO," the source said.

The West wants hundreds of monitors to be deployed in Macedonia but fears are wide-spread that a security vacuum could be created when NATO leaves and that observers' lives could be endangered.

"The international community is putting pressure on us and we have to listen to this," the source said.

On Thursday, the Macedonian security council called for monitors to be sent to conflict areas in the north and northwest when NATO's mission ends and the Macedonian army moves into rebel territory.
Disband NATO - The Cold War is Over.
Antiwar
by J. David Galland
9/8/01

More than ten years after the fall of the Berlin Wall, NATO forces, as always led by the Americans, are dancing more than the "Texas Two-Step" in their role of self definition and sought after justification, on the world stage. NATO's image is that of a crippled man with his rear aflame; in great fear that his head will follow suit.

Why is my aforementioned reference to the fall of the Berlin Wall a salient opening line of this article? Some of us may actually be old enough, or studious enough, to comprehend and reflect, retrospectively, why NATO was formed. It was to halt the spread of Communism throughout the world, and particularly in Europe, following World War II. Berlin, of course, has always been considered "ground-zero" as to where the illusive freedom in the West, and the gray oppression of the East, buttressed each other for so many years.

Recently, I had the rather sadly laughable opportunity to observe an American television show. The gentlemen who presented the show was the respected celebrity, Jay Leno. One of the features of his show is to canvas the sidewalks of Los Angeles and ask, seemingly intelligent people, questions about history and world issues. In so doing, Mr. Leno asked seven Americans, ranging in age from sixteen to twenty-eight -- one, in fact, being a school teacher -- where the Berlin Wall was. Not one of the polled intellectuals had a clue, even when he enunciated ..."Berlin Wall"! Answers ranged from, "somewhere in China," to "the wall they build around some city in Missouri so that river would not flood them out in the Spring," to "that fence they put on the border with Canada."

Being bombarded with a plethora of idiotic answers tweaked the fertile waves of suspicion in my mind. I was compelled to ponder the terminally anemic intellectual prowess of the average example of, "America's Future." Could this rapidly spreading lack of illumination be one of the factors that seems to have affected NATO, and its apparent illogical understanding of its role and mission? Is NATO suffering from stupidity that creeps like an incipient computer virus? It appears that it may well be. The Cold War is over, NATO, it is time to go away, and take your host of "strap-hanger" countries with you!

Ah, alas, even the Russians know the Cold War is over. After years of planning and execution, they have extricated scores of thousands of Russian soldiers from Eastern European enclaves. This, speaks nothing of all the equipment they took home, sold to the highest bidder, or just left behind. Now, if the Russians know the Cold War is over, and took their toys and returned home, why are the Americans, and their lackadaisical buddies, still clinging to the Ground, mostly in Germany, and constantly searching for another reason to remain and believe in their worth to the world?

Even the less powerful Russian satellite states, Poland, Czechoslovakia, Rumania, Hungary, Bulgaria, and others, know that the Cold War is over. Country names have changed and freedom springs eternal. The lustration of Eastern Europe has been long and costly, however now nearly complete. Pillars of old resistance; such as Lech Walesa in Poland, and Vaclav Havel in Czechoslovakia, no longer wallow in dank jails for being independent thinkers. Nevermore will these men wonder how much their next interview will hurt. So, again, why hasn't NATO gotten the message? It is time for the United States Military, and the NATO shield, steadfastly allied against the yoke of oppressive Communist expansion, to get a life.

So, this brings us to the present day and NATO's adventures, and misadventures, within the European Community. We, like NATO, shall not focus on such places so impalpable, for example, as Rwanda and such. NATO has not expressed particular interest in intervention in that venue.

NATO prefers to bully its way around continental Europe. As in the past eight years, it has sought to redefine itself and has determined that it has a key role as a humanitarian protector. This is a catchy, and believable justification, if I do say so myself. However, NATO speaks with a forked tongue, humanitarian actions and material actions are not one-and-the same, but material actions make NATO's heart flutter like an adolescent in Spring.

It is curious that NATO has become such a close monitor of all European countries, just as the risky Euro currency implementation is about to take place across Europe. Of particular interest to NATO are those countries that are on the fringe of the European Community, or those who have not yet acquiesced or become NATO members.

Yet, at the same time why are five year old children in Ulster being harassed, pelted with garbage, and receiving threats of bodily injury and death. All this, whilst they make their ways to kindergarten classes. Does the "stuffy nosed" Lord-God of pulchritude George Robertson, not know about the civil unrest in Ireland? Perhaps, Javier Solana could take his American friend, James Pardew, Chief Threatener to the Macedonian government, and they could both descend on Londonderry or Belfast and show them "what's for"!

If one cannot read between the lines, as to how NATO and cronies, et. al., are dealing with rogue, or basically non-compliant states and nations, then I strongly suggest that the observer study the Macedonian capitulation, and its incestuous marriage under NATO's grip, for the past eight months. This wedded bliss that Macedonia has with NATO, will soon find itself bifurcated and in conflict. The necessary inertia is well ensconced, now, for the overthrow of the sitting Macedonian government.

This writer does not require assisted vision to realize what nature of underhanded, greedy inspirations, have gripped NATO. The wherefore and the why, as to NATO's dalliances in Europe, a full decade after the end of the Cold War, as the "Big Goon Standing Under The Corner Streetlight," are, and ought be, quite obvious. It is not freedom that is ringing the bell this time, rather, it is the ring of the new Euro Currency and its success, at all costs.

These costs to be borne even include the deaths of NATO soldiers, who in their youthful exuberance do not make light of NATO's failed pursuits. As in the traditions of Vietnam and the actions of John F. Kennedy, Robert F. McNamara, and Lyndon B. Johnson, the old men march the youth of today to their death.

I am heartsick because as a society we have learned nothing, we are led about like a horse to water, only to die and die again. Fifty-seven years ago, when he was twenty-two years of age, my father was riddled with German machine gun bullets, in order to bring democracy to Europe. My father survived. As well, thirty-one years after I, and many others, fought valiantly in Vietnam, we have learned nothing. On September 17, 1969, I held my best friend in my arms and watched him die. He bore three holes in his chest, all large enough to put my fist through. Just before he lapsed into a coma, death shortly thereafter, Bobby asked me, "why are we here"? Bobby's question to me remains unanswerable, to this day. I was lucky, I survived.

Now, here comes the young British Paratrooper, Ian Collins, murdered by those whom he was sent to Macedonia to protect. Shame on you NATO leaders, you continue to march young soldiers to their death, completely without justification. Shame on you NATO!

This article is dedicated to the memory of soldier, Ian Collins. May you be the last, young Ian, may the grief of your family be assuaged by your innocent dedication and faith in your fellow troopers. ~JDG

J. David Galland is the Founder and President of Bound & Overwatch The Military Observer, a 100% nonprofit organization which serves as the advocate for soldiers and their families, as well as for veterans. He is a veteran of The United States Army, with over thirty-two years military service. Since 1969, Mr. Galland has been in Military Intelligence and is a distinguished graduate of the U. S. Army Intelligence Center & School, Fort Holabird, Maryland. He is a combat veteran of Vietnam, Grenada, and Panama and of hazardous duty positions in Ulster, Northern Ireland, Zagreb, Sarajevo, in the Former Yugoslavia, as well as various missions in Croatia and Bosnia. Mr. Galland has spent most of his military career outside the normal command channels in classified assignments as an Area Intelligence Technician, Case Officer, and Desk Action Officer. He is a internationally respected Defense Analyst, Author & Columnist, and Subject Matter Expert on Intelligence Tradecraft in the HUMINT discipline. As well, he is an authority on the former East German Staatssicherheitsdienst (Stasi). He has been published by numerous news periodicals and newspapers, both in The United States and Europe.
TRAJKOVSKI: MY VISION FOR MACEDONIA IN SECURE, PROSPEROUS AND CIVIL STATE.
MIA
"September 8th is a day that crowns the century-long struggle of the Macedonian people for their own independent state. This continuity in the tradition and the vow of our ancestors is symbolized in Ilinden 1903 with the Krushevo Republic", Macedonian President Boris Trajkovski said at yesterday's formal session of the Macedonian Assembly on the occasion of Independence day of the country.

The sacred message from Ilinden, he said, as a basic foundation to our state, was reaffirmed and reflected in the decisions of the second Ilinden in 1944, when the Macedonian state was created. Based on the decision from ASNOM, Macedonia declared its sovereign will to enter in the Federation of Yugoslav Republics.

"This is the decision, which gave us the sovereign right for self-determination to opt for independence of the Republic of Macedonia, on a referendum a decade ago, on September 8th, 1991", Trajkovski said.

"Macedonia has clearly managed to establish the foundations for an independent state based on liberal democracy, protection of human and minority rights, values of tolerance and market economy. We have committed ourselves to building a state that would incorporate in its foundations all modern civilizing achievements, including the tradition of our ancestors on which we have based our culture and strive for independent state", President Trajkovski stressed.

"The Republic of Macedonia acquired is independence while cruel interethnic conflicts were waging on the territory of former Yugoslavia. We managed to stay out of all these wars, committing ourselves to the modern European option, a common European home without borders.
During these decade, despite all the pressures, blockades, embargoes and wars that have reached our borders, the Republic of Macedonia was always rightfully being indicated as a model of stability in the region and accepted as a serious and responsible entity by the international community", he emphasised.

According to Trajkovski, our strategic objective was, and still is, integration in European and Euro-Atlantic structures, a road we took, not renouncing the principles and standards of these associations.

"These are respect of principals of multi party democracy in the political life, free market economy, respect of legality and rule of law, provision and respect of all highest European standards in the area of minority rights, and building ethnic and religious tolerance, promotion of good-neighborly relations based on international standards and through a peaceful resolution of all issues through dialogue and respect of existing borders", Macedonian President said, adding "we will never give up these principals, as we consider them to be civilizing values, while we consider ourselves as part of that civilization, where we have our modest share.

Precisely when the Republic of Macedonia was acquiring high reputation and leadership position in the peace process on the Balkans, President Trajkovski stressed, when we were expecting now concrete results from the positive political and economic processes, "our country became object of aggression from extremist, terrorist bands, organized and supported by forces that are not interested in peace, democratic development and prosperity in this part of Europe".

"This proved that partial solution to the problem in the Balkans leads only to new conflicts and bloodshed. The irresolute and the undefined policy of the international community in the resolution of the Kosovo crisis, especially in regards to the disarmament of the militant extremism has resulted with a new raise of ethno-nationalism and chauvinism, of unrealized dreams for greater and ethnically "clean" state on the Balkans. We have not only faced an open aggression on our territory, but also an enemy that ignores even most basic human and civilizing values", he said.

"The anti-civilizing forces attacked one of the key strongholds to the Macedonian stability - the century-long interethnic tolerance - trying to convert the conflict into a confrontation between Macedonians and ethnic Albanians. In their fight for criminal interests and ethnically clean territories, they skillfully covered under the mask of fighters for human rights, by taking advantage of some internal weaknesses of the Macedonian society and abusing of some previous activities and efforts of the international community in the Balkans. In this way they partially achieved their goal - they destabilized our country by shattering the century-long cohabitation between the Macedonians and ethnic Albanians", Head of Macedonian State estimated.

Being aware of the essence and the complexity of the danger that Macedonia and all its citizens were facing, Trajkovski said, the Macedonian state leadership opted for a solution based on three crucial objectives: to preserve the unitary character, territorial integrity and sovereignty of Macedonia; to avoid a bloody interethnic war; to involve and provide help from the international community.

"Based on these premises, for the welfare of Macedonia, we fought when necessary, we signed the Framework Agreement in order to restore and strengthen the trust between the Macedonians and ethnic Albanians and we prepared the disarmament plan, all in the interest of peace and stability", Trajkovski underlined.

"What I would like to assure you of in a categorical way is the following - the Republic of Macedonia will remain a state with a full territorial integrity and sovereignty, with unitary character, with a strongly expressed continuity of its statehood from Ilinden, ASNOM until September 8, 1991, when the Macedonian people on a referendum have opted to live in an independent state together and on equal bases with all other citizens", Trajkovski stressed.

His only vision for the Republic of Macedonia is a secure, prosperous state with a strongly stressed civil character. A state, which will be focused on the promotion of better life for all its citizens and which in time, will become full member of the united European family.

"The citizens of the Republic of Macedonia on this historic day, a decade ago, by giving their vote to a sovereign Macedonia, have in fact given their consent to those principals and to this kind of state. Therefore once again, I call on you to give your support to the joint efforts to preserve our country and to develop its democracy", Macedonian President said.

President Trajkovski said that he felt the need to underline the fact that if after the adoption of the Framework Document, the terror continues, then the men of violence will be all destroyed, and we will expect full international support in that regard.

"It is obvious that war must be avoided because it only brings tragedy, poverty and grief. But it cannot be avoided in any cost. Not if the cost is the loss of our statehood and our soul", he stressed.

The President expressed his expectance that the international community will find the strength to appreciate the brave and reasonable position of Macedonia in dealing with the crisis and will truly contribute to its stability.

"In that regard, we expect from the international community to act in accordance with justice concerning the full recognition of the constitutional name of the Republic of Macedonia in the international communication. This will represent clear support to the identity and sovereignty of Macedonia. We also expect full support in our farther integration in NATO, the European Union and free movement of our citizens in the member countries of these structures", Trajkovski emphasised.

He said that in celebrating this historic day today and in the future we will never forget neither the fighters for free Macedonia, nor today's defenders of sovereign Macedonia.

"We will always remember the names of all heroes that sacrificed their lives for their fatherland, for all of us. Macedonia will never forget", Trajkovski stressed.

At the end of his address, President Trajkovski congratulated all the citizens of the Republic of Macedonia and all compatriots in the Diaspora with, as he said "hope and faith that we will celebrate next September 8th in peace, leaving behind us the horrors of war".
Macedonian Doubts Over Peace Deal.
IWPR
Macedonians fear an extended role for NATO could turn the country into the Balkans' third protectorate.

Ana Petruseva reports from Skopje (BCR No. 277, 4-Sept-01)

A public information campaign to win the support of sceptical ethnic Macedonians for the NATO deployment shows an alliance soldier holding a sign reading "weapons collection", along a road bedecked with slogans explaining the mission and insisting that it offers the country the only way forward.

The NATO media blitz insists that the Western-brokered framework agreement between ethnic Macedonian and ethnic Albanian political parties on increased civil rights for Albanians will deliver a prosperous future. "Harvest fulfils its obligation", the campaign slogans proclaim, confirming that the alliance force of 4,500 soldiers will withdraw if a cease-fire holds. NATO will succeed in collecting rebel arms and the country will not become a third Balkan protectorate like Bosnia and Herzegovina and Kosovo.

Initial reports are that Operation Essential Harvest has completed the first phase of its mission to collect weapons voluntarily handed in by the rebel National Liberation Army, NLA. More than one-third of the total of 3,300 arms it had agreed with the Albanian guerrillas have been surrendered.

Yet despite boastful propaganda, most ethnic Macedonians suspect that NATO's role will be little more than cosmetic at best - and an instrument of partition at worst.

Indeed even the public relations campaign itself may have back-fired. The media campaign, said one ethnic Macedonian taxi driver, "shows exactly how the international community views Macedonians. It is as if we were retarded, so that they have to draw these cartoons to help us understand how lucky we are to get their help."

Amid the flurry of activity by the international troops, the country's parliament is set to resume its bitter debate on the reform package, after being suspended by the speaker of parliament, Stojan Andov. Andov halted the proceedings for two days, after demanding a guarantee from President Boris Trajkovski that all people displaced from their homes by the recent fighting would be able to return within 20 days. The assembly reconvened on Monday and a vote on the reform package is expected by Wednesday.

Few expect the framework agreement to have a smooth passage. While Trajkovski has urged deputies to support the deal, the hard-line prime minister, Ljubco Georgievski, said it offered no resolution to the crisis and should only to be backed to avert an open clash with the West. The debate so far suggests the president may struggle to get the two-thirds majority needed to implement the deal.

Several European foreign and defence ministers have hurried to Skopje to increase diplomatic pressure on Georgievski. At the same time, the EU and US envoys to Macedonia, Francois Leotard and James Pardew, respectively, are battling to rein in the hard-line wing of the ruling VMRO-DPMNE party, led by the interior minister, Ljube Boskovski. The party holds 46 of the 116 seats in parliament.

Many expect only a partial ratification of the agreement, possibly without the key constitutional changes intended to grant more civil rights to Albanians, an increased official use of the Albanian language and expansion of the number of Albanians in the police.

If parliament blocks a deal, NATO's role after Operation Essential Harvest will be thrown into question. Western diplomats have been floating the idea of a possible extension to the mission, though it is unclear under which circumstances and what kind of mandate it would have.

The British defence secretary, Geoff Hoon, said talks were under way in NATO about what task the international community could perform after completing the disarmament operation. Many observers believe it will involve an increased role in setting up an ethnically-mixed police force and a rise in the number of international monitors.

"Of course, local security forces have ultimate responsibility for security. But the question is whether local forces in Macedonia can secure that responsibility adequately after a conflict of this nature," the US envoy Pardew told Reuters.

At the moment, the EU and the OSCE have 49 monitors in Macedonia, with several hundred more are expected. "The key is getting international police advisors, as in the agreement - only they can coordinate the mixed police patrols," Edward Joseph of the independent watchdog International Crisis Group said.

While NATO is examining its options, President Trajkovski has asked for the UN border patrol mission to be reinstated. "We expect the international community to help us keep and enforce the peace," he said. "I am asking today for a reintroduction of the United Nations Preventive Deployment Force - UNPREDEP. UNPREDEP was a successful mission - and it kept the peace by patrolling at the borders."

Observers hope the deployment of a force along the international border with Albania and Serbia would boost ethnic Macedonian confidence in the security of the country's frontiers, reassure them that NATO is not a hostile force, and at the same time ease ethnic Albanian fears of attack by the Macedonian security forces.

Antonio Milosovski, the prime minister's spokesman, said the government would support an extended NATO mission only if it were modelled on UNPREDEP. "That would send two clear messages," he said. "First, that there won't be any redrawing of the borders in the region and second that nobody can continue using the territory of Kosovo as support for armed extremist groups in the region."

As far as NATO is concerned, all options remain open, unless outright warfare breaks out, in which case Western troops would probably immediately withdraw. The alliance insists it has no intention of patrolling a "green line", like the border between the two communities in Cyprus - a major concern of ethnic Macedonians.

That option is "completely off the agenda", according to NATO officials. The ultimate decision about the alliance's role in the future remains in the hands of the Macedonian government. Otherwise, as a government official warns, "it will be disastrous and we will end up as a protectorate".

Ana Petruseva is a journalist with Forum magazine in Skopje.
Maxim Refused Flatly to the Pope Again.
Standartnews
I can't bless the visit of Pope John-Paul II. This is the decision of the Holly Synod and I can't break it. So said for 'Standart' Patriarch Maxim , who is in Plovdiv at present, for the visit of Oecumenical Patriarch Bartholomew. The head of the Bulgarian Church flatly refused that the delicate topic was debated during his talks with the Oecumenical Patriarch.