Enter content here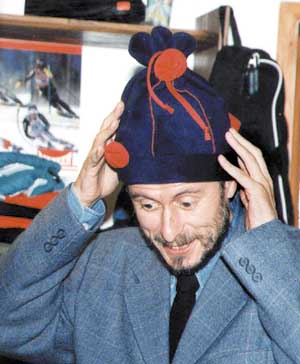 Passy Goes Out Shopping for the Winter. Foreign Minister Solomon Passy bought a ski-cap for his son in the shop at the 'Snejanka' hotel at the end of the seminar in Pamporovo. Photo Vasko Hadjiivanov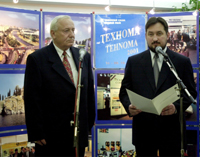 INTERNATIONAL FAIR "TEHNOMA 2001" OPENED.
MIA
Prime Minister Ljubcho Georgievski opened the 27th International Fair "Tehnoma 2001", which includes 630 direct and indirect exhibitors from 25 countries, which present the latest achievements from the area of metallurgy, electronics and building.

"This Fair manifestation, with its broad specter of products and services, is a perfect presentation of the latest technical-technological achievements before the business world", Prime Minister Georgievski said.

"In spite of the global economic ambience and the happenings in our country, the presence of exhibitors is big this year too", Macedonian Prime Minister said, reminding that unlike the previous year, when there were 700 exhibitors from 30 countries, this year witnesses the presentation of 630 exhibitors from 25 countries. He expressed his belief that in the following years "Tehnoma" would grow into a mass international Fair manifestation.

"In the past months, Macedonia and the world faced with enormous economic crisis and we can say that both the Macedonian and the global economy are entering into a period of recession," Georgievski said.

Therefore, he said, the note from this international fair should be that we must learn to lead our economy under conditions of recession.

Georgievski expressed belief that we would swiftly surpass this recession.

President of the Skopje Fair Management Board Alija Sakic also addressed the present.

This year's Technoma is attended by exhibitors from Croatia, Slovenia, FR Yugoslavia, Bulgaria, Greece, Austria, Germany, Turkey, France, South Korea, Belgium, Switzerland, Netherlands, Japan, USA, Great Britain, Italy, Sweden, Denmark, Bosnia and Herzegovina, Romania, Poland, Finland, Israel and Macedonia.

The exhibitors present their latest technical and technological achievements in an area of 18,000m2.
THREE MORE DRAFT-AMENDMENTS SUBMITTED TO THE PARLIAMENT SPEAKER.
MIA
Parliament Speaker Stojan Andov reported at today's press conference that President Boris Trajkovski submitted three more draft-amendments that refer to the Constitution of the Republic of Macedonia.

Andov scheduled a session of the Constitutional Commission for Wednesday which will review the amendments, and on Thursday the Parliament will discuss on all submitted amendments.

In the letter sent to Parliament Speaker Stojan Andov, President Trajkovski says that if the blockade of the Parliament by certain political parties continues, he would consider this act as a dictatorship which is unacceptable. He adds that this could force him to reconsider his role of submitter of the amendments.

Andov also reported that he asked from the international facilitators James Pardew, Francois Leotard and Max van der Stoel to help in the unblocking of the parliament work.

He once more stressed that not one amendment would be implemented until all kidnapped persons are not released.
British Services Investigate Ivan Ivanov's Allegations.
Standartnews
BIN LADEN'S NUCLEAR PLOT: Al-Qaeda's men held secret meetings to build 'dirty bomb'

Adam Nathan, David Leppard, Matthew Brunwasser
The Times

EVIDENCE has emerged of a plan by Osama Bin Laden to manufacture a "dirty bomb" that could spray nuclear material over highly populated areas. British intelligence services are investigating claims by a Bulgarian businessman that he was approached earlier this year by a middleman for Bin Laden seeking to obtain highly radioactive material. The pair discussed setting up an environmental company as a front to buy nuclear waste that could be combined with conventional explosives to create a "dirty bomb". It is believed to be at least the fourth attempt by Bin Laden to obtain nuclear material. The Saudi terrorist has publicly vowed to gain weapons of mass destruction. The latest approach was made in April after Ivan Ivanov, a Bulgarian businessman with long-standing ties to a Middle Eastern contracting firm, was invited to Pakistan. On his arrival in Peshawar, Ivanov, a former Bulgarian intelligence officer, said it became clear his hosts were enthusiastic supporters of Bin Laden. They apparently saw his political links in eastern Europe as a "useful asset". Speaking in a cafe on the outskirts of Sofia last week, Ivanov recalled how the men took him to see Bin Laden, who was speaking at a religious festival on April 10 on the outskirts of Peshawar. At the time Bin Laden was wanted for his alleged involvement in the bombing in 1998 of two American embassies in Africa, in which more than 200 people had been killed. Yet Ivanov claimed uniformed Pakistani soldiers armed with M-16 machine guns had provided security. A day later, Ivanov said he was taken on a rough mountainous bus ride along Pakistan's remote border with China. There he was led to a secret location, where he was introduced to Bin Laden as "our partner from Europe". When Ivanov discreetly checked his Magellan 310 global positioning system, it showed the meeting had actually taken place in China. Western intelligence sources described the meeting near the Pakistani border as "credible". Ivanov then travelled with his new business associates to a large villa in Rawalpindi. The next day he was approached by a Pakistani scientist who described himself as chemical engineer. The scientist, who was highly educated and spoke almost fluent English, said he was interested in obtaining spent nuclear fuel rods from the Kozlodui nuclear electricity plant in Bulgaria. "He wanted a legitimate way of buying nuclear waste from the power plant," said Ivanov. "He was ready to give me money in advance to find local companies to help him to export this material." Ivanov was offered $200,000 (?137,000) to help set up an environmental firm to buy nuclear waste, and asked if he would run the company. He declined the offer and, on his return home, informed officials in Bulgaria of the meeting. British authorities in Pakistan later discovered the 49-year-old scientist had been issued with two six-month visas to visit Britain in the last two years. They are now investigating his links with the Bin Laden network. Although his trips to Britain remain a mystery, intelligence officials believe the scientist may have met sympathizers at British universities or tried to set up front companies similar to the one planned in Bulgaria. Ivanov's account of the Bin Laden plot has been backed by Velizar Shalamanov, the former Bulgarian deputy defence minister, who last week said Ivanov had worked for the government. A British diplomatic source in Pakistan said: "This appears to be a sophisticated plot using a scientist and a credible front company, and that is a concern." Although British intelligence believes Bin Laden's Al-Qaeda network may have some crude chemical weapons such as cyanide, there is no evidence to suggest he has obtained any nuclear material. In September 1998 Mamdouh Mahmud Salim, alleged to be a high-level aide to Bin Laden, was arrested in Germany after trying to buy low- grade nuclear reactor fuel. Jamal al-Fadl, a former Bin Laden aide, told the FBI he had witnessed Al-Qaeda members trying to buy enriched uranium in the mid-1990s, according to court documents. He also claimed to have been to Sudan, where an associate of an army officer tried to sell him uranium for 1m. Bin Laden has never made any secret of his interest in acquiring nuclear weapons. In an interview in January 1999, he said: "It would be a sin for Muslims not to try to possess the weapons that would prevent the infidels from inflicting harm on Muslims."
Paskalev: Constitution to Be Amended Urgently.
Standartnews
The Bulgarian Constitution will be amended to provide more independence to the municipalities, Vice-Premier Kostadin Paskalev said yesterday. The local authorities should be entitled more freedom to determine the municipal taxes, he elaborated. A special act is also to be drafted on the Sofia Major Municipality. The municipal budgetS are to be formed in a new way. Clear distinction will be made on which expenses and revenues should be public or private, Paskalev added.

Victoria Seraphimova
(SH)