Enter content here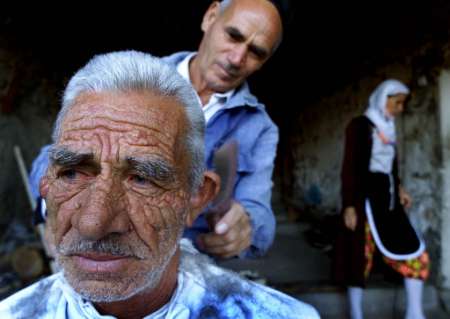 A Bulgarian Muslim man has his haircut in the yard of a house in the village of Ribnovo, some 200 km (124 miles) south of Bulgarian capital Sofia, October 12, 2001. Bulgarian Muslims, mostly ethnic Turks make up 9,4 percent of Bulgaria's population of around eight million people. Muslims in the Balkan State officially have condemned the September 11 attacks against the United States. REUTERS/Oleg Popov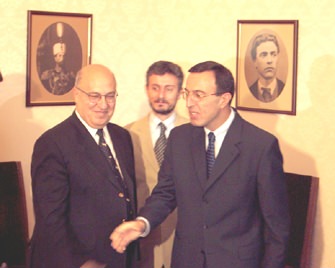 Palestinian territories are ridden by insecurity and injustice, Nabil Shaas said.
News.bg
Speaking for News.bg Agency after his meeting with President Petar Stoyanov, Palestinian Minister of Planning and International Cooperation Nabil Shaas said that his meeting with President Petar Stoyanov was the most important element of his visit. He also said: "I conveyed the greetings of Yaser Arafat to your President and Mr. Stoyanov reconfirmed his invitation to President Arafat to visit Bulgaria." Speaking at the briefing after the meeting, Palestinian President said that the two parties took upon the commitment to work for establishing new relations. He also said that Palestinians supported anti-terrorist actions of the USA and their allies, but considered that the strikes should be very well targeted as to avoid civil casualties. He shared his fears about the integrity of Afghanistan after the end of the military actions. Speaking about Palestine, he emphasized that Palestine was the last colony, which is a victim of Israeli colonialism, and said that on the Palestinian territories feeling of insecurity and injustice was higher than anywhere else in the world.
Petar Stoyanov challenged Georghy Parvanov to debates broadcast by private media.
News.bg
Speaking at an improvised briefing in the Bulgarian National Television building where he and Nellie Kutskova recorded their election appeal, President Petar Stoyanov said that he was ready for any debates if they were broadcast on a private radio or television station, and said he was inviting his so-called main opponent Georghy Parvanov to a debate on Monday and Wednesday in the studios of bTV and Nova TV respectively, and left to Georghy Parvanov to set the themes of the debates.
There were no new requests for permits for NATO airplanes to fly over Bulgaria.
News.bg
Minister of Defense Nikolay Svinarov delivered the new combat flag to Graf Ignatievo Third Fighters Air Base today. Commenting NATO airplanes flying over Bulgaria, he said there were no new requests for permits for NATO airplanes to fly over Bulgaria lately, and added that NATO airplanes were allowed to land on every Bulgarian airport. Concerning the strike in Terem military factory, he promised that the new Managers Board due to start functioning next week would solve the problem.