1, Oct-2001.
2, Oct-2001.
3, Oct-2001.
4, Oct-2001.
5, Oct-2001.
6, Oct-2001.
7, Oct-2001.
8, Oct-2001.
9, Oct-2001.
10, Oct-2001.
11, Oct-2001.
12, Oct-2001.
13, Oct-2001.
14, Oct-2001.
15, Oct-2001.
16, Oct-2001.
17, Oct-2001.
18, Oct-2001.
19, Oct-2001.
20, Oct-2001.
21, Oct-2001.
22, Oct-2001.
23, Oct-2001.
24, Oct-2001.
25, Oct-2001.
26, Oct-2001.
27, Oct-2001.
28, Oct-2001.
29, Oct-2001.
30, Oct-2001.
31, Oct-2001.




Sunday.

Enter content here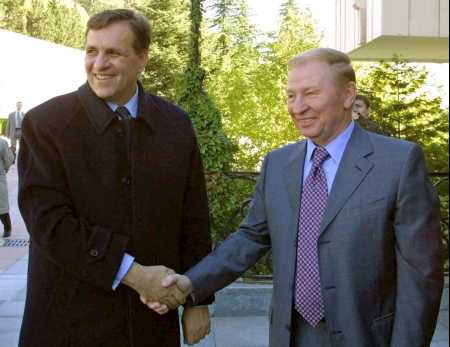 Ukraine's President Leonid Kuchma, right, and his Macedonian counterpart Boris Trajkovski smile as they pose for a photo before their meeting in Yalta, in the Black Sea Crimean peninsular, on Sunday, Oct. 28, 2001. Trajkovski arrived in Crimea on Sunday to discuss military aspects of bilateral cooperation.(AP Photo/Valery Soloviov, Pool)
Macedonia, Ukraine discuss arms deliveries.
AFP
YALTA, Ukraine, Oct 28 (AFP) -

The leaders of Ukraine and Macedonia met here Sunday for talks on how Ukraine can deliver arms to the Balkan country without violating the restrictions of the NATO-brokered peace pact there, a Ukrainian official said.

Ukrainian President Leonid Kuchma and his Macedonian counterpart, Boris Trajkovski, "discussed the issue of military-technical cooperation" between the two countries, presidential spokesman Igor Storozhuk said.

Ukraine has sold military hardware including attack planes, helicopters and battle tanks to the Macedonian government, but Kuchma suggested in July that those transfers were being suspended under pressure from the United States.

NATO negotiated a peace deal between the Macedonian government and separatist ethnic Albanian rebels and is anxious to keep tight control over weaponry flowing into the Balkans country.

"Ukraine has contracts with Macedonia and political agreements with NATO," Storozhuk said, adding that Kiev was seeking an "optimal solution" through political dialogue that would permit it to honor both commitments.

"Ukraine's position is based on an understanding that it is necessary to stabilize the situation in Macedonia and take account of principles of international security," the spokesman said.

Kuchma and Trajkovski also discussed the international fight against terrorism, Storozhuk said, giving no further details.

Trajkovski was scheduled to fly later Sunday to Moscow where he was to hold talks with Russian President Vladimir Putin on Monday.

On his arrival in Crimea earlier Sunday, Trajkovski said that Ukraine's supply of military hardware to Macedonia was "only one part" of an agreement on military cooperation between the two countries.



| | | |
| --- | --- | --- |
| | | Enter supporting content here |